Rock climbing and bouldering are somewhat expensive hobbies. While each individual item may not be pricey, climbers need A LOT of stuff, especially rock climbers.
Bouldering requires a lot less equipment. Regardless, the realm of climbing essentials is good news for you because it's easy to buy a gift for your climbing friend / family member that fits your budget.
A backpack (with or without a water bottle), chalk bags & chalk, climbing ropes, bouldering crash pad, and climbing shoes are some of the most popular gifts for rock climbers and boulderers.
1. Climbing Backpack
Climbing bags or climbing backpacks are similar to hiking backpacks. The popular Osprey Mutant 38 is a good example. Many climbers don't use climbing bags, but it's hard to go back once you've tried one.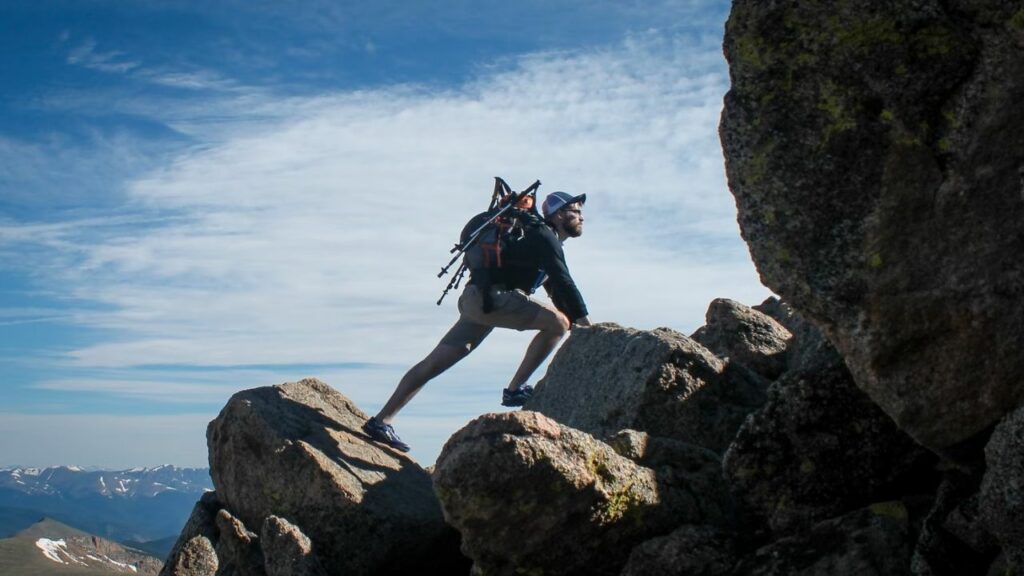 Climbing backpacks are a much better gift than a traditional backpack. Their streamlined design doesn't interfere with climbing, even at high altitudes. Plus, they're highly durable and ergonomically designed.
These backpacks come in various capacities, but 30 liters and 45 liters are the most common. Check out Arc'teryx Alpha FL 30 and Patagonia Cragsmith 45L.
2. Chalk Bags & Climbing Chalk
A good chalk bag (like Evolv's) and high-quality climbing chalk are must-haves on every climber's gift list. Chalk bags are needed all the time – during training, climbing indoors at gyms, and climbing outdoors.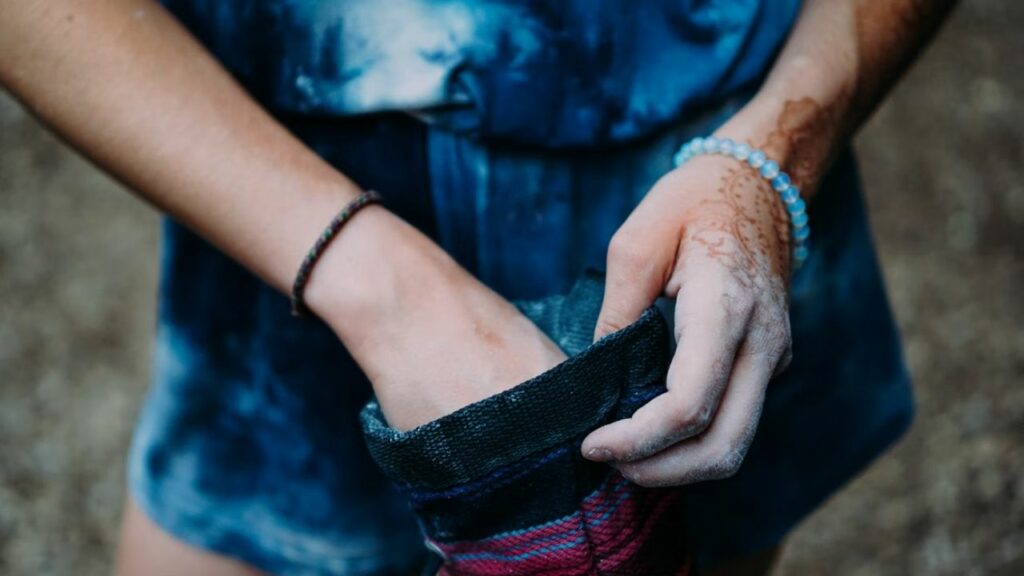 Some people prefer having different chalk bags and chalk for different climbing kits. While getting the chalk bag, pay attention to the size of the bag (it should atleast be big enough for one hand and at most for two) and the buckling system. Hence, it attaches to the climber's waist easily.
There are a lot of options when it comes to buying chalk as a present. Nowadays, you can even get a chalk ball, which basically is just chalk wrapped around in a thin fabric.
Ps…if your recipient is into deep water soloing (DWS), consider getting liquid chalk from a reputable brand. DWS climbing shoes and other gear are also great gift options.
3. Climber Pants
Climbing pants make for an incredible gift because most beginners don't mainly invest in apparel. And while it's totally OK in the beginning, it's up to you to get them out of their old denim or track pants during rock climbing.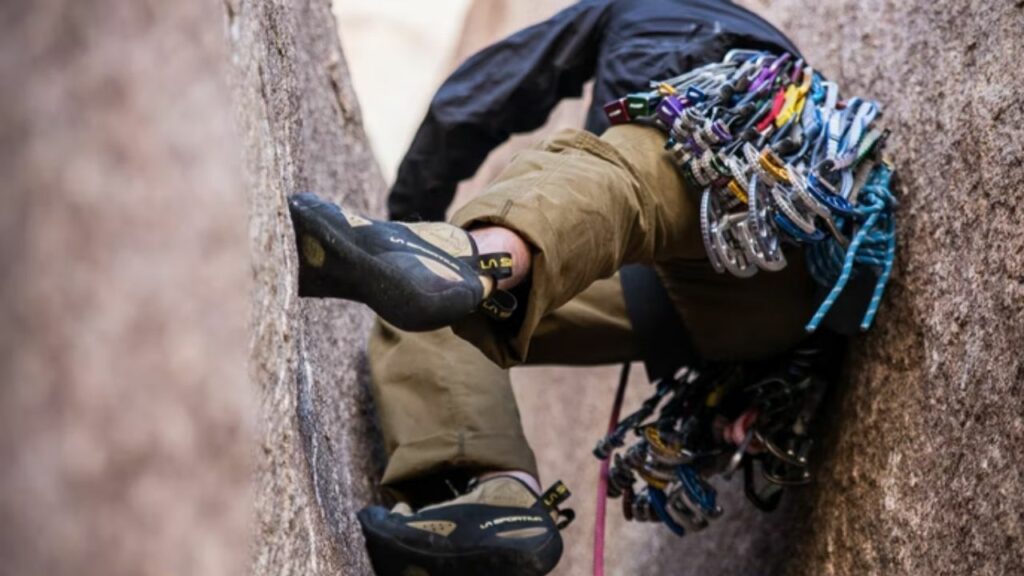 When buying climbing pants, you should either go with shorts and loose or simply leggings because it's pertinent that the climber can move freely.
We balance a lot of our weight through our toes and legs, so I recommend buying Nylon pants as it's a breathable and elastic polymer. Nylon is super lightweight as well.
4. Climbing Rope
Climbing rope is hit-and-miss as a gift. No doubt, it's the most essential item for a rock climber, but that leads to some complications.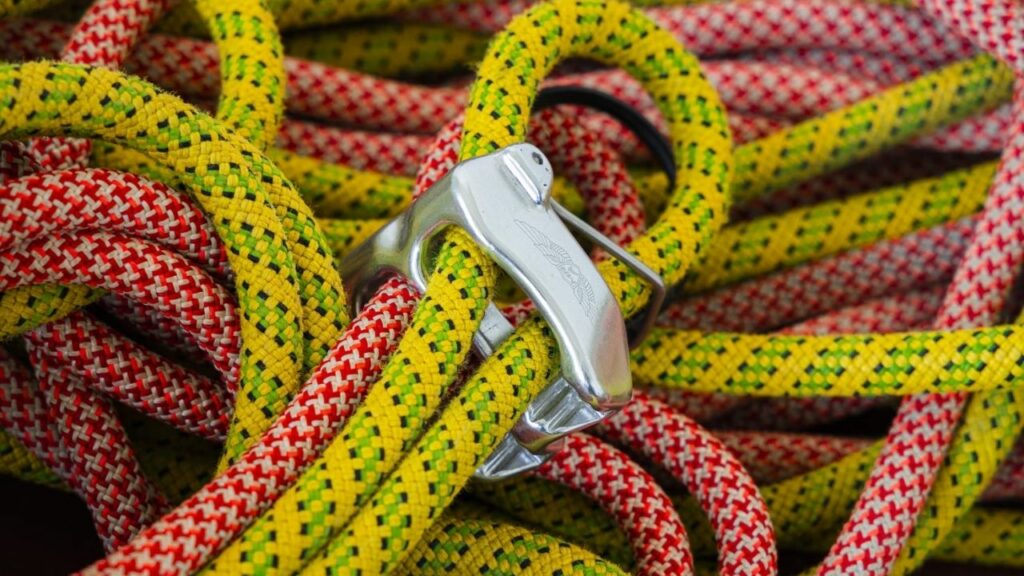 Different types of ropes are suitable for different types of climbing, so you must know the climbing type of your recipient correctly to get them a good gift. Second, it's a significant investment, so it's always advised to get higher quality ropes which are expensive.
While you can get an all-rounder climbing rope, it's not a good gift unless you have a big budget. Also, be sure to look at the rope diameter, length, features, and safety ratings.
5. Climbing Shoes
Climbing shoes are an excellent present if you know the gift recipient's climbing type and shoe size. Like pants, most beginners just climb by renting shoes at first, so it's always a good idea to get them a good pair.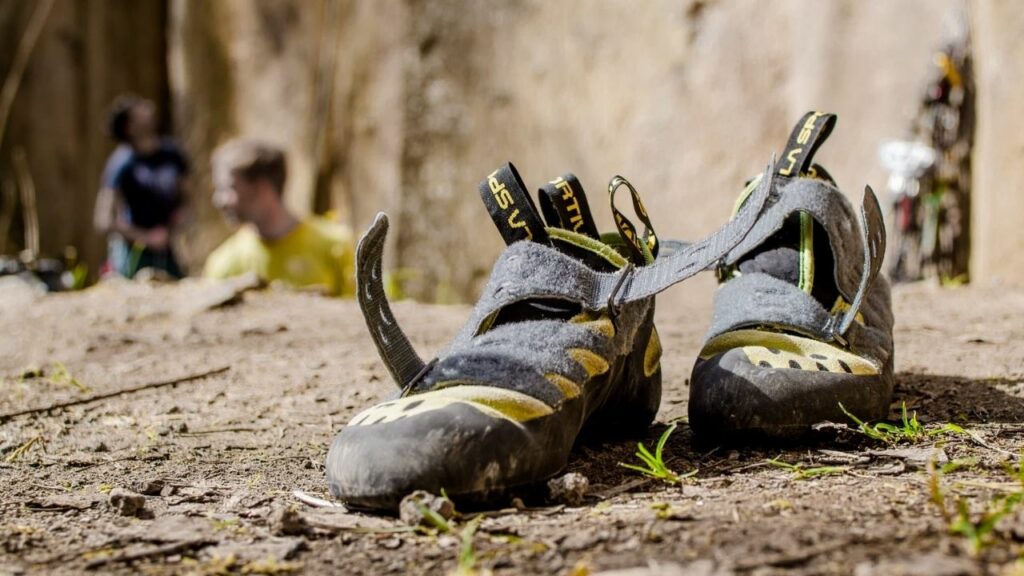 There are some basic rules everyone should know when buying climbing shoes. First, the skill level matters the most. Beginner-level shoes are mostly flat, while intermediate and pro-level shoes are slightly-arched and aggressively arched, respectively.
Also, these shoes aren't supposed to be too loose or too tight. It should be a snuggly fit with thin outer material and rubber soles for added grip.
For more details, you can refer to my extensive guide on buying climbing shoes:
6. GoPro
Action cameras are an excellent gift for rock climbers and boulderers. They're compact yet detailed enough to capture quality images.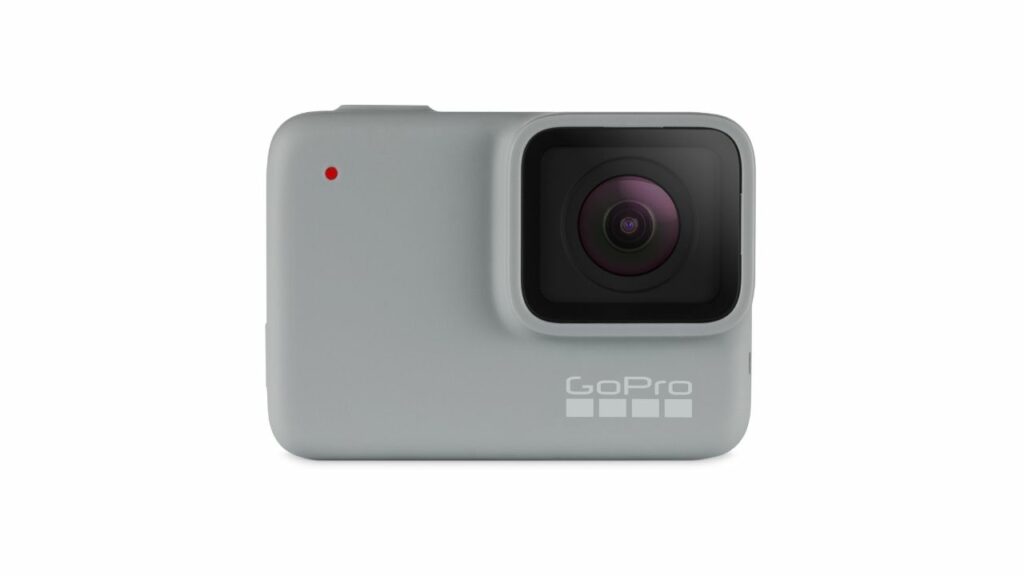 If your budget allows spending a little extra, I recommend gifting a GoPro as they're the best action cams in the market. GoPro cameras are capable of excellent stabilization and image quality while being super small and lightweight.
7. Harnesses
When buying a harness as a gift, you should look at two significant factors – the climbing type of your recipient and your budget.
Harnesses come in many price ranges, but you can get a good one at about $100. Ensure that the harness is compatible with the climbing rope and choice of clothing.
Additionally, you can either go with a catch-all harness that's suitable for beginners trying various climbing types, or you can go with harnesses specific to a type.
8. Crashpads for Bouldering
Crashpads are the best gifts for a frequent boulderer. Even if the recipient already has one, there's always room for more. One should have multiple crash pads when going solo, but it's expensive, so most boulderers start with a single crash pad.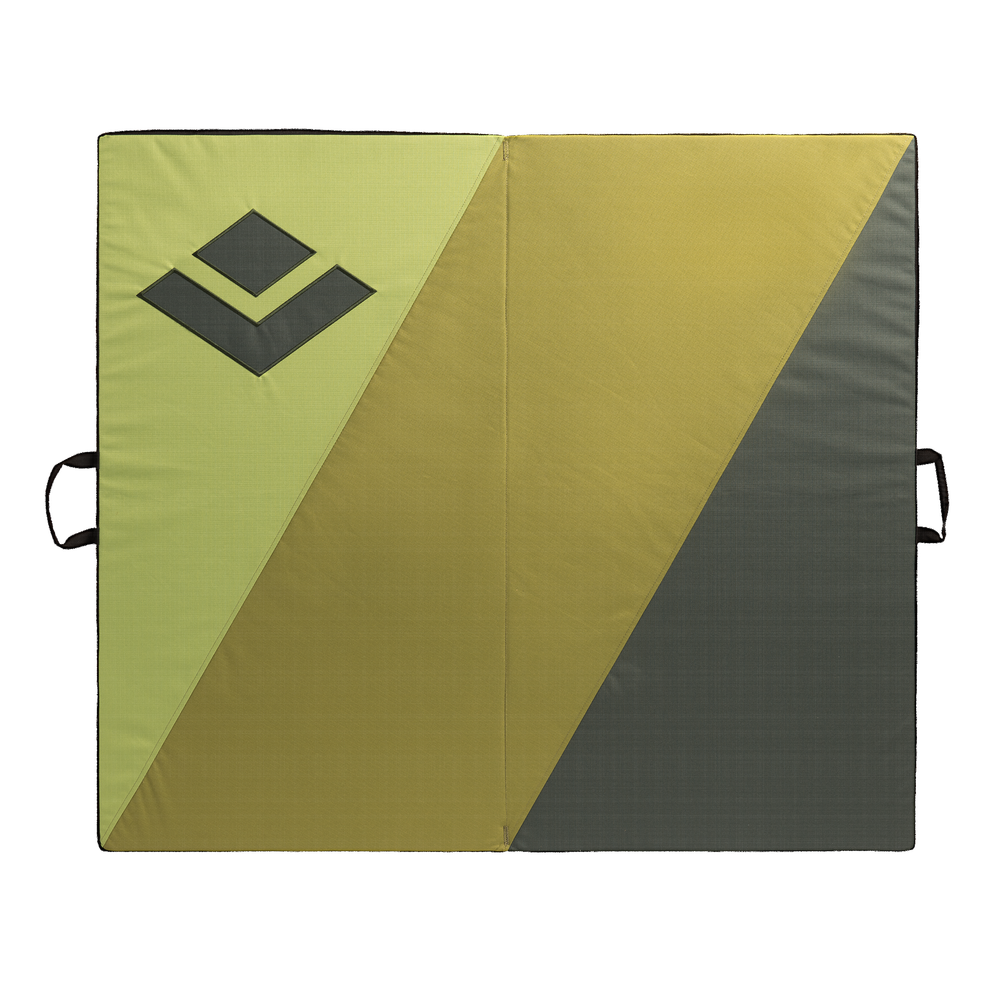 There's a lot to be considered when buying a crash pad. You have to make sure the outer (protective layer) is durable, the inner foam is appropriately balanced between open-cell and closed-cell, and the folding mechanism suits your recipient's needs and current kit.
Here's a detailed explaination on choosing crash pads:
9. Belay Devices
Belay devices are mechanical friction-brake tools that help protect the climbers from a deadly fall whenever they jump or slip on the rock wall. Chances are the gift recipient already has a belay device because it's challenging to climb higher without it.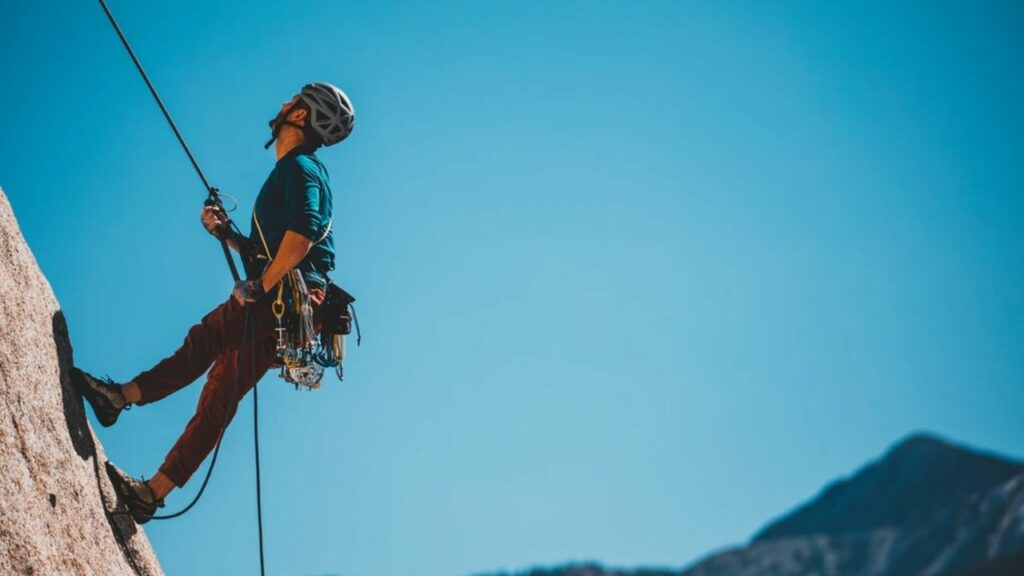 But if they don't, this would be a nice surprise present so they don't have to rent one every time they climb. When tied and attached correctly, a belay device provides multiple points of friction brakes, so you stop mid-fall as early as possible.
Generally speaking, buying a belay device doesn't involve a lot of categories. Just get a slightly pricey one with a reputable brand on them to ensure safety and durability.
10. Quickdraws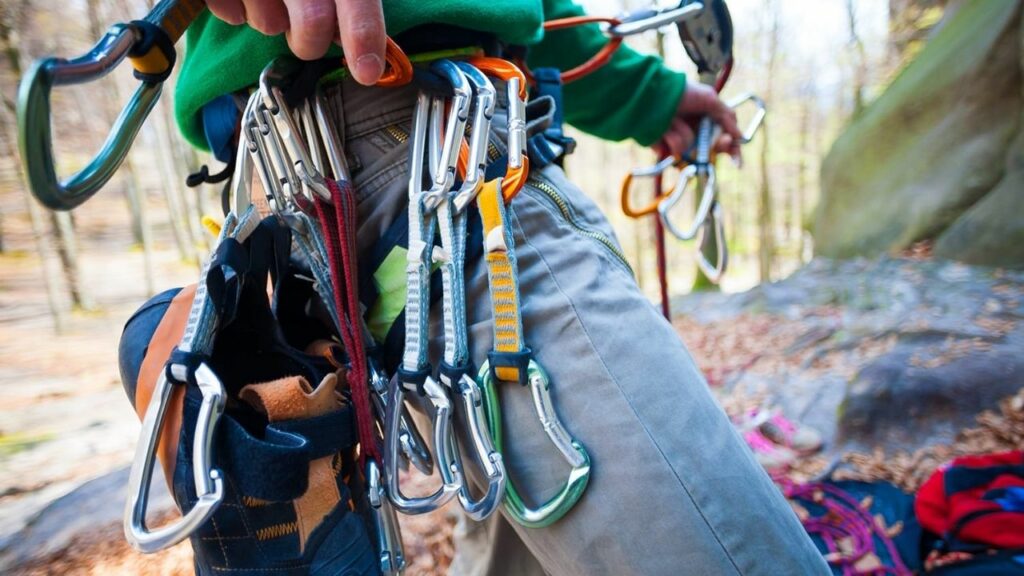 Quickdraws are just two carabiners attached to each other. They make for an excellent present or token of appreciation for a climber that you're not super close with. Quickdraws are relatively cheap. They're also more or less universal in terms of compatibility.
11. Wall Panels for Home Climbing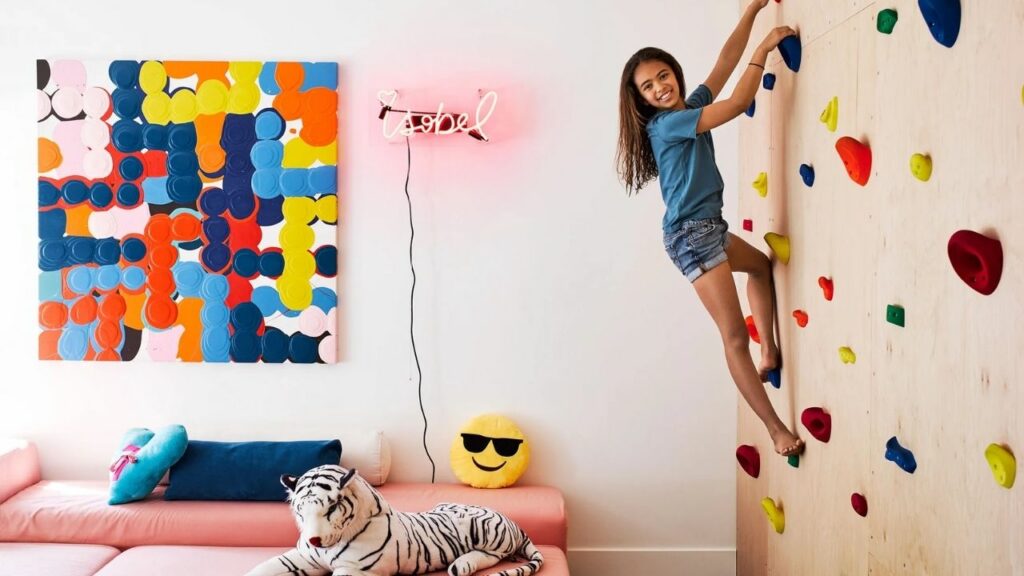 Wall Panels are excellent gifts for a climber. They're also a great present for an aspiring climber. They can place their new wall panel anywhere in their house (usually near stairs/ kids room/ garage) to practice their skills.
Given their size, wall panels are mostly gifted to young climbers to set up a DIY climbing wall in their room. You can refer to the following guide for more:
12. Finger Strength Trainers
Finger strength trainers are cool little machines every rock climber and boulderer must-have. These are great gifts for climbers to help them develop finger muscles and strength – both of which are super important for climbing. Sometimes, your entire body weight is supported by nothing but the fingers.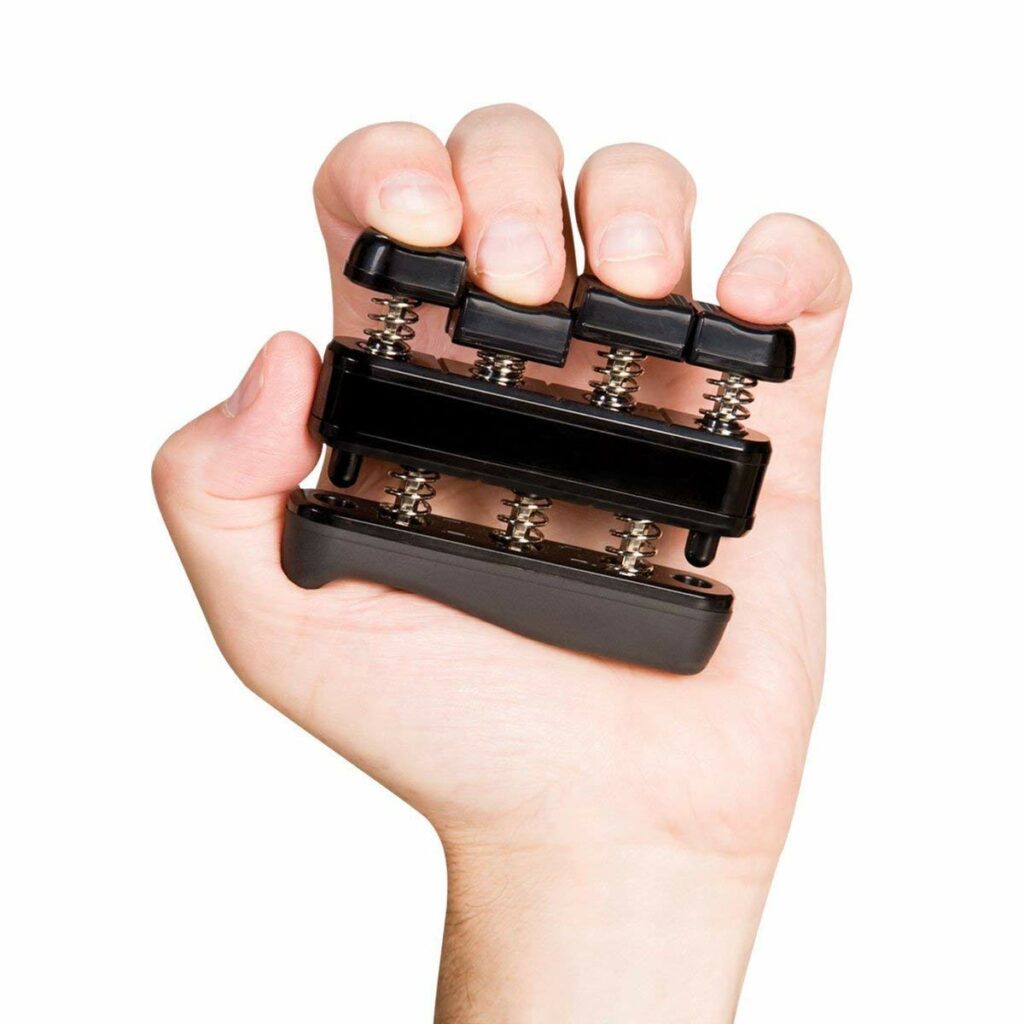 A good finger strength trainer costs anywhere between $10 and $50, but it's definitely an excellent climbing present. Remember that while these trainers are good at what they do, they shouldn't be treated as replacements for actual training and climbing.
13. Essentials Kit
There are two types of essential kits that you can give to a climber: skincare or handcare kit and hardware supplies kit. Both are extremely important, so feel free to choose.
A skincare/handcare kit includes nail clippers, dry hand spray, lotions, and moisturizers because climbing is very rough on your hands. The chalk itself will dry your hands out A LOT in the long run.
A hardware kit includes head torches, a multi-tool with scissors, a can opener, and Phillips head screws, and other goodies a climbing or bouldering buddy may need.
14. Solar Charger
Solar-powered devices are becoming increasingly popular among climbers because, why not? You're likely in the best place to utilize solar energy.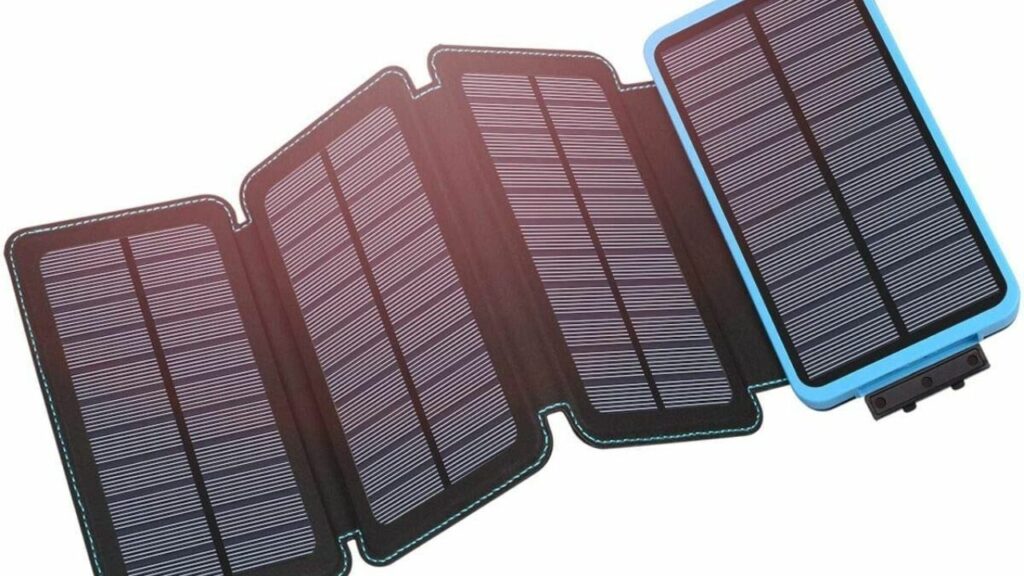 If the intended gift recipient has wanderlust like I do, a solar-powered lamp or a solar-powered charger like the Hiluckey Solar Charger are both great gifts for climbers.
15. Water Bottle
A water bottle is another "essential" that every climber's kit bag should have. After a long hard day (and even during), you're gonna need some liquid to replenish your energy.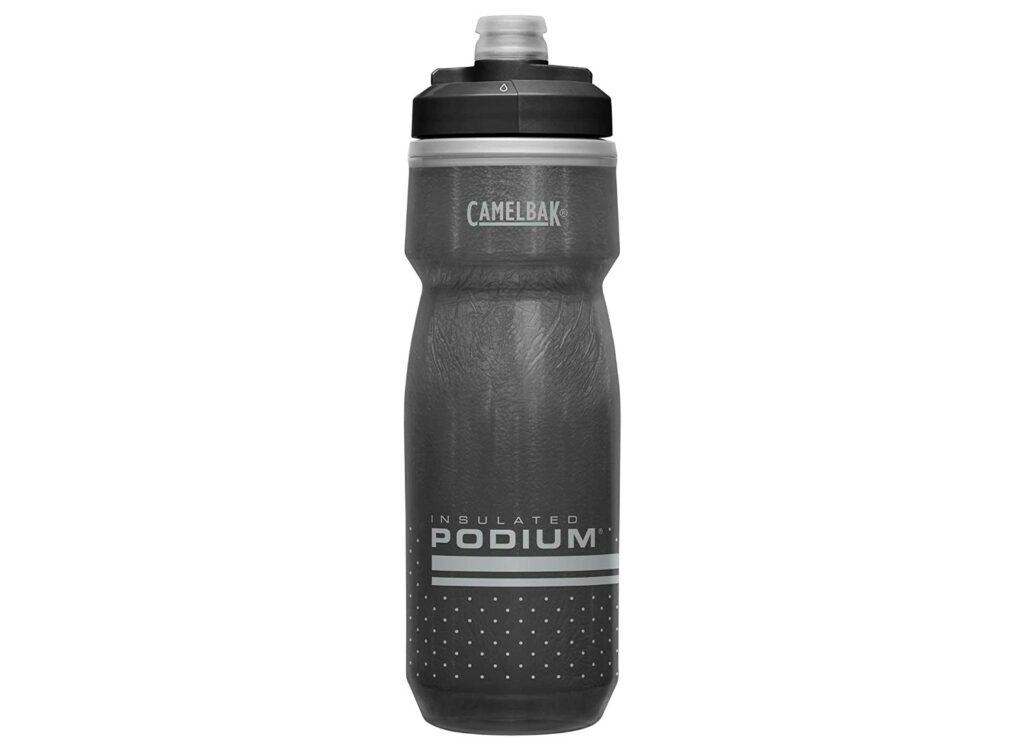 If you decide on this gift idea, make sure the bottle you get can attach to or fit nicely in his/her climbing backpack. It should also have above-average insulation. Some outdoor water bottles can keep cold liquids cold for 24 hours and hot ones for atleast 12 hours.
You really can't go wrong with this go-to climbing gift idea. Really, any item on this list will make an awesome present to surprise a climber. Cheers!