Camping is a beautiful mixture of stirring adventure and serene starry nights that has gained popularity among people of all ages. For the elderly, it's a way to relive the halcyon days, while for the juvenile, it's the best way to explore and learn.
Whether you want to spend some days in an RV over at Raquette Lake or a sturdy snow camp over the Great Smoky Mountains, you need a solid prep plan to make the most of your vacation.
I've listed some general vacation planning tips and camping essentials. As you read the article, create a checklist to help you organize your preparation to ensure you're not missing anything.
1. Get the Basics Right.
Learn more about the travel destination.
Take your time to google some basic info about your vacation spot, like the weather, the culture, the cost of food, and accommodation.
Getting minor injuries on adventure trips is common yet annoying. Get yourselves a first-aid kit to deal with them. You don't want a bleeding scratch to ruin the fun for you.
Although modern infrastructure and tourism management have made travel safer than ever, there is still a remote possibility of accidents, cancellations, and delays.
You don't need to be loaded and carry a suspiciously large cash suitcase. Just have enough to get yourself going in case your card gets declined.
Make a packing checklist.
Checklists are an easy and effective way to stay organized. The longer the vacation, the more stuff you will need to pack. Make a checklist and update it as you pack.
Prepare a list of important contacts.
Gather the contact info of emergency response in the area and contacts related to food, accommodation, and more.
2. Know the Trip: Summer Camping
As June ends, the sun gets harder and harder to deal with. For people in colder areas, it's a sigh of relief, while for those among the sand dunes, it's bad news.
Sandstorms are notorious for ruining plans, and camping is no different. If you're camping with an RV, consider stopping the vehicle and waiting it out in case there's a sandstorm; driving with no visibility is not a fun experience.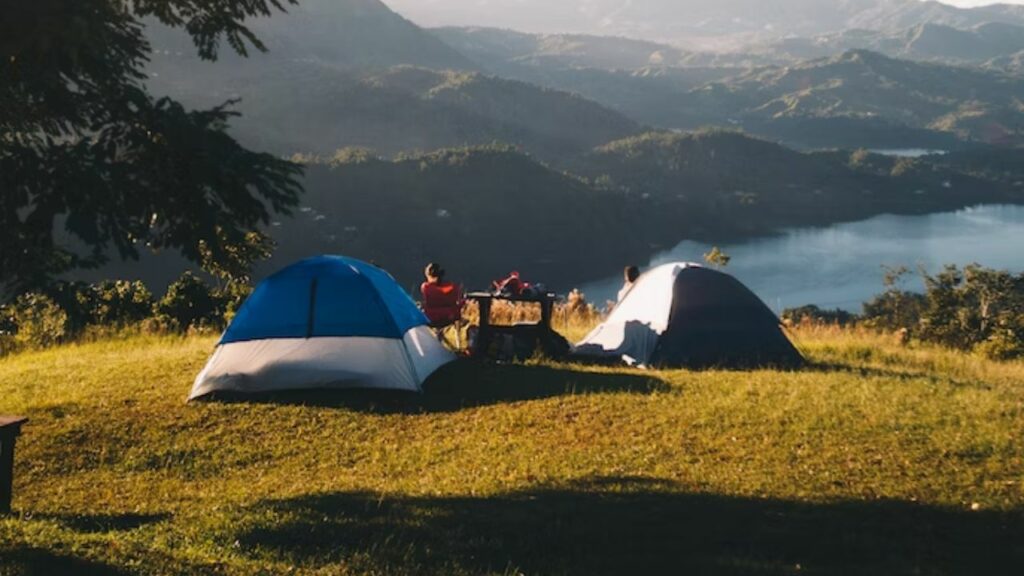 A. Tent
Opt for tents with many mesh panels.
Proper airflow is the only way to save your tent from turning into a massive oven. Camps with mesh panels allow airflow and keep things cool.
If you're planning to get an RV, make sure it has proper air conditioning
Some campgrounds provide electricity too. You can get a portable air conditioner for tents, but generators might not be the best bet for an air conditioner because of their low efficiency.
Since air conditioners consume a ridiculous amount of power, your next best counter for the unbearable heat is a portable fan. It sounds like a great deal and is cheap, light, and efficient at the cost of lesser cooling than an air conditioner.
Check weather updates, and if there's no downpour predicted, get rid of the rainfly for now. This will aid in cooling the tent.
Set up your tent or park your RV under a proper shade
If you don't find a proper shade, make one with tarps and poles!
A hammock might be the best way to relax, given you're under a tree shade.
Carry along a 3-season sleeping bag.
Ditch the heavy winter sleeping bags and get a versatile 3-season sleeping bag. These sleeping bags are also suitable for desert areas, where days are hot and nights chilly.
B. Food
Canned veggies and fruits last long without the need to refrigerate. Just don't put them out in the sun.
Bring food that will keep you hydrated.
Summer camping is great for vegetables and fruits with high water content, such as cucumbers, lettuce, celery, and tomatoes. It's also the time for the summer delight, watermelon.
C. Clothing
Moisture-wicking T-shirts are going to be your best bet. Walking around's much more comfortable when your clothes are actively trying to soak the sweat off your body.
Umbrellas are a must but can sometimes be too bulky to carry around everywhere. Brimmed hats are a great alternative. Remember to carry along a pocket deodorant.
3. Know the Trip: Winter Camping
Everybody loves a little snowy adventure, and camping might be one of the most exciting ways to start the new year.
Snowstorms are to winter what sandstorms are to the summer, but visibility is far from the only issue this time.
Camping in an RV is also better in winter, but remember, it's also the costlier option. You pay more for the convenience, considering the obvious maintenance costs.
Snowstorms are extreme, and winter can be challenging in many other ways. Make sure you are one step ahead of mother nature, and don't let the snow ruin the fun for you.
A. Tent
3-season tents are great, but when the wind gets harder, and a storm sets in, 4-season tents are the way to go.
Shovels and spades might come in handy.
The rainfly and tarps can only do so much; too much snow will eventually surround you. Use a shovel to clear up any snow that blocks your entry to the tent/RV.
Get a warm and reliable sleeping bag.
Pick the heaviest, warmest sleeping bag available. Sleeping with cold winds is easier with proper insulation.
Wearing sweaty clothes for prolonged durations while in freezing temperatures is hazardous. Try keeping your tent as dry as possible.
Winter camping is complete with a campfire. Get your dry fuel, light a fire, and enjoy the warmth.
Include an electric heater.
Do not risk it all on the campfire; nights can get dangerously cold. Make sure you have other forms of heating available as a backup.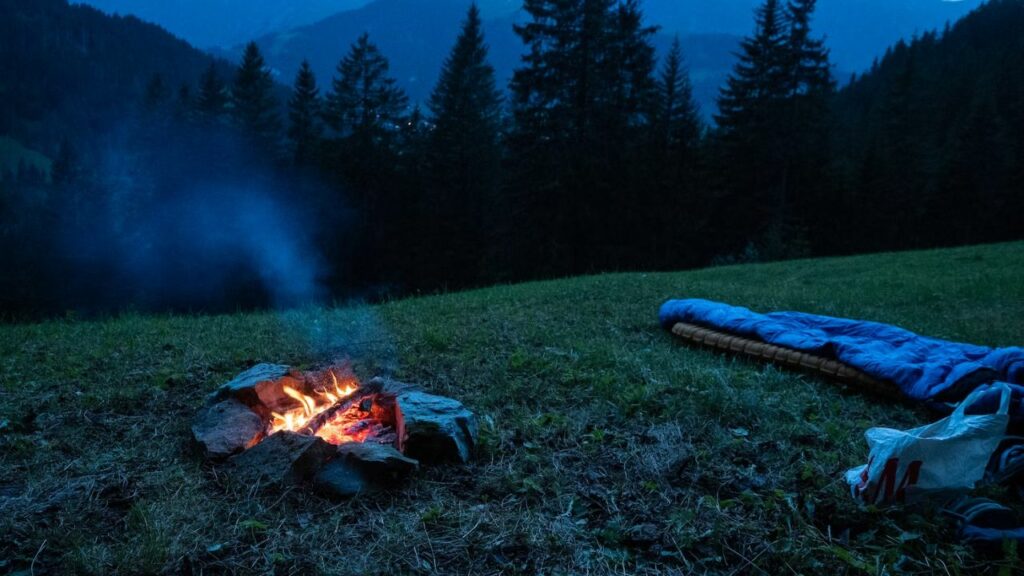 B. Food
Pack warm food that replenishes your energy.
Instead of foods that are hard to digest, carry along a source of quick energy. Stock up on nuts and granola bars. Avoid stuff like pasta. They have complex carbs that take longer to be converted into usable energy.
Pack enough water for the whole group. Even though the temperature tricks you into feeling less thirsty, your body still loses water and needs to be hydrated to function properly.
Choose plastic utensils over metal utensils.
Metals tend to get cold and stay cold as the temperature drops. You don't want the metal container to soak the heat away and make your food feel bland. Opt for plastic utensils instead.
These small yet sturdy pots can cook nearly anything you'd wish to have during your stay.
C. Clothing
Winter nights are best spent in your cozy sleeping bag but what about the days? The days are still quite cold. A T-shirt and shorts combo will be a painful choice here.
When camping in the winter, the easiest way to keep warm is to wear multiple layers of clothing. This method is called "Layering." Clothes are 3 layered, inner, mid, and shell. The inner layer consists of woolen vests or thermals.
You can use shirts, T-shirts, fleece jackets/vests for the mid-layer. The upper layer or shell is made up of waterproof jackets. It keeps all the unwanted moisture away. Along with those, pack beanies, warm socks, and mufflers, anything to prevent hypothermia.
4. Safety Preparation for Bad Weather
A. Keep an eye on the weather forecast.
Stay updated with the latest weather forecast for your camping location. You should be prepared (mentally and physically) to adjust your plans accordingly or consider rescheduling if the weather is expected to be extremely hazardous.
B. Pack appropriate safety gear.
Make sure you pack a few items to take cover from the bad weather. Here's a list of some essential items to include:
A sturdy tent with a rainfly
Waterproof tarps
Extra ropes and stakes
Waterproof clothing
A waterproof backpack cover, and
Reliable footwear with good traction.
These items will help keep you dry and protected from bad weather.
C. Secure your tent well.
Stake it down securely and use guylines if necessary to provide extra stability in strong winds. You can also consider adding a footprint or groundsheet beneath the tent to prevent water from seeping in from the ground.
D. Create a sheltered area close to your campsite.
In case your tent is damaged, or you need additional shelter, it's helpful to have alternative shelter options. Carry a lightweight emergency shelter, such as a tarp or bivvy sack.
Although these can be quickly set up to provide temporary protection, you can set them up somewhere close to your campsite in advance.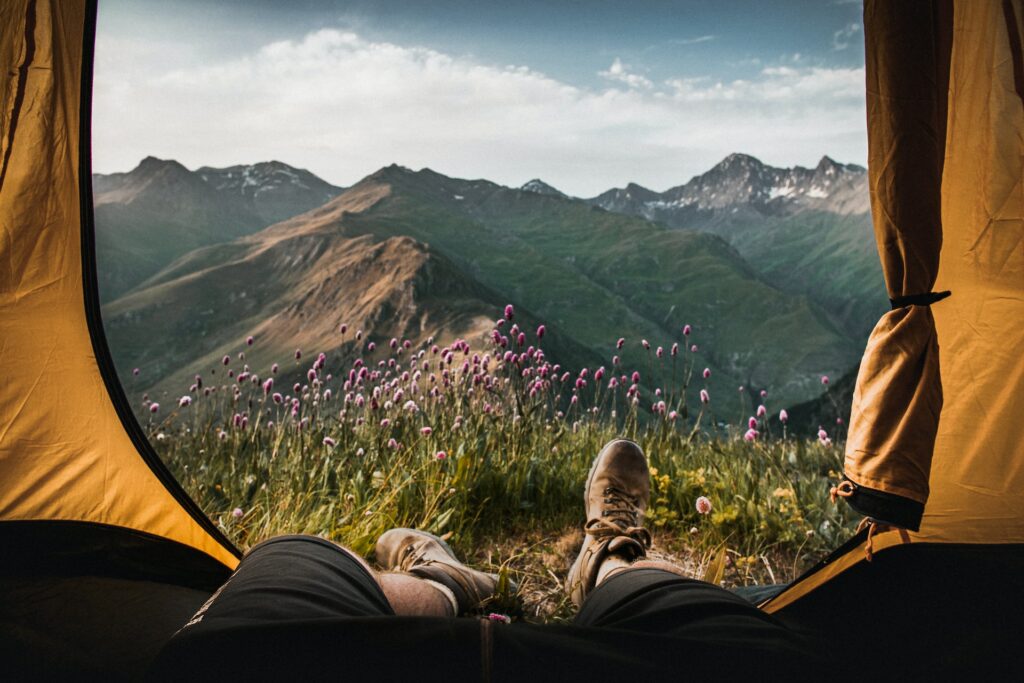 5. My Ultimate Checklist
Shelter and Sleeping:

Tent (with stakes, poles, and rainfly)
A groundsheet or tent footprint
Sleeping bag
Sleeping pad or air mattress
Pillow or camp pillow
Extra blankets (if needed)

Campsite Essentials:

Camping chairs or portable seating options
Camping table (if desired)
Lantern or flashlight
Headlamp or flashlight with spare batteries
Campfire tools (firestarter, matches/lighter, firewood)
Camp stove or portable grill (with fuel or charcoal)
Cooking utensils (pots, pans, spatula, tongs)
Plates, bowls, and eating utensils
Cups or mugs
Water bottles or hydration system
Cooler and ice (if needed)

Clothing and Personal Items:

Weather-appropriate clothing (layers, rain jacket, hat)
Sturdy and comfortable hiking shoes or boots
Extra socks and underwear
Pajamas or sleepwear
Toiletries (toothbrush, toothpaste, soap, shampoo)
Towels (bath towel, microfiber towel for quick-drying)
Sunscreen and insect repellent
Personal medications and first aid kit

Food and Cooking Supplies:

Food (non-perishable items, canned goods, snacks)
Cooler for perishable items
Cooking utensils (knife, cutting board, cooking spoon)
Camp-friendly cookware (pots, pans, grill grate)
Eating utensils (spoons, forks, knives)
Plates, bowls, and cups/mugs
Food storage containers and bags
Cooking oil, spices, and condiments
Water or water filtration system

Safety and Miscellaneous Items:

First aid kit (band-aids, antiseptic, pain relievers)
Map and compass or GPS device
Multi-tool or a pocket knife
Duct tape and rope
Whistle for emergencies
Fire extinguisher (if allowed)
Extra batteries and power banks for electronic devices
Trash bags for waste disposal
Camping permits or reservations (if required)
Cash or cards for emergencies or park fees
6. Other Activities and Camping Ethics
Depending on your campsite location, you can engage in hiking, kayaking, snowboarding, birdwatching, mountain biking, and many other activities. When you're at the tent/RV, board games are a great idea for some family time.
Remember that it's your responsibility to ensure the campers that visit the campsite after you experience the serendipity of nature the same way you did.
Clean up after yourself, keep the generator off while other campers try to nap, and ensure you are not interrupting anyone else's camping experience. It's a fun time for all, people camp to spend their vacations peacefully, and the last thing they want is arguments with strangers at campgrounds.
Keep the experience fun and relaxing, camp ethically, and preserve the fun for future generations!