If you have been following up with my climbing guides, you know that rock climbing is no walk in the park. I mean, you could get seriously hurt if you don't follow all the safety procedures, even when you have a partner to tag along. Climbing solo is a WHOLE different ballgame.
The popularity of climbing sports, especially rock climbing, has been growing steadily in the 21st century – the primary reason being indoor climbing gyms sprouting around the United States. Many people hope to get into the activity, but unfortunately, they don't have peers to climb with.
This has lead to one central question – Can you rock climb solo? If yes, then how?
Rock climbing solo is possible and is actually the purest and the rawest form of all climbing sports. But only because you can do it doesn't mean that you should. Climbing solo even with proper equipment is extremely dangerous, and I do not recommend doing it.
I know what you're thinking. "I wanna try it anyway." You tell someone that they can't do something, and that will be the first thing they do. So, if you're gonna try solo climbing anyway, I'd rather have you do it with proper knowledge.
How to rock climb solo?
Let's clear a common misconception first. Solo climbing doesn't necessarily mean going on the trip alone. It just means that you won't require any support like a spotter for bouldering or a belayer for rock climbing. But you can still go with a group and enjoy the experience with everyone!
Since we're on the same page now, let's talk about self-belaying because that's the only additional skill you need when rock climbing on your own.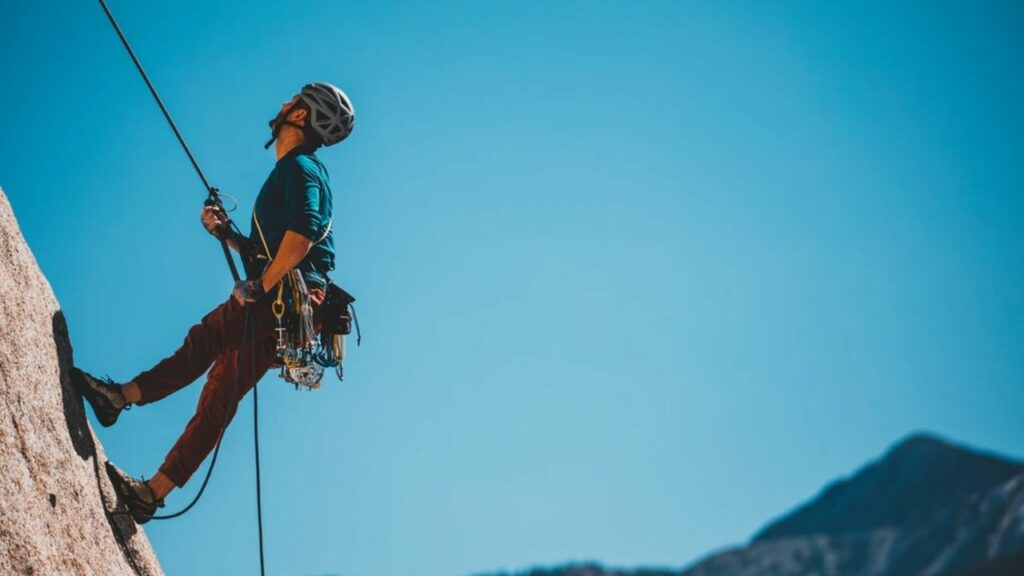 1. How to self-belay? Is it safe?
Self-belaying is relatively safer if you're aware of which self-belaying system and technique suit your style. It's certainly not for beginners, but you can get good at it after a decent amount of practice with belay devices.
Step 1: Anchoring
Your rope should be anchored right below the edge of the cliff so that it doesn't rub against the edges. Ideally, you should use a 10mm or thicker static rope for stability. Use a dynamic rope as a second/backup rope for maneuverability.
Step 2: Setting up Self-belay
While you can use various tools, climbing.com and most pro climbers prefer Petzl Mini Traxion or Petzl Microcender. The next step is to just follow the instructions on the manual – attach both the devices on the rope (one over the other) and lock them with the cams properly.
The top one will be your primary belay connected to the chest harness with slings so that it stays stable.
Step 3: Pre-climbing check
Check if everything is locked correctly before you begin the climb.
There is more than one way to prepare a self-belay for top roping and lead climbing; it's a good idea to check other techniques as well:
Tips:
Climb on familiar routes first.
Set up your harnesses and rigging on the ground once to ensure everything is working.
2. Precautions while climbing solo
You'll need to be doubly sure about your equipment and preparation and properly build lots of finger strength, especially when climbing solo.
Here's a list of the equipment you'll need while solo climbing:
A good pair of climbing shoes.
A sturdy and easy-to-maneuver harness because you'll anchor and belay yourself.
A set of dynamic and static ropes.
Standard belay devices, carabiners, and quick-draws.
Gloves and chalk
You'll also need both active and passive protection equipment when climbing solo.
Tips:
Mentally prepare yourself before you climb so that you're in top shape.
Check all your equipment twice – remember that no one will belay for you when you're hanging from the rock.
Other Solo Climbing Activities
Now that you know how to rock climb alone and self-belay lemme tell you that's not the only way to rock climb solo. In fact, various climbing sports are dedicated to "solo climbing."
Some require equipment (like rope soloing), while others don't (like DWS and free soloing). Let's have a look at your options.
1. Bouldering
Bouldering is the most widely-known climbing sport after rock climbing. It has become even more popular nowadays among beginners because of climbing gyms.
Bouldering is completely safe to be done indoors (at your climbing gym) and outdoors (common bouldering problems). It doesn't require much equipment besides good shoes and crash pads. Familiarize yourself with the landing zone if you go alone.
It's usually done with a partner, called a "spotter," who keeps an eye on you while climbing the boulder. The spotter's job is to alert you if an area is not safe for landing. You could boulder alone without a spotter – just buy good quality crash pads and get some extra pads to increase your landing zone.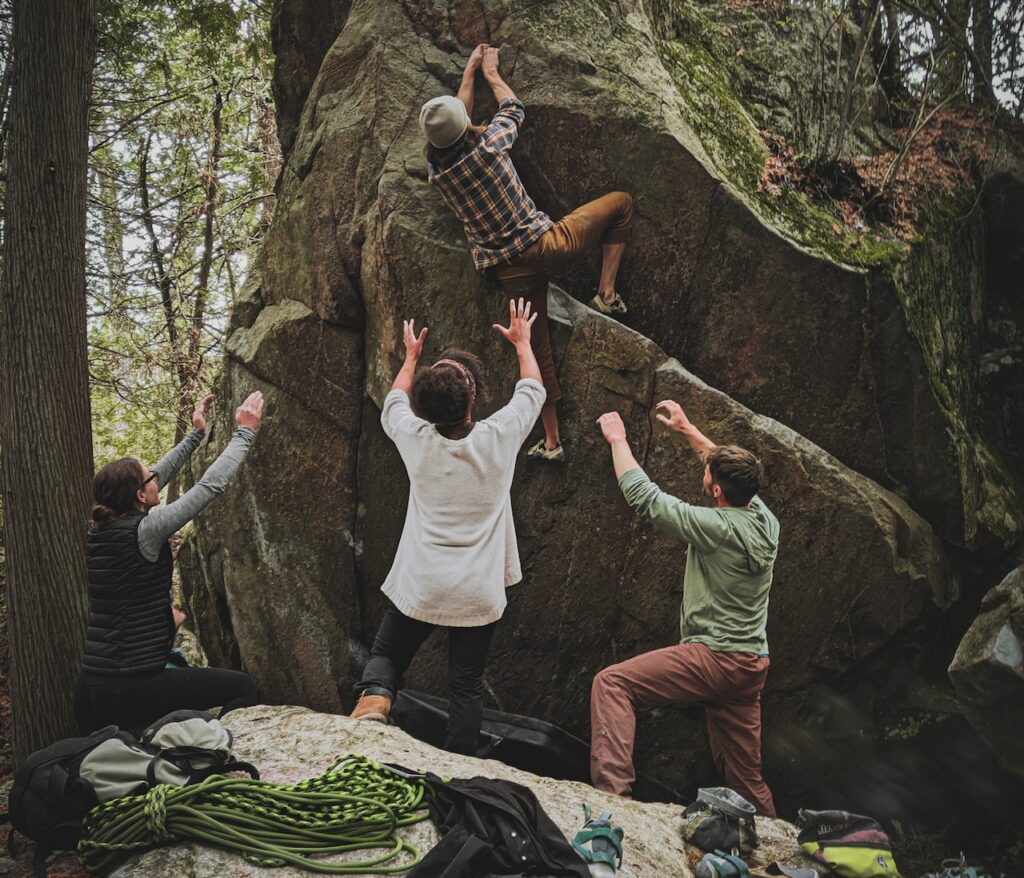 2. Indoor Climbing & Auto Belaying
Indoor climbing follows the same principle as indoor solo bouldering – you climb at your gym with a large well-cushioned landing zone below to reduce the risk of injuries.
Choose a gym that offers "auto belaying" since it's a popular and safer type of indoor solo climbing. Auto belaying devices are fixed at the top of the artificial wall. They offer belaying without needing a partner below you. Once you hook yourself to the rope, it pulls as you go up and also makes sure you land slowly when falling.
Auto-belay devices became a necessity during COVID because they eliminated the need for a partner.
3. Rope Soloing
The common rope soloing activities are called top roping and lead belaying. But rope soloing is certainly not for beginners. Since you won't be having any support from below, you'll need to understand the harness system in-depth.
Trying rope soloing right after bouldering just because you know how to climb is the easiest way to get hurt. This activity is only for climbers who are experienced with rock climbing and its safety equipment.
4. Deep Water Soloing
Deep Water Solo Climbing, or "psicobloc," is a branch of climbing sports where you climb the rock/crag above water. It was found in Majorca, Spain, when a few climbers couldn't climb at the major spots, so they decided to climb above water.
It became popular in the United States during the early 90s and then in 2005 when US Pro Climber Chris Sharma sent the hardest DWS route in Majorca. Psicobloc-ing doesn't require any equipment except good climbing shoes that can get wet and liquid chalk.
The idea is to land on water if you fall. Yes, it's somewhat dangerous than climbing with belay devices and harnesses. Still, you can minimize the risk if you know what you're doing. And, it's certainly not as dangerous as the final entry on this list.
5. Free Soloing
Free Climbing is the rawest form of rock climbing – it's literally just going to the spot and climbing the cliff. Free climbers don't use equipment, harnesses, etc., to protect them from injuries, permanent disabilities, or even death. In short, don't do it.
Call me a coward, but I think free soloing is a fool's errand. In fact, most of the pro climbers agree with me – experienced climbers who truly enjoy and respect the sport wouldn't dare free soloing even the easiest routes.
If it's the thrill you want, I suggest dipping your toe in Deep Water Soloing.
How to find climbing partners?
As I mentioned earlier, solo climbing means that you'll climb without anyone's support by using techniques such as self-belay. It doesn't mean doing everything alone. After all, some of my best climbing moments involve climbing with a partner.
It's like bouldering – sure, you can climb solo but is it really a good decision to not have a spotter?
I understand that it might be difficult because not everyone has climber as friends and acquaintances. Trust me, I've been there. But that shouldn't stop you – let me tell you a couple things you can do to find yourself some good climbing partners. It's not always easy to find partners, but it's not impossible either. Plus, the pros outweigh the cons.
1. Climbing Gym Clubs & Services
Your local climbing gym is a great way to find climbing partners – you could ask the people you often see at the gym/climb with if they are interested in going on a climbing trip. Don't shy away from asking because there's a good chance that others are looking for partners for their trips too.
You could also ask the gym owner about the group activities in the gym. Various gyms across the States offer "member meetups" – a meet-and-greet where climbers can interact with each other.
All the US branches of Central Rock Gym also feature a "Find Me a Partner" section on their bulletin board. You can put your contact info there or take someone else's. I'm not 100% sure if this works since I'm not a member, but I have it on good authority that it does.
2. Social Media Rules!
I personally prefer Reddit when it comes to finding climbing partners online because the people in the r/climbing subreddit are extremely helpful and passionate. You can also find groups on Facebook, Twitter, and other platforms based on your preference.
Suppose you're not comfortable with sharing your entire trip plan on social media. In that case, you could just find out what other people are planning. Then you can privately invite them if your trip route intersects with theirs.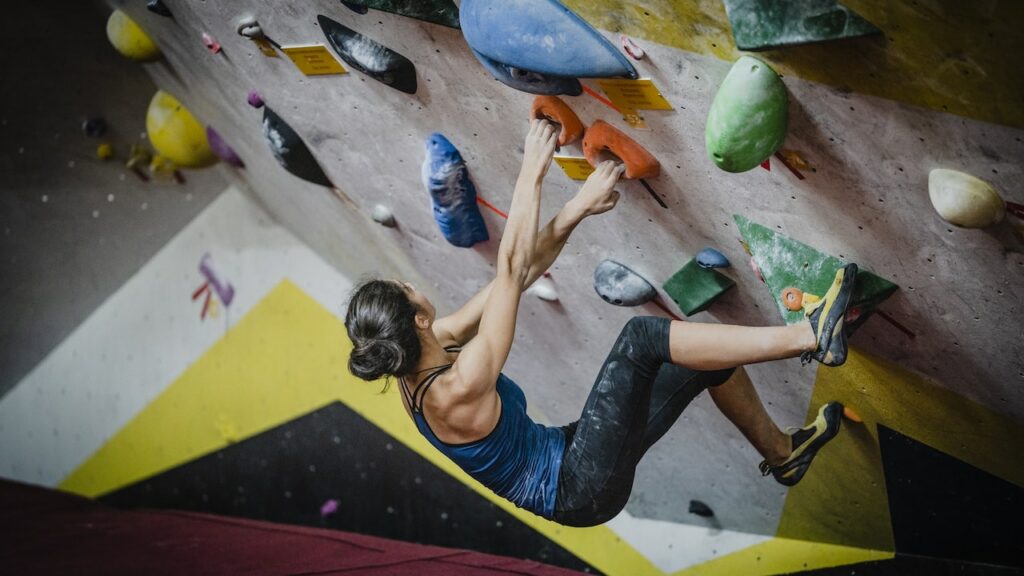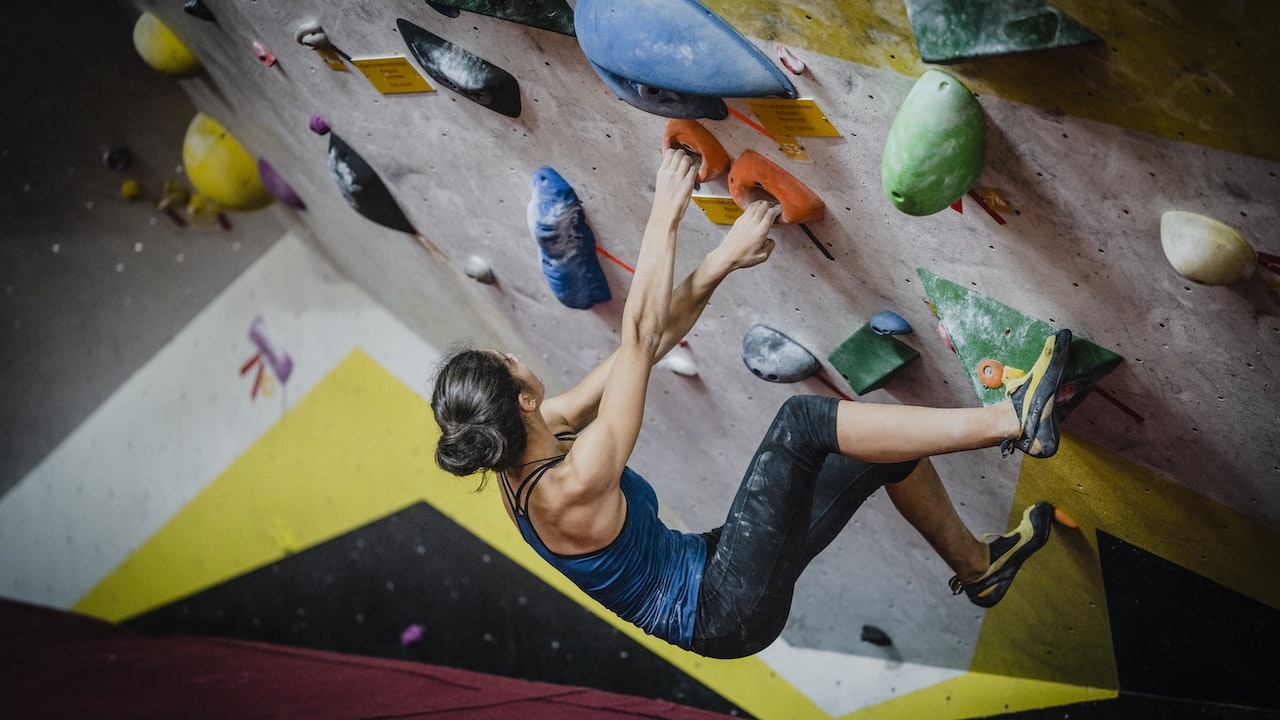 3. Websites to Find Partners
You could always check out some of the prominent websites that help you find partners if you aren't comfortable on social media.
MountainProject is famous for its in-depth technical data on extreme sports and its very own Partner Finder – just put your preferences and experience, and voila!
You can also check Meetup.com, and there are some groups dedicated to female climbers, such as She Explores and Women Who Climb.
4. Pick Popular Destinations
I think this one goes without saying – the best way to find climbing partners on the go is to pick a popular spot with multiple activities. There are two major benefits of not being picky about that one spot and going with something rather popular:
Firstly, it's easier to find climbing partners in crags filled with other climbers. Secondly, you can prepare for the worst this way. Say if the weather conditions are not ideal on your big day, you could go hiking or do other activities instead of packing up and going home.
Here's an excellent article by Paulina Dao about her experience on a solo climbing road trip and how she found many climbing partners along the road.
Now you know all the important details about solo climbing, what are you waiting for? Go out there and start climbing! Stay safe, happy climbing.