It's not uncommon for people with disabilities to worry about having to give up their hobby/dream of climbing. People often think about how they'll get a foothold while being in a wheelchair. And, the massive physical toll rock climbing and bouldering take on the body.
Indeed, these concerns aren't baseless, but perhaps the 21st century is more adaptable than you anticipated. If anyone has ever told you to give up on rock climbing because you injured or even lost both your legs – ignore them. This couldn't be further from the truth.
People in a wheelchair can rock-climb and do bouldering in an adapted setting, such as Adaptive Rock Climbing. Paraclimbing is a branch of climbing dedicated to people with disabilities recognized by the Paralympics Committee. Several gyms across the country offer specialized equipment and ropes for climbers in a wheelchair.
So…is rock climbing for people in a wheelchair somewhat different? Well – that's up to you to decide. But will you enjoy the experience just as much? Hell yeah! This article walks through all the details.
What is Paraclimbing?
Paraclimbing is a sport for people with disabilities where athletes are placed into various categories. This is done to ensure that athletes with similar disabilities can compete against each other.
International Federation of Sports Climbing (IFSC) has been organizing various camps and competitions in the United States and worldwide since 2006. You can read about the progress of Paraclimbing over the years here.
It has the same rules as rock climbing because the fundamental idea is to climb a wall/rock using a top rope. Paraclimbing has been recognized by the International Paralympics Committee, but it's not a part of it. Unfortunately, rock climbing for people in a wheelchair is yet included as one of the Paralympics events.
But that doesn't look far off given the increasing popularity of the sport since 2006.
Like traditional rock climbing, top-roping is just one of the various climbing categories that fall under Paraclimbing. It includes bouldering and adaptive rock climbing as well. Pretty exciting, right?
1. Rock Climbing vs. Paraclimbing: What's the difference?
You're not the only one who is confused about this. "Paraclimbing seems cool and all, but will I get the authentic rock climbing experience?" is a common question among people with disabilities.
The short answer is that it's subjective. I can't answer that for you because we all have different mindsets and perspectives. Are there climbers who didn't enjoy the experience as much as they used to? Of course, there are. Are there some that get even more of a rush and gratification from climbing with a disability? You bet!
So, don't reject the idea without even trying. It won't change a thing if you hate it, but what if you love it? It might just be the positivity you're looking for.
Some climbers loved the idea and have been enjoying it ever since. The most well-known example of this is Hong Kong's Lai Chi Wai and this guy:
He's pretty inspiring, isn't he?
Paraclimbing categories and how to participate
Now that you know how awesome Paraclimbing is, let's go over some of the technical details of the sports.
1. Categories
There are 20 Paralympic categories specifically for people with various disabilities. Here are the major categories:
RP1, RP2, RP3: These categories are for people with neurological and physical disabilities.
B1, B2, B3: These categories are for people with visual impairment.
AU1, AU2: They are for Upper Extremity Amputees.
AL2: It is for Lower Extremity Amputees.
AL1: It's for the "seated" category or people in a wheelchair.
Youth: These categories are specific for the youth.

YB: ages 14-15
YC: ages 12-13
YD: ages 11 and under.
You can check this document for information on all the categories and their respective rules.
2. Participation
Participation in these events is relatively simple. You just have to register! The registrations and administrations for US Paraclimbing National Championships and other such events can be done through usaclimbing.org and paraclimbing.org.
How to rock climb with a wheelchair?
Paraclimbing and rock climbing for people with disabilities are similar to traditional climbing with the addition of a few equipment and safety rules for the sake of adaptability.
Let's start with the gyms first.
1. Practice in specialized gyms
You can practice rock climbing and bouldering in a wheelchair at various climbing gyms. Unfortunately, not all gyms in the states offer the required facilities. And there's no particular database to search and check which gyms have the necessary accommodations.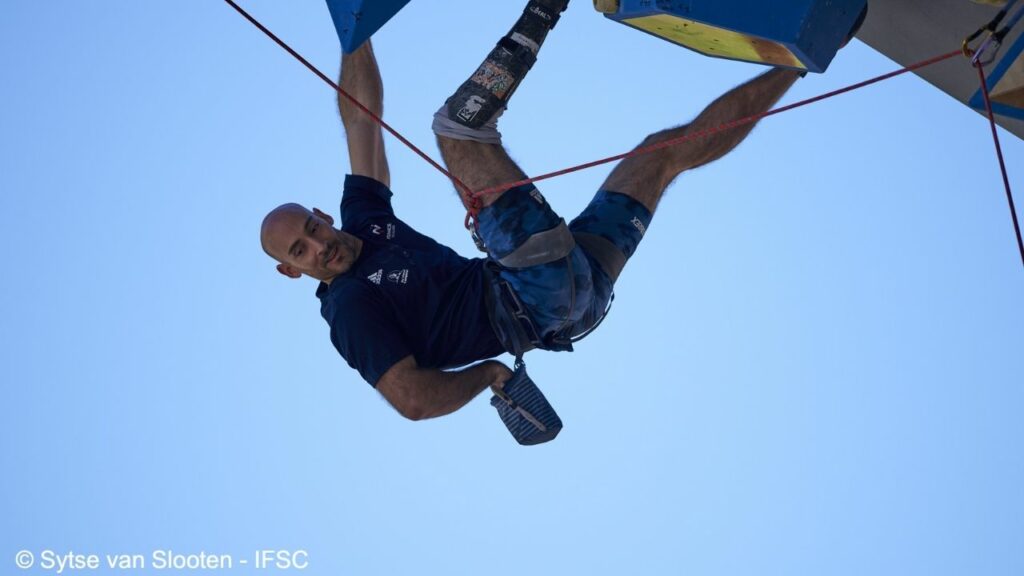 So you'll have to do this the old-fashioned way by calling up your local gyms to ask whether they have specialized equipment or not.
2. Equipment
You'll need specialized versions of your standard equipment and a few extra things for climbing.
Seated harness: This type of harness has bigger belts and leg loops than a standard harness to avoid sores. 
Hang grips: You'll need specialized hand grips for a better hold if you have an upper limb amputation along with your legs.
Specialized feet and climbing knees: You won't need these if you're climbing a top rope using a harness attached to your wheelchair. But they'll be required if you want to do rock climbing more traditionally.
Chest harness: If you have a spinal cord injury, you'll need a chest harness to keep your body upright to avoid further complications.
Other climbing items: These four were the major pieces of equipment you'll need for all types of climbing. But you'll need more for different activities. I suggest talking to your instructor or an expert about the proper equipment and safety steps.
Benefits of climbing for people with disabilities
It might come as a surprise to you. Still, doctors actually recommend activities such as sports climbing and rock climbing for people in a wheelchair. It's scientifically proven that these sports have various physical and mental benefits.
Dr. Elissa Zakrasek, a physical medicine and rehabilitation doctor at the VA Palo Alto Health Care System in California, spearheaded the recent study regarding the physical, psychological and social benefits of climbing for people with disabilities.
Honestly speaking, the study does highlight various physical risks involved in extreme sports for the disabled. But it concludes with the fact that the chances of any physical injury are extremely rare if all the proper precautions are executed.
On the contrary, the benefits of doing physical activity and social interactions while climbing has helped people get over the shock of getting tied to a wheelchair and enjoy life.
Famous climbers in a wheelchair
1. Lai Chi Wai
Lai Chi Wai from Hong Kong is probably more well-known compared to the other names on this list. He lost his legs in an unfortunate accident but didn't lose his spirit.
Chi Wai is the four times rock-climbing champion and an inspiration for disabled climbers around the world. He's famous for climbing Lion Rock, standing at 1624ft (as tall as the Empire State Building).
2. Laura May
Laura May from England was 11-years old when she was diagnosed with Scoliosis. After her surgery went wrong, she lost her legs for good, but that didn't stop her at all. She's now a skier, mountain triker, and rock climber.
3. Nik Royale
Nik Royale from Wales is tied to his wheelchair because of progressive cerebral palsy. He's known for climbing the summit of Tryfan (North Wales) in 2008 and is now a climbing instructor in England.
Other extreme sports for the disabled
You already know where I'm going with this. Climbing is not the only extreme sport for athletes in a wheelchair. You can do just about anything you want as a disabled person if you set your mind to it.
1. Adaptive Flying
Adaptive flying allows you to learn how to fly a plane with a disability. It's not as widely known in the US in comparison to the United Kingdom. APT Trust (Aviation for Paraplegics and Tetraplegics Charitable Trust) in the UK is one of the well-known institutions that teach adaptive flying.
2. Adaptive Skiing
Adaptive skiing is for those who want to ski but have a disability. The experience is identical to traditional skiing, with the equipment being the only difference. The ski and the ski poles are specially engineered to be used by people in a wheelchair to experience skiing.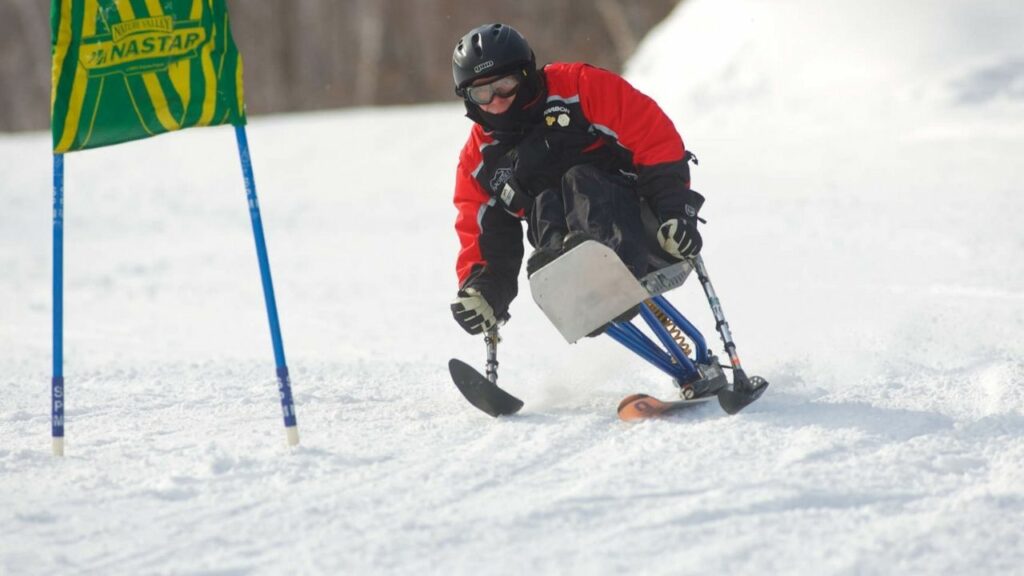 Frankly, I first got to know about it while watching an episode of the famous sitcom MOM when Adam (the former stuntman) goes skiing.
You can do so much more than skiing and fly with just a little bit of research and a willingness to adapt. Fans of other sports can take part in wheelchair basketball, wheelchair rugby, and so on. Equestrian Sports are also popular among the disabled because you play while sitting on a horse.
Key takeaway: no one likes to be patronized, and you don't have to be. Go climbing if that's what you want. Know about your limitations and prepare the necessary equipment. And most importantly, enjoy!