Purchasing a good quality climbing rope is crucial to any indoor or outdoor climb. A thick, abrasion-resistant, durable rope can turn a bad climbing day into a good one.
But we aren't gonna talk about them, are we? Today, we're talking about utility ropes (accessory cords) that intermediate and advanced climbers use to enhance their overall climbing experience.
Shopping for them can be a chore and a half since different types of climbing cords serve different purposes. So, the one you choose must be good in certain areas to fulfill that role. Though you probably know what they are, let me give a quick refresher.
Cords: Utility cords can be used in dozens of different ways, such as custom-length slings, friction hitches for rappelling, a cordelette for a personal anchor, and a loop for self-belaying.
Webbings: These are long spools of utility cords that you can use to make stuff like slings.
Slings Also known as runners, these are small sections of cords (webbings) tied around two draws to make a loop. It's used as an anchor to extend the quickdraw and reduce friction.
Paracord: The "parachute cords" originally used on parachutes are now general-purpose utility cords for various purposes depending on the climber.
Best Climbing Accessory / Utility Cords to Buy
1. GM Climbing Double Braided Cord

The 8mm double braided cord by GM Climbing is the best Polyester accessory cord you can buy in the US in 2023. It's one of the best utility cords in the market regarding abrasion resistance and tensile strength. The product is also inexpensive, costing only $0.75 per foot.
More importantly, it's a UIAA-certified product that's flexible enough to tie all climbing knots. GM Climbing's utility cord is popular among climbers who prefer using different types of Prusik knots.
Buy GM Climbing Double Braided 8mm Cord on Amazon
2. Sterling PowerCord Cordelette 5.9mm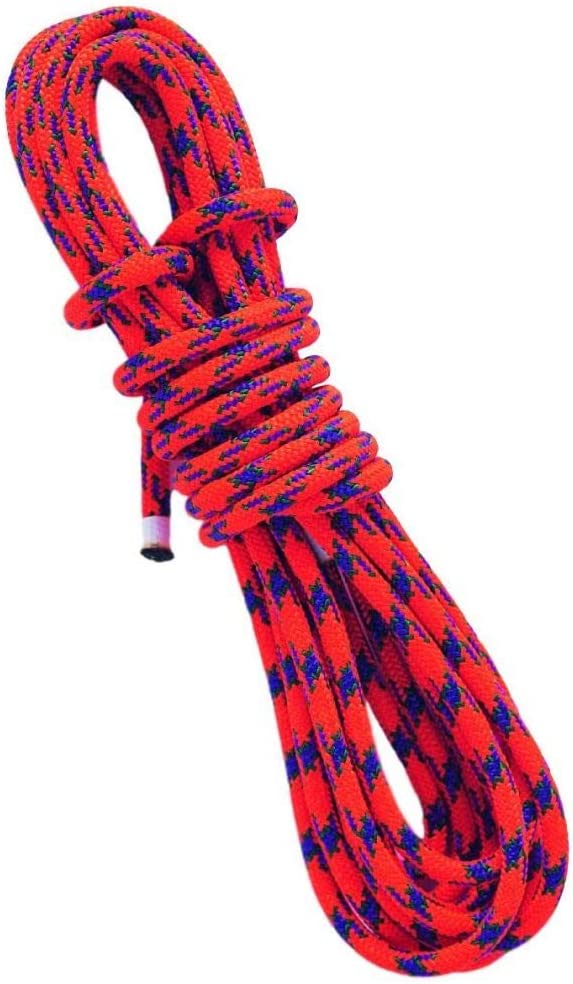 Don't misjudge this cord by its thickness. This 6mm Nylon product can put most other cords to shame.
Sterling's PowerCord Cordelette is the best climbing utility cord you can buy in the US in 2023. The Nylon material is lightweight, making it easy to handle and tie multiple notes. At the same time, it's extremely durable and strong, rated for tensile strength of 4800 pounds (19 kilo-Newton).
18ft of this cordelette costs about $28 with a discount and $34 without it. And the price-to-performance ratio of that is simply off the charts. This cord is sure to last you years.
Buy Sterling PowerCord Cordelette 5.9mm on Amazon
Best Climbing Webbings to Buy
1. BlueWater ClimbSpec 1″ Webbing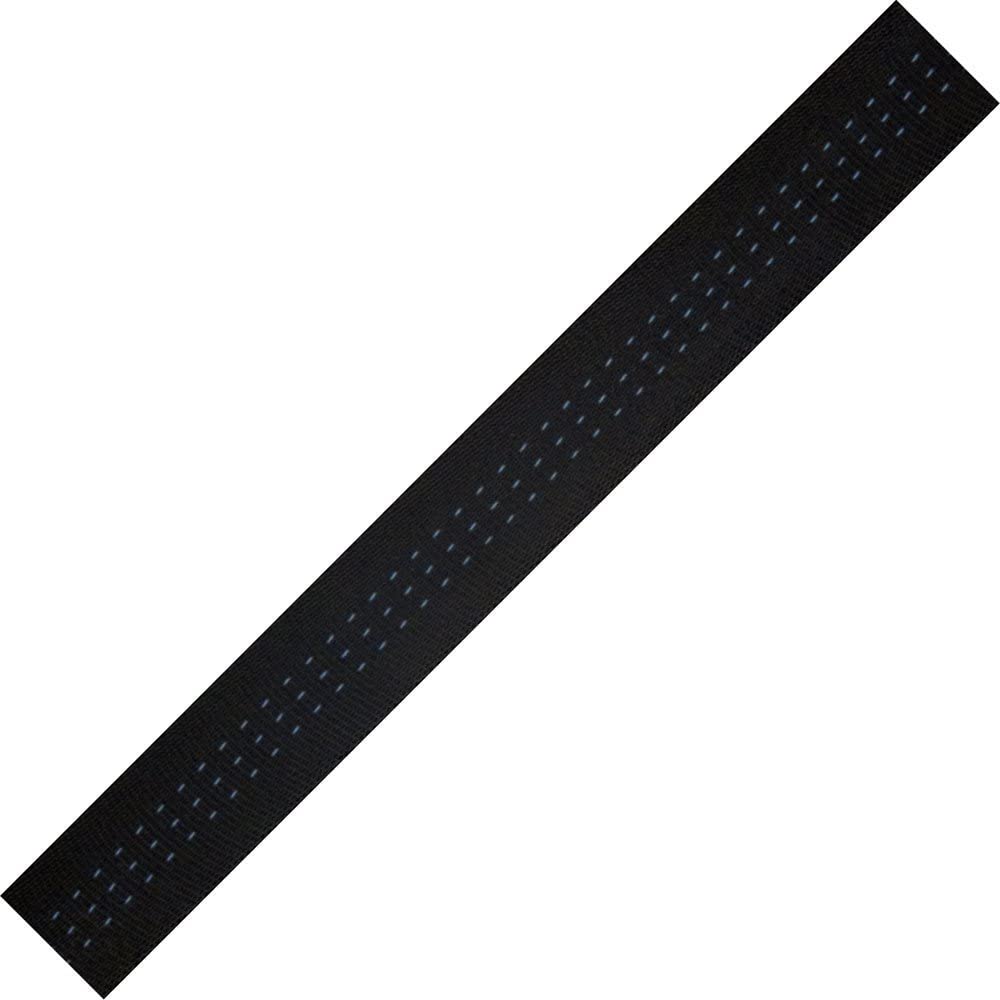 The ClimbSpec Tubular 1-inch by BlueWater is the best and most premium webbing rock climbers can buy in the US in 2023. The product is well-known for its peerless durability, dynamic capabilities, tensile strength, and flexibility among climbers and slackliners.
Given that this is a premium product, you'll be paying a good price to grab one. It costs about $17 to get 30 feet (10 yards) of this webbing. It might seem expensive, but the price-to-performance ratio for such high-quality Nylon material speaks for itself.
The Nylon used to make this Tubular webbing has been woven with a fine-thread pattern to increase thread count per square inch. In short, you won't need new webbing for a long time if your spending budget can afford a couple of extra dollars.
Buy BlueWater ClimbSpec Tubular 1″ Webbing on Amazon
2. Strapworks Heavyweight Polypropylene Webbing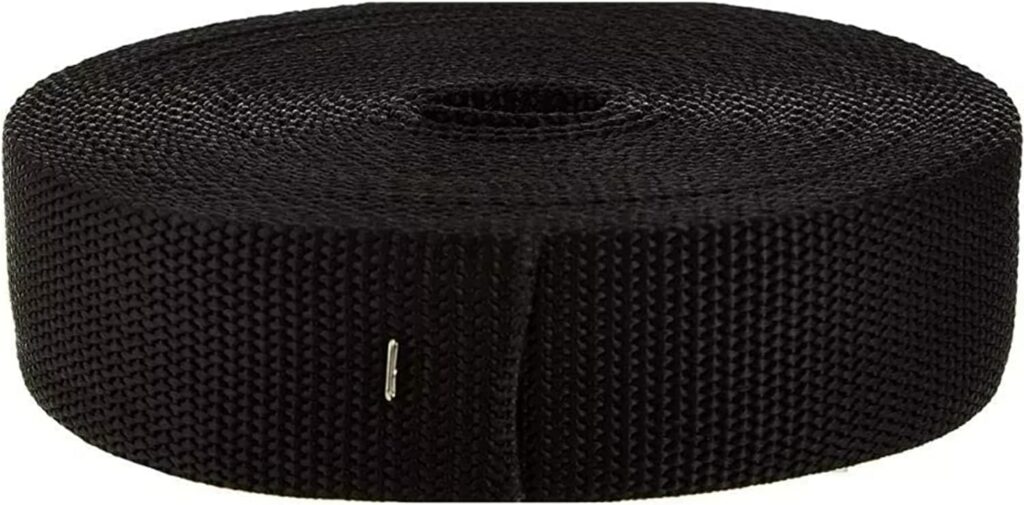 The Heavyweight Polypropylene webbing is one of the best webbing climbers can buy if they're on a strict budget. It costs about $12 for 30 feet of this webbing. Polypropylene is resistant to moisture, climate change, skin oils, and other stuff one might find outdoors.
While Strapworks is a well-known brand selling straps, this product isn't the most efficient for hardcore rock climbers.
Don't take me wrong, it's strong and durable, given the heavyweight tag, but it's not Nylon, and it definitely doesn't stretch like one. Check if it's ideal for your use case before buying.
Buy Strapworks Heavyweight Polypropylene Webbing on Amazon
Best Climbing Runners (Slings) to Buy
1. Sterling Dyneema Web Sling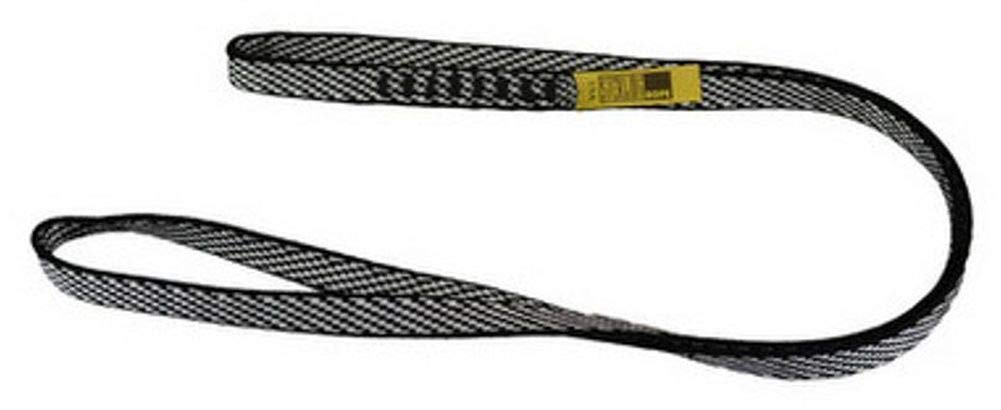 A fun fact if you didn't know, Dyneema is allegedly the strongest fiber on Earth. It's even stronger than steel if you compare it pound for pound.
Sterling's Dyneema is the most well-balanced sling climbers can buy in the US in 2023. It's light enough to carry the runner easily but not so thin that the knot might get tangled up.
And if my team's reviews are any good, this sling is quite comfortable to hold, making the most difference while climbing.
Buy Sterling Dyneema Web Sling on Amazon
2. Mammut Contact Dyneema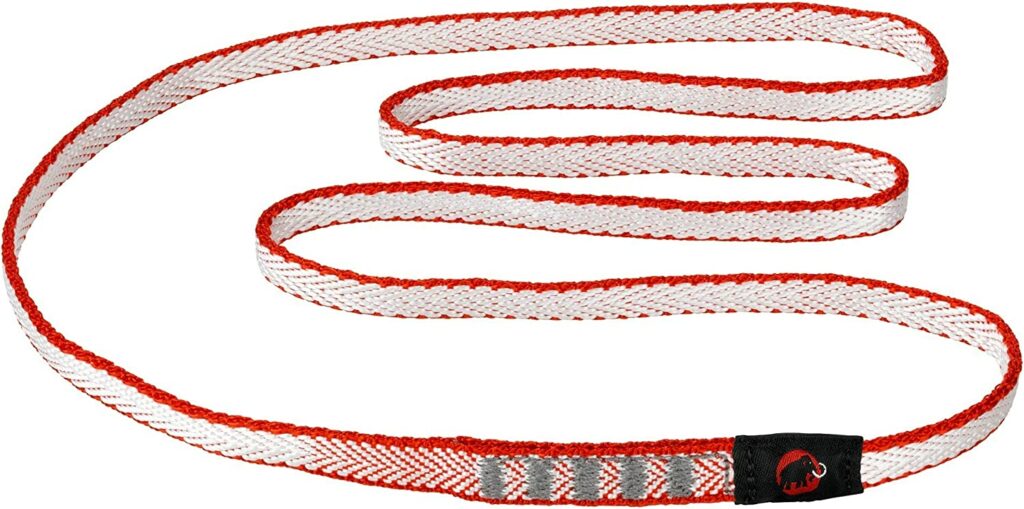 The Mammut Contact Sling made from Dyneema is the best runner or climbing sling you can buy if you prefer a lightweight and sturdy option. It's slim and easy to carry without losing any tensile strength.
You can get 24″ of this sling for about $9, which is good but not as cheap if you compare it to a Nylon-based sling. Another drawback of this Contact sling is that it's a bit thinner than you'd want it to be.
So much so that the knots get too tight when weight is suspended, and untieing that can be a headache.
Buy Mammut Contact 8.0 Sling on Amazon
Best Climbing Paracord to Buy
1. Paracord Planet Type III Nylon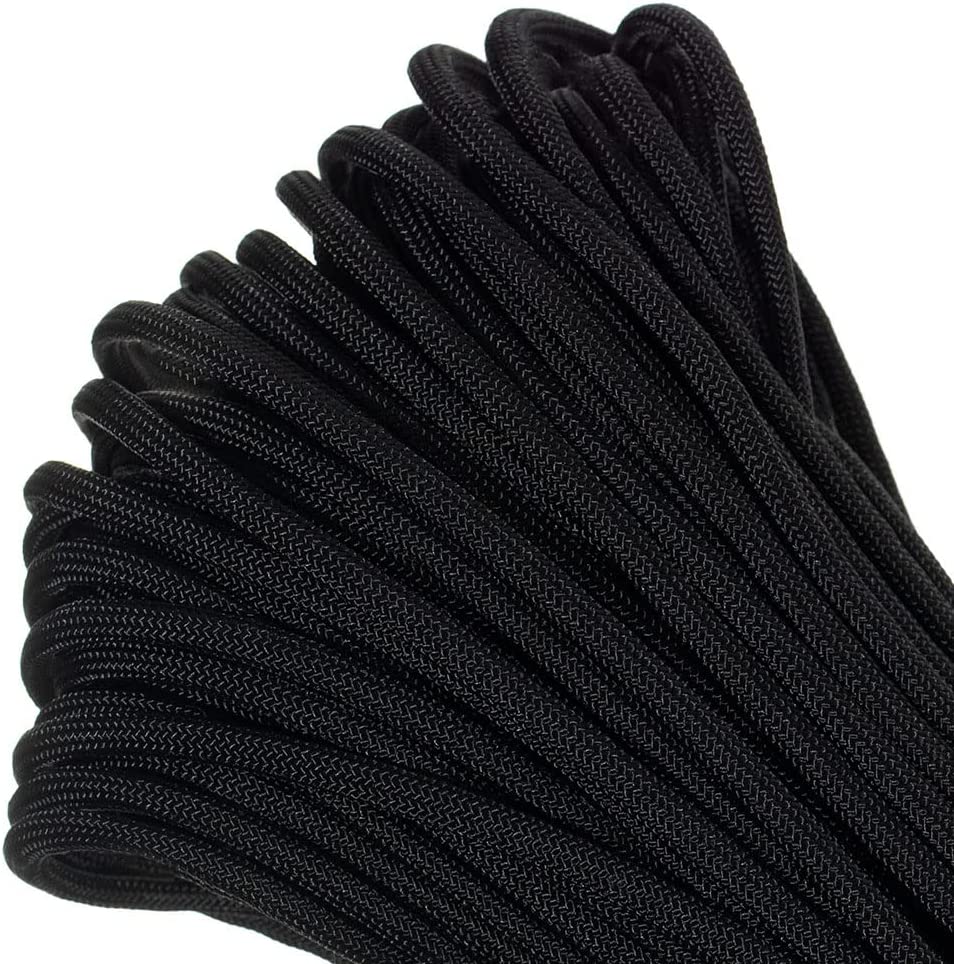 Paracord Planet's Type III Nylon is the best paracord you can purchase in the US in 2023. Per the reviews, this product is extremely durable, with a tensile strength of 550 pounds, and is made with Nylon, making it reliable for tying Prusik Knots while climbing.
You can get it in different sizes, between 10 to 100 feet, which should cost about $7 to $12.50. And if you like to maintain your gear aesthetic like I do, this paracord comes in 29 different colors!
Buy Paracord Planet's 550 Type III Nylon on Amazon
If you wanna learn how to tie the perfect Prusik knot, here's a guide I wrote.
DISCLAIMER: Paracords aren't strong enough to hold a person's body weight. Please do not consider it a cheaper alternative to a standard climbing cord. Rappelling or climbing with a paracord can be fatal.
How to choose accessory cords?
Here are my tips for each type of climbing cord you wanna buy:
1. How to choose the best utility cords for climbing?
Choosing the right material is the most important factor when buying a utility cord / accessory for climbing. Ultra-high-molecular-weight (UHMW) materials such as Dyneema, Spectra, and Dynex make for the best climbing cords because of their strength and UV resistance, making them last for years.
Perlon (a type of Nylon) is another option that's quite flexible (good for tying knots) and comparatively more affordable.
With the right material, you can just cut enough length to make a self-belaying loop, a cordelette, or something entirely different.
2. How to choose the best webbing for climbing?
Webbing type: Tubular and flat are the types of webbing you can buy. While flat is cheaper and more common, tubular webbings are stronger, more durable, and more flexible, making it easier for the user to tie a difficult knot.
Material: High-quality Nylon is the best choice for webbing material. You can get Polyester if you want a cheaper option, but I wouldn't recommend that. Instead, you can look at other synthetic polyethylenes from Nylon, such as Spectra and Dynex.
Dimensions: Width is important when shopping webbing. If you're going flat, you should go for a 1″ or 2″ webbing. With tubular, 1″ webbings are more commonly used for making anchors and ⅝" for making slings. As for the other dimension, you can buy a spool of any length that suits your purpose.
3. How to choose the best slings for climbing?
Length: While you can make slings of any length, there are four major options. Single-length slings (24″) and short / half-length slings (12″) are the most common for general purposes. They're followed by double-length slings (48″) that provide extra room to reduce drag and extra-long slings (72-96″) used for looping large obstacles. And if you don't wanna make anything, you can just buy standard quickdraw slings.
Material: Nylon is the more common and affordable choice for sling or runner material. It's durable and flexible, which is amazing. You can also look at ultra-high-molecular-weight (UHMW) materials such as Dyneema and Spectra if you want premium features such as UV resistance.