You've already heard the 'techie' stuff about getting a good snowboard and jacket. And, of course, you've nailed some dope tricks. So, how hard can it be to buy a pair of gloves, right? Unfortunately, very.
Shopping for snowboarding gloves is heavily underrated. The difference between a good and a wrong pair of snowboarding gloves can make or break your experience. The former provides comfort and warmth, while the latter can make you miserable. Truth be told, buying snowboarding gloves vs. standard gloves are two different ball games.
You're essentially looking for performance, durability, warmth, comfort, and flexibility, all wrapped into one. And before all this, you gotta choose the right type from many dozens of options such as down gloves and mittens.
Today, I'll break down the various factors that separate good snowboarding hardware from bad ones instead of talking in-depth about particular models. But first, I'll give you my personal recommendations.
Best Gloves
Here are some of my favorite snowboarding gloves. Then we'll get into the technicalities of the selection process.
1. Best on Budget: Burton Gore-Tex Gloves / Mittens
If you've been following my blog, you've probably noticed I'm partial towards Burton. Their craftsmanship is just excellent consistently. And they suit a range of budgets.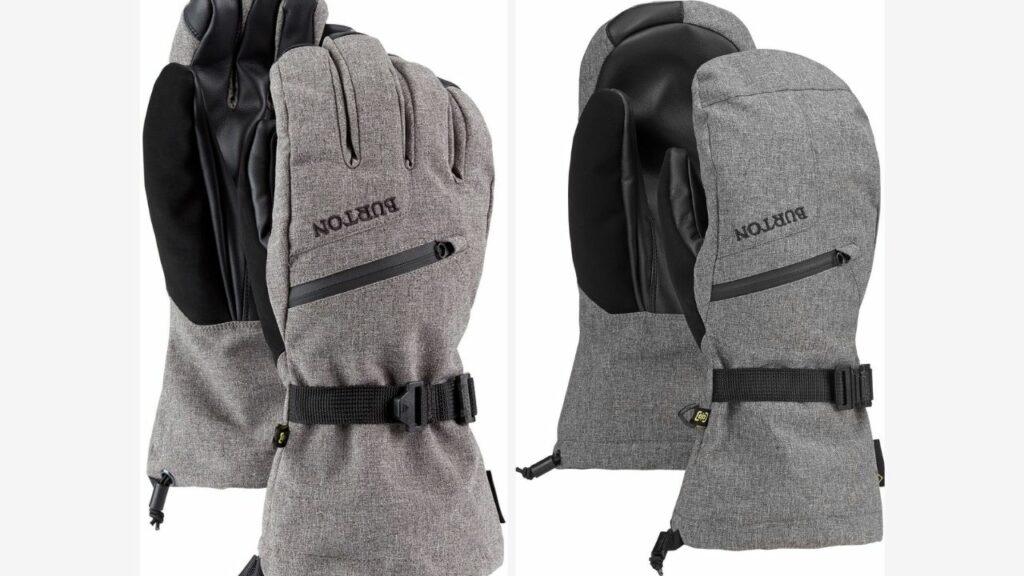 Burton's Gore-Tex gloves or mittens have just about everything you'll ever need from your snowboarding hardware at just $75. Plus, the model is available in various color options and sizes for both men and women.
Pros:
Adjustable closure
Gore-Tex membrane
Removable DRYRIDE Thermex Liner
Allows total touchscreen control
Purchase Links for Burton Gore-Tex Gloves
Purchase Links for Burton Gore-Tex Mittens
2. Best Overall: Burton AK GORE-TEX Guide Gloves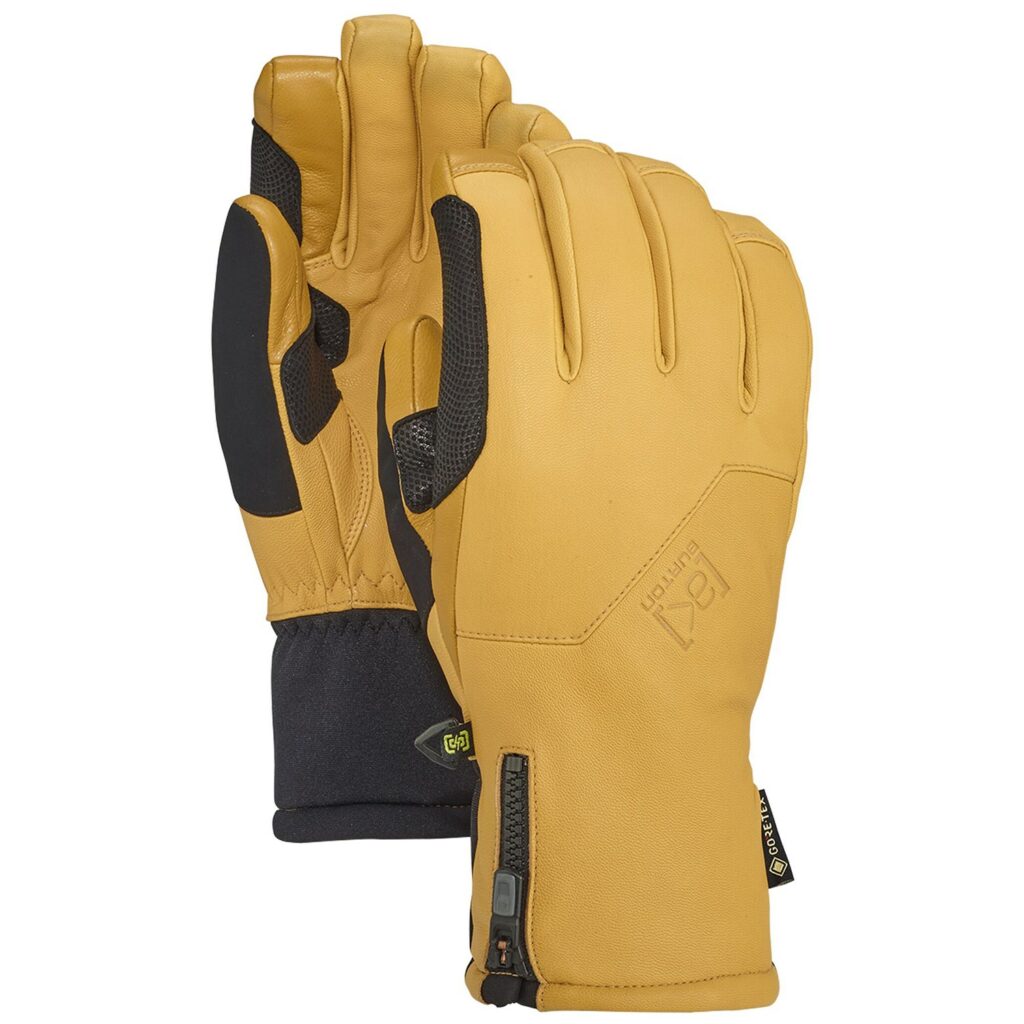 Burton's AK Gore-Tex Guide is the ultimate snowboarding glove for under $150. It has a completely waterproof Gore-Tex gnar guard leather with a soft outer shell. Along with Gore insert, AK Guide offers Primaloft Gold insulation, which is more than you're ever going to need as a beginner.
Purchase Links for Burton AK Gore-Tex Guide Gloves
Other excellent options are:
3. Best with Wrist Guards: Burton Support Gloves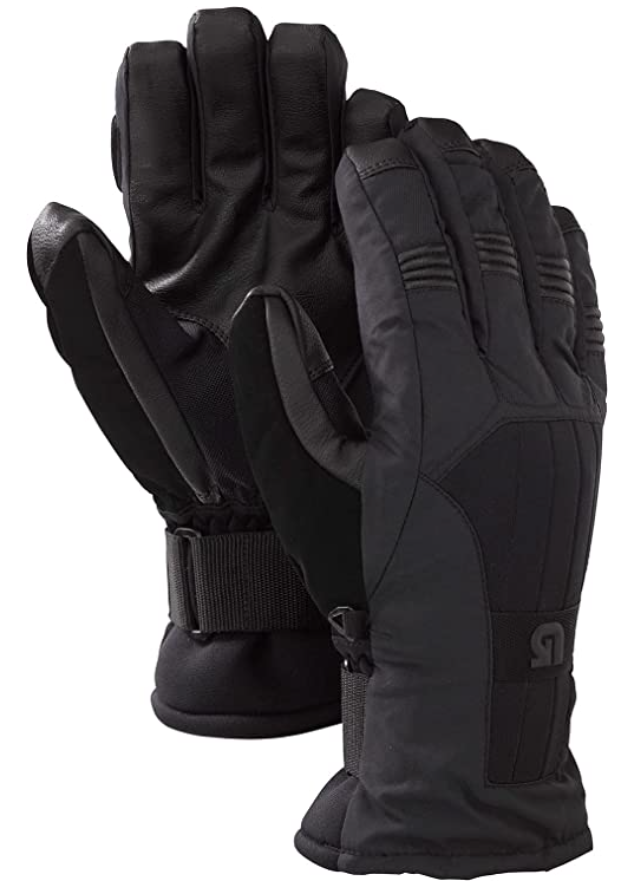 Burton's Support Gloves for men are generally the best option for snowboarding gloves with wrist guards because they are pretty ergonomic and sturdy. They also have all the features you'd expect from gloves with wrist guards.
You get an articulated fit with a removable internal support system to adjust the gloves as per your requirement.
Purchase Links for Burton Support:
How do I choose snowboard gloves?
I know I've already thrown a lot of good options at you. So, now let's walk through how to choose a pair.
1. Choosing the Glove Type
You have four primary options (or types) in snowboarding (or even skiing) – gloves, mittens, 3-in-1s, and lobsters.
Gloves:
You already know what these are – boarding gloves have the same design as standard gloves but with many extra features. Snowboarding gloves have holes for each finger to increase dexterity when handling your boarding equipment.
Ideally, lightweight snowboarding gloves are the best choice for cross-country and other activities where you're likely to work up a sweat. Naturally, lightweight gloves are more breathable, allowing moisture to escape when you're sweating.
Mittens:
Mittens are the exact opposite of gloves with a similar design. Reverse all the pros and cons of snowboarding gloves, and you get mittens.
Mittens are warmer in comparison because they don't have individual fourchettes (the section of the glove where your fingers go). This setup uses less surface area to trap the heat. Your fingers can also share heat that way.
So naturally, mittens offer less dexterity and aren't as suitable for precision work. Although mittens work well for boarding down the mountain or skiing in a freezing climate.
Lobsters:
Too clumsy for mitts but too cold for gloves? Then snowboarding lobsters are your best bet.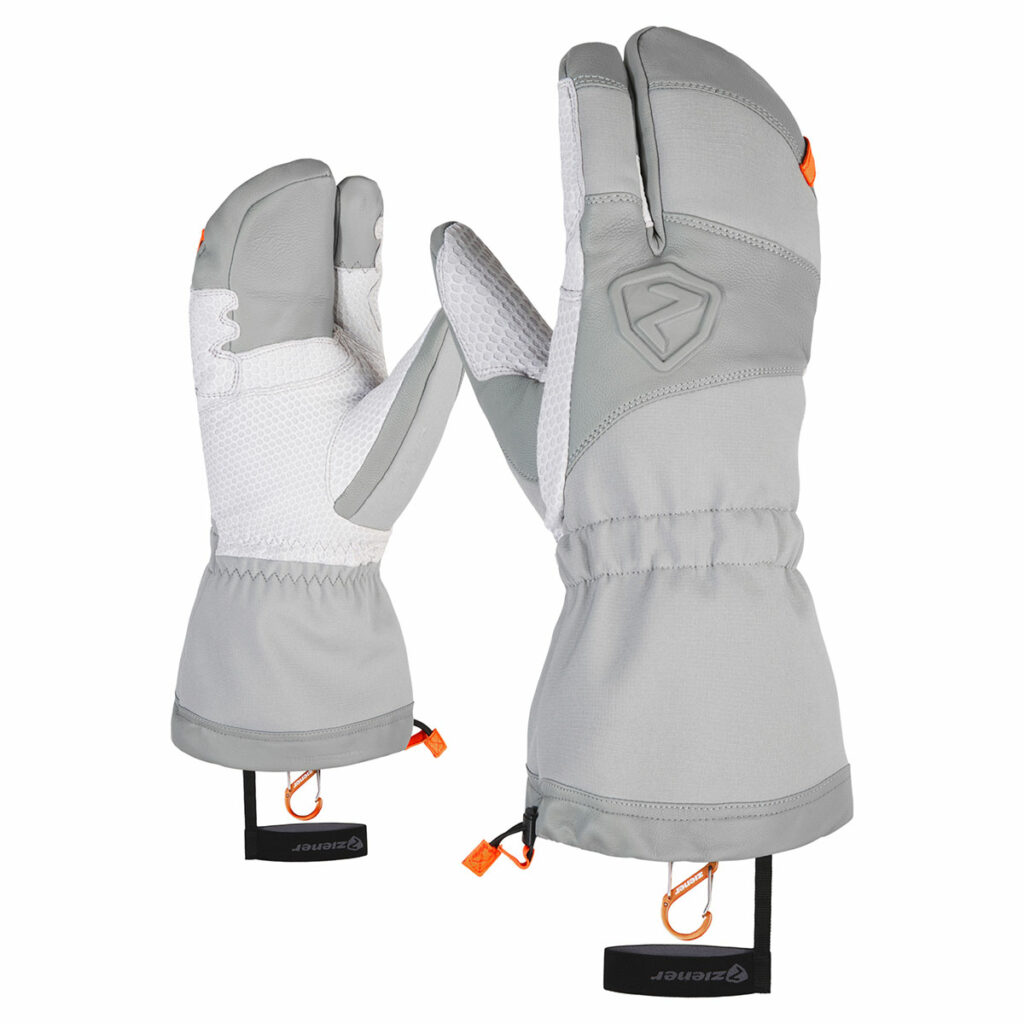 Lobster mitts (or simply lobsters) offer the best of both worlds. It is a genius blend of gloves and mittens. Your index and middle fingers are together in one fourchette, while your ring and pinky fingers together in another.
The dual capacity fourchette allows your fingers to share warmth while still providing some dexterity. One potential issue is that not all manufacturers make lobsters.
3-in-1:
Some manufacturers also make this weird 3-in-1 combination of snowboarding gloves that consists of individual layers of a shell glove and a liner glove. It's a simple way to control warmth since you can just remove one layer if you're too hot and sweaty.
The liner glove layer also solves the mitten issue because it offers dexterity to grip and maneuver equipment.
Which one should you buy?
Honestly, more often than not, it's gonna come down to mittens vs. gloves. Yes, lobsters and 3-in-1s are plentiful, but they don't suit everyone. If you do find them comfortable and preferable, you're in luck.
As for the never-ending glove and mitten debate, just decide which quality you'd prefer: more warmth or more dexterity. Both are excellent options for their unique use cases.
2. Choosing the Glove Material
To an untrained eye, there are two types of insulation available for snowboarding gloves: down and synthetic. But that's just the tip of the iceberg – you gotta think about the insulation layer, shell layer, and the membrane to pick the right glove.
Let's take it one by one.
The Outermost Layer – Glove Shell
There are two options for your shell layer: leather (which usually comes down) and synthetic.
Leather gloves are exceptional for protection and warmth. They're generally made of goatskin or cowhide, which are naturally water-resistant and super sturdy. So leather gloves last for an extended period when taken care of.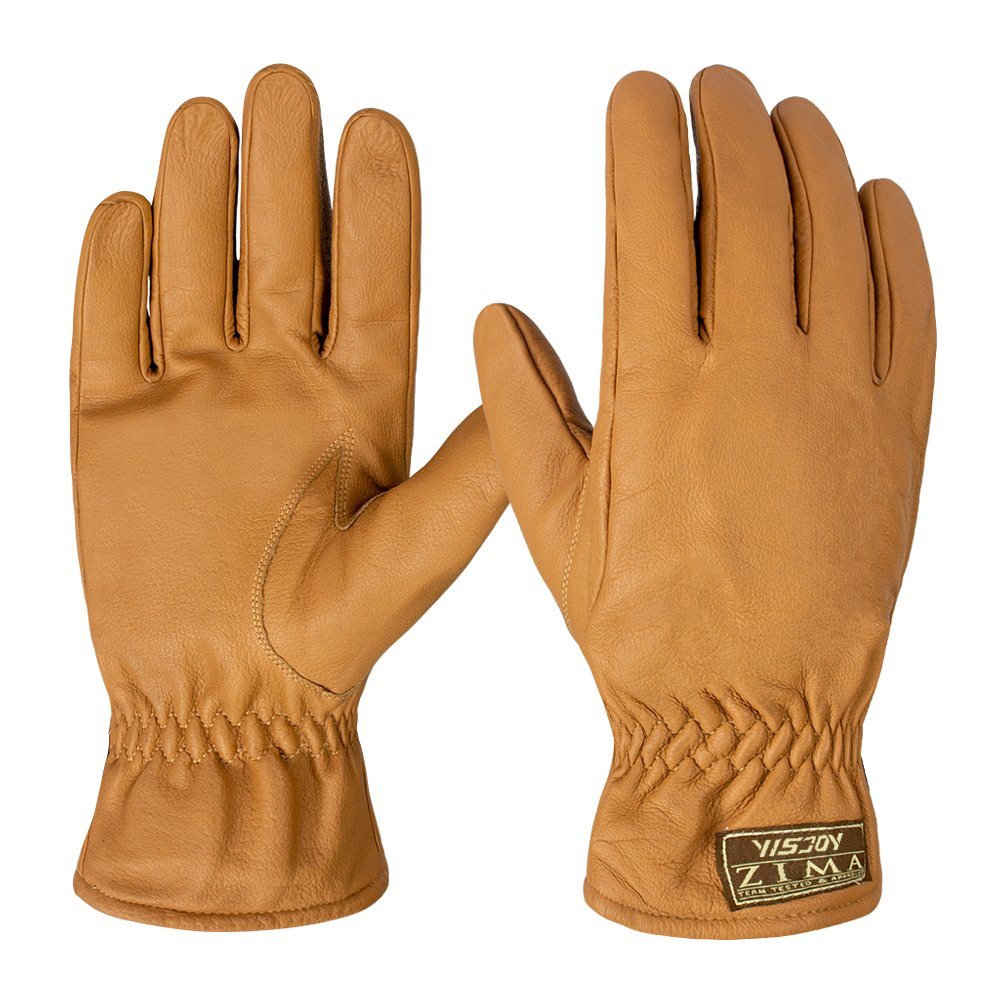 The common issue with leather is that it isn't waterproof, so snowboarding gloves can be made from leather treated with grease or wax (or other resin). This makes them even warmer and waterproof.
Synthetic gloves and mittens are more common because they are cheaper and widely available. They're made of nylon that's super breathable and coated with Teflon (or PU fabric), so they're waterproof as well. Synthetic gloves and mitts come in a softshell and hardshell version.
Pro Tip: Synthetic gloves and mitts coated with leather on palms and fingers aren't just cheap, but also protect from abrasion. This makes them favorable if you have the budget.
The Middle Layer – Glove Membrane
The middle membrane is super valuable for a snowboarding glove. Sweat tends to make gloves (or mitts) wet, which needs to be handled internally and as quickly as possible. An excellent middle membrane doesn't sacrifice breathability for waterproofing.
Your first option is a Polyurethane (PU) membrane. This fabric is famous for being waterproof and breathable. Most cheap to good-quality gloves on the market will have a PU coating only. You can also opt for a Hipora membrane, the highest grade of PU coating with microscopic pores.
The second option is to go for a "gore" membrane such as gore WINDSTOPPER. Just like the name, it's known for being breathable and windproof because of its ePTFE membrane. WINDSTOPPER gloves (or mitts) are generally softshell and coated with DWR. This allows them to become water-resistant and suitable in light rain.
The best option is the gloves and mittens made of GORE-TEX® membranes. They have the highest grade of breathability and waterproofing capabilities among all membranes.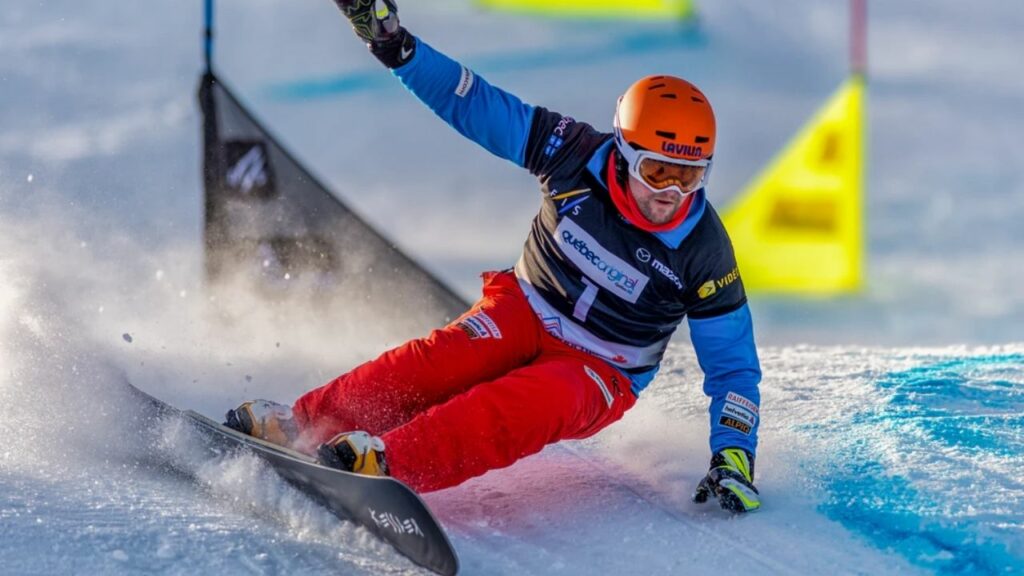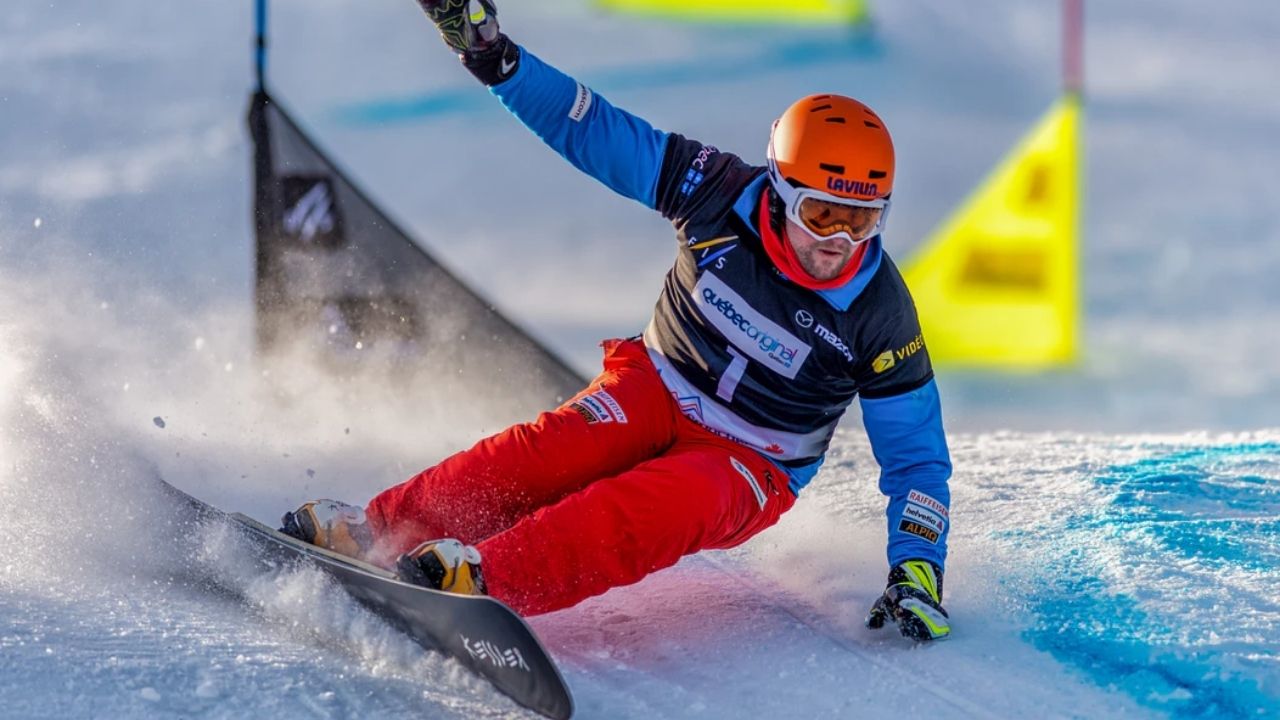 The Innermost Layer – Insulator
Finally, you get two options for the insulation layer: down and synthetic (Primaloft, Thinsulate, etc.)
Primaloft is a synthetic microfiber that encapsulates body warmth. Obviously, it isn't as warm as down, but it's more breathable and lightweight. Thinsulate is another synthetic microfiber that's lightweight and retains heat/warmth.
Down is a natural insulator with its plumules and feathers. It entraps the air and creates an insulating column to retain body warmth. A down fabric's warmth or heating capabilities are graded and measured by its weight.
What type of gloves is best for snowboarding beginners?
Just want a basic pair of gloves? Here's what you should know:
Ideally, down gloves and mittens are considered the best for snowboarding in drier climates. In a wet environment, synthetic insulation triumphs since the former dry more swiftly. Synthetic is better for damp snowboarding climates.
3. Choosing Extra Features for Snowboarding Gloves
1. Cuff Style
There are two options here as well: under and over.
Snowboarding gloves with an over-the-cuff style tend to be longer and offer extra protection from the snow. Though some people find it annoying for their gloves to be overlapping with the jacket.
Under the cuff, snowboarding gloves are known for their mobility since they end at your wrist. These are more common since your jacket can easily provide "extra protection."
2. Battery-Powered Heating System
It may sound absurd, but they do exist. Some snowboarding gloves have battery-powered (Li-Ion) heating systems to keep you extra warm. Of course, this shoots up the price tag.
3. Touch Screen Compatibility
It goes without saying, but it's worth spending a few extra bucks on getting a glove with an outer layer that allows for total touchscreen control.
4. Other Features
There are many features such as leather palms, wrist cinches, zippered pockets, nose wipes, and more that differ among brands. Just find a pair that fits your needs and budget, and off you go.
Welp, that's everything you need to know about buying a pair of snowboarding handwear. Enjoy the powder!