The biggest mistake a boarder can make these days is putting all their time, money, and effort into the snowboard itself and neglecting everything else. There are a couple of other super important things needed for a good set of gear such as a snowboarding jacket.
Even if you're a powder newbie not looking to spend a lot, you should still know the qualities of a good jacket so you can get an efficient (and cheaper) alternative.
I'll tell you everything you should know about a snowboarding jacket before you choose one to buy. Let's start with some of my favorite boarding jackets, from budget options to some relatively more expensive ones.
What jackets are best for snowboarding?
Best Snowboarding Jacket: Burton AK 2L Gore-Tex
Burton's AK 2L Gore-Tex lineup has by far the best snowboarding jackets for both men and women. These jackets are perfectly insulated with a high-quality build and 2L Gore-Tex waterproofing.
These jackets come with loads of cool features such as a dedicated insulated pocket for your phone, pit zips, and oversized zippers to keep your mittens. My personal recommendations are the two jackets that stand out in the already famous AK Gore-Tex series – Swash for men and Embark for women.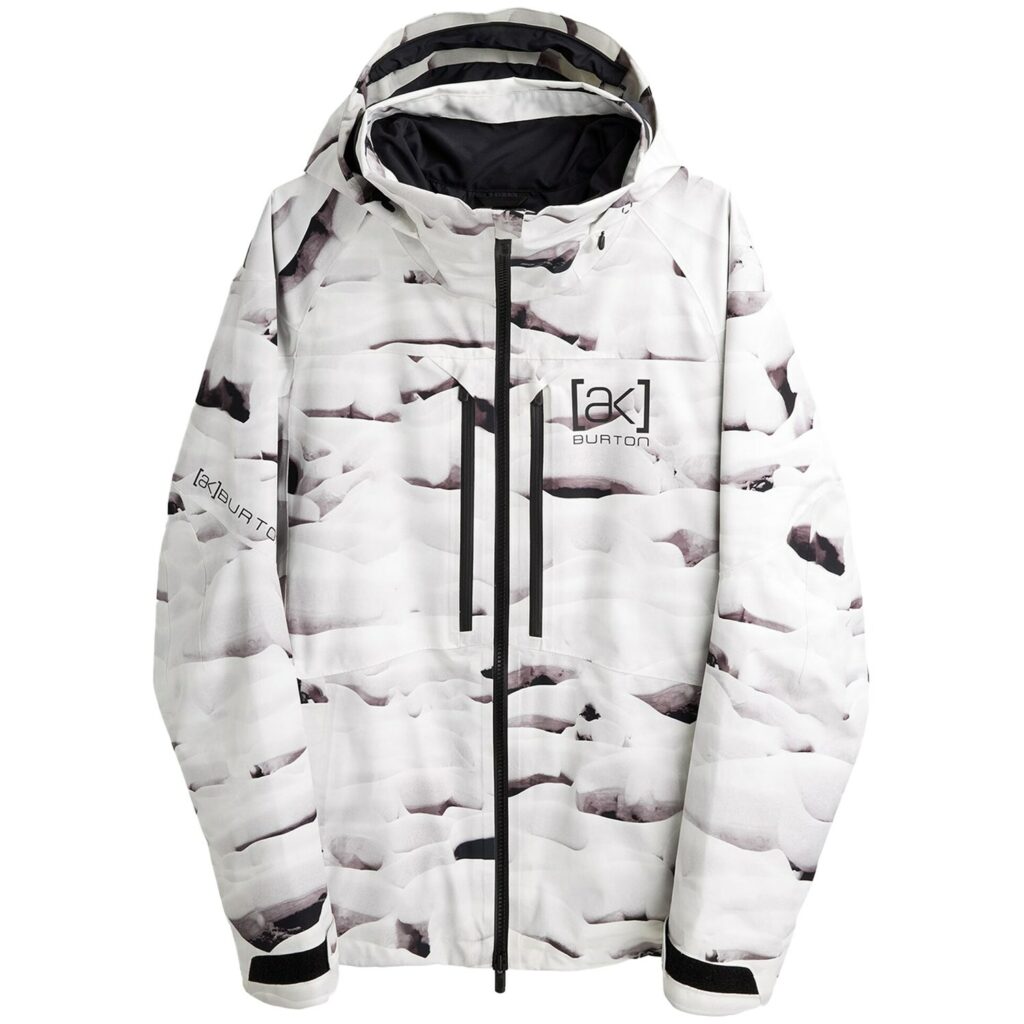 The only potential downside is that they are kinda expensive for beginners ($450). Don't worry though, I have some fantastic, budget-friendly recommendations as well.
Buy Burton AK 2L GORE-TEX Swash Snowboarding Jacket:
Buy Burton AK 2L GORE-TEX Embark Snowboarding Jacket:
Best Budget Snowboarding Jacket for Men: Quicksilver Mission Insulated
It's really difficult to find a budget option from one of the best snowboarding brands alongside Burton. That's why Quicksilver's Mission Insulated snowboarding jackets for men are the best choice for beginners.
You get Quicksilver's high-quality and durable products at just $180. That is also with some of the best insulation specs on the market. With Mission Insulated, you get 60g WarmFlight synthetic insulation on the hood, 80g on sleeves, and 100g on the body.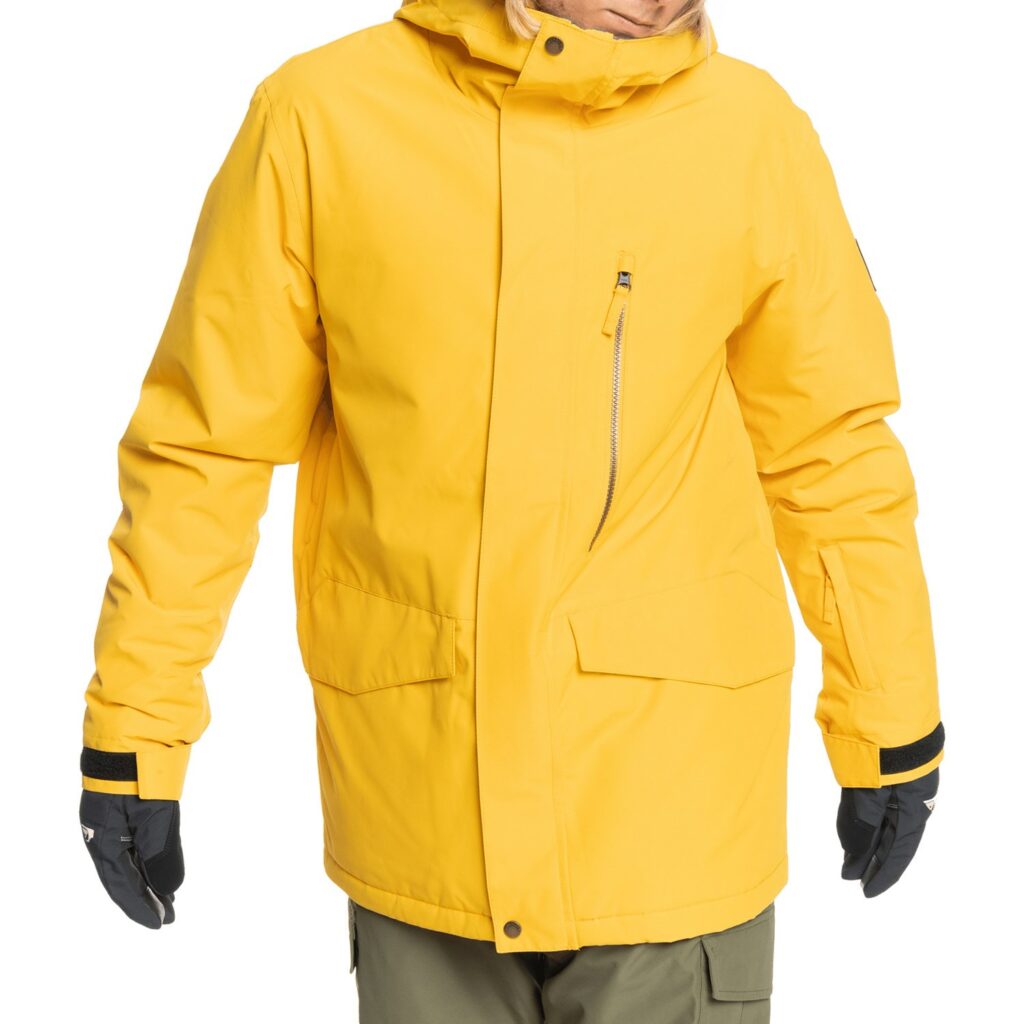 The only con is that its waterproofing rating is not high enough to be suitable for wet snow. The shell fabric might also absorb moisture after extended use, but that's just a compromise you'll have to make with budget options.
And even with a few of these downsides, Mission Insulated is best for beginners. Mid-tier or high-tier boarders who go out a lot are obviously better off with Burton's AK 2L.
Buy Quicksilver Insulated Snowboarding Jacket:
Best Budget Snowboarding Jacket for Women: MOERDENG Women's Snowboarding Jacket
This MOERDENG winter jacket is arguably the best for women. With a budget price of $65 – $80 and over 19,000 positive ratings on Amazon, this product will not disappoint you.
MOERDENG's jacket offers a zipper closure with ideal water and windproof ratings. The jacket also comes in 14 different patterns and color variations, so you can choose your style.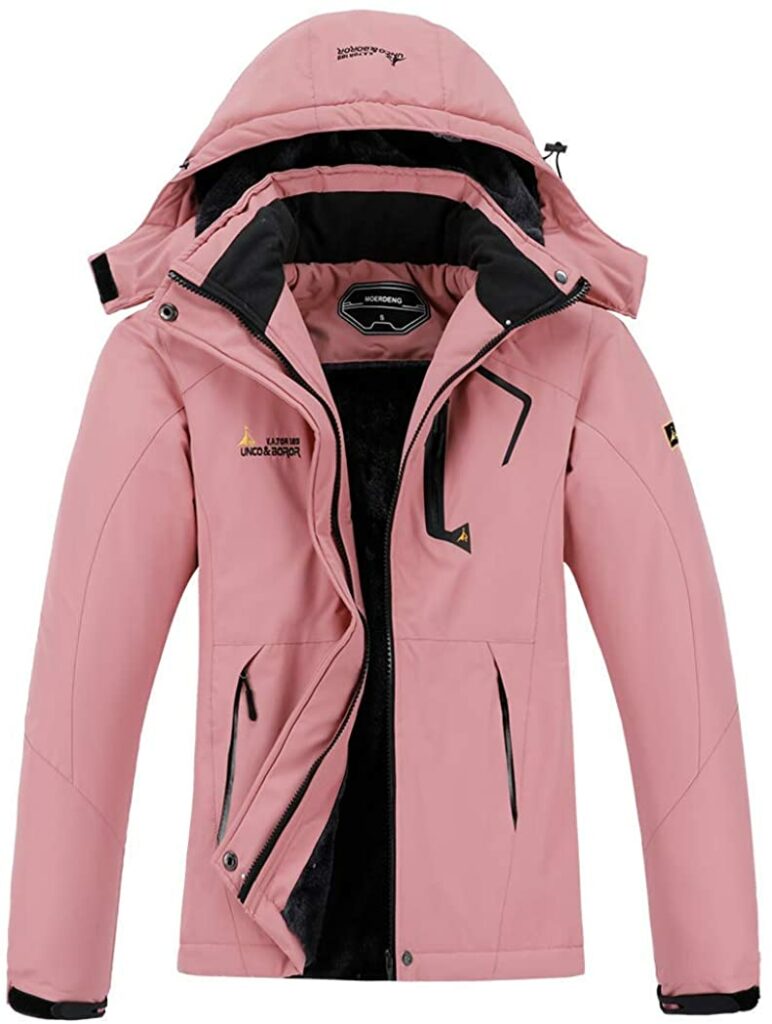 For me, the best part is the adjustable cuffs that give you a comfy, insulated fit. The jacket is labeled "hand-wash" only, so don't put it in the washing machine.
Buy MOERDENG Women's Waterproof Ski Jacket on Amazon
In case you have a bigger budget, I recommend going for the Volcom Bolt Insulated (costs $175), which is more expensive but well worth the price.
Best Backcountry Snowboarding Jacket: Arc'teryx Rush Gore-Tex Jacket
Arc'teryx Rush GORE-TEX Jacket is the most expensive snowboarding jacket on this list, coming at a premium price of $750. To the untrained eye, the price looks more like a brand value of Arc'teryx, but that's not true at all.
Arc'teryx Rush GORE-TEX Jacket was designed to be super-efficient for backcountry snowboarding – a sweat-inducing environment with wet snow and high-moisture content. And honestly, it does not disappoint.
This shell jacket has a 3-layer GORE-TEX Pro membrane, a breathability rating of 6 (RET value), and a waterproof rating of 28,000. With all its features and capabilities, this jacket is a steal at $750. The jacket has 5 big pockets and uses 100D/80D Nylon Face Fabric with Durable Water Repellent (DWR) finish.
Buy Arc'teryx Rush Gore-Tex Jacket on Evo
How are snowboarding jackets different from ski jackets or snow jackets?
Snowboarding jackets should be waterproof or atleast water-resistant. Insulation is an essential factor, but these jackets should be easy to breathe as well.
Ski jackets are generally fitted shell jackets designed to cut down on excessive materials for better aerodynamic capabilities. Snowboarding jackets, in comparison, are baggier and heavier.
Both the jackets have some common features too. They're both waterproof and breathable and come with a hood and snow-skirt cuffs.
Minor details aside, the important question is whether you can use the same jacket for skiing and snowboarding. Beginners can use the same jacket for skiing and snowboarding. It makes a more significant difference at a higher level where you need the "extra edge" for better performance.
What makes a good snowboarding jacket a great one?
Unlike other snowboarding gears, jackets are pretty straightforward. You only need to worry about three major factors – the brand of the jacket (which dictates material quality and durability), the insulation, and extra perks (waterproofing).
1. What brands do snowboarders wear?
Burton, created by Jack Burton in 1977, is arguably the best snowboarding gear brand in the market. They're known for making top-of-the-line snowboarding equipment with hi-tech practices and excellent materials.
Adidas, Chamonix, 686, Rossignol, Analog, Arc'teryx, The North Face, and Quiksilver are other good brands.
2. How waterproof should a snowboarding jacket be?
Waterproofing is super important for snowboarding, especially if the snow is one the heavy size. Even when it's not, waterproof jackets go a long way if you start sweating. Here are the waterproof ratings that categorize the snowboarding jackets:
| | | |
| --- | --- | --- |
| Waterproof Rating (mm) | Water Resistance Provided | Suitable Conditions |
| 0-5,000 mm | Minimal to no resistance | Light rain, dry snow |
| 6,000-10,000 mm | Slightly rainproof and waterproof | light rain, average snow |
| 11,000-15,000 mm | Good waterproofing capabilities | Moderate rain |
| 16,000-20,000 mm | Great waterproofing capabilities | Heavy rain, wet snow |
| 20,000 mm+ | Extreme waterproofing capabilities | Heavy rain and wet snow under very high pressure |
Table Source: Waterproofing & Breathability Ratings, Evo
Waterproof Snowboarding Jackets:
Snowboarding jackets with a waterproof rating of 5,000 mm to 10,000 mm are ideal for snowboarding under average weather conditions. You can also get a jacket with a rating of around 10,000 – 20,000 mm or higher if you're snowboarding in a cold and wet climate.
Breathability in Snowboarding Jackets:
As for breathability, average snowboarders should get a jacket with a 5,000 to 8,000 rating, whereas a breathability rating of 10,000 or higher is better for boarding in high moisture conditions. And if you do a lot of backcountry snowboarding where you sweat a lot, then go with a moisture 20,000 plus rating.
Alternatives to Snowboarding Jackets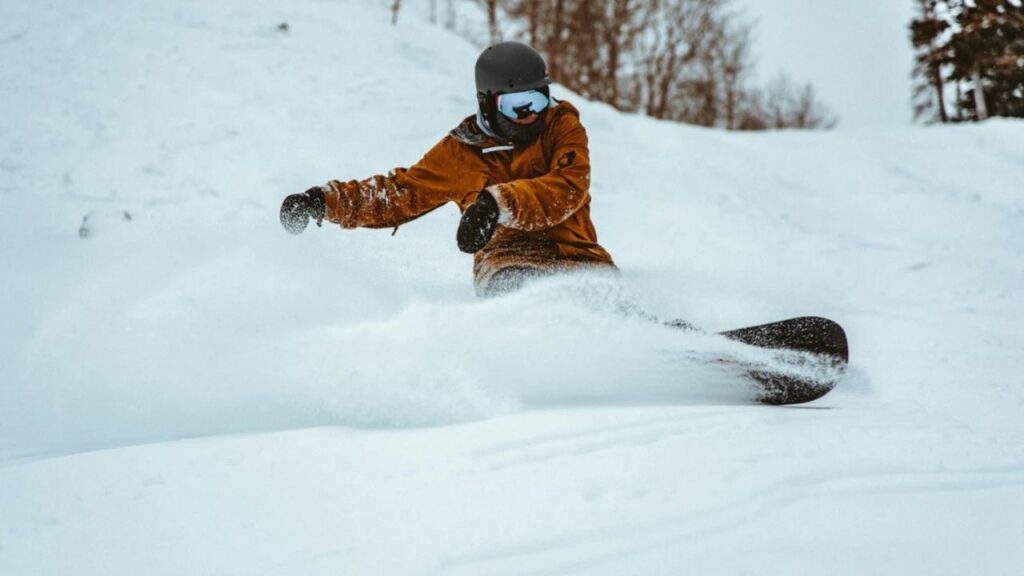 1. Can I snowboard in a down jacket?
A down jacket is a soft jacket for trapping heat made of duck or geese feathers to keep you warm outdoors. And since these jackets use natural materials for trapping heat, their weight matters. This means a 0.6lb down jacket is warmer than a 0.2lb one.
While down jackets are suitable for snowboarding, they come with pros and cons, just like everything else.
Down jackets with waterproofing capabilities can be used as alternatives to snowboarding jackets. They come in handy, especially when you don't wanna wear a lot of layers. These jackets tend to be more insulating (and therefore warmer).
Although, the upside of down jackets is one of its flaws. If you wear it in areas where it could get dirty, you'll obviously have to wash it, causing it to lose its fluffiness over time and hence the insulation capabilities.
2. Is a puffer jacket good for snowboarding?
While some puffer jackets use "down" material, I'll focus on the ones that use synthetic insulation because it's much lighter with the same warmth.
Puffer jackets are suitable for snowboarding, thanks to their insulative properties. Although, they might get a bit too warm in warmer snowboarding terrains. If so, you might prefer a shell jacket with a thin layer of fleece.
The best part about puffer jackets is that synthetic insulation prevents washing wear and tear. This makes puffer jackets a better choice than down jackets for snowboarding.
Feel free to contact me if you have more questions or check out some of my other snowboarding guides. Until then, stay cruisin' and powder to the people.