Scuba diving looks like an expensive hobby, but divers know how unique the extreme sport is. Unlike swimming and water sports, scuba diving is comparable to skydiving because of the views and unique perspective of the world it provides.
Knowing about marine life and experiencing it first-hand are two different things. "Swimming with tiger sharks" isn't just a meme but a dream for many scuba divers.
So what are the most exhilarating scuba diving locations in the world? Let's find out.
1. Malapascua, Philippines
| | |
| --- | --- |
| Marine Life | Thresher Sharks, Jackfish, Barracuda, Hammerhead Sharks and other 500+ species |
| Best Time to Visit | October to June |
| Water Temperature | 80°F |
| Other Popular Spots | Secret Bay (Mainit Muck) in Anilao, Dumaguete, Linapacan Island |
| Other Extreme Sports | Wakeboarding, Hiking, Ultralight Flying, Surfing, Canyoneering |
Malapascua in Phillippines is one of the best scuba diving locations in the world. It's popular among divers for thresher sharks. It's also why Malapascua stands out among other diving spots like the Secret Bay and Linapacan Island in the Philippines.
If you're into macro (muck) diving and photography, visit Secret Bay (local name: Mainit Muck) in the Anilao region. The shallow diving spot may not be the deepest (between 10ft – 70ft) but offers unparalleled beauty. The Secret Bay is well-known for housing a rare collection of small aquatic life species like shrimps, crabs, and small squids.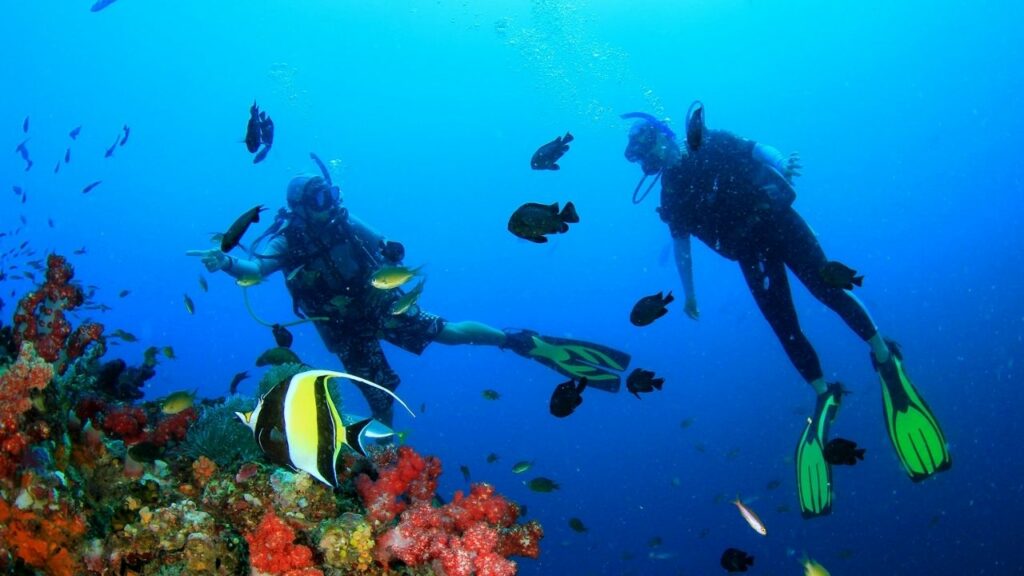 Dumaguete and Linapacan Island are two other famous spots. The former is known for its diving variety. The latter is one of the clearest scuba diving spots in the world. Linapacan Island is 200 miles from the coast of Palawan Island, which was voted as the most beautiful island on the planet in 2020.
Basically, the Philippines has LOADS of excellent scuba diving spots.
2. Yucatán Peninsula, Mexico
| | |
| --- | --- |
| Marine Life | Sea Lion, Whale Sharks, Nurse Sharks, Turtles, Manta Rays, Sting Rays, Bull Sharks and more |
| Best Time to Visit | November to April |
| Water Temperature | 77-85°F |
| Other Popular Spots | Cozumel, Yucatan Islands, Socorro Islands, The Riviera Maya |
| Other Extreme Sports | Skydiving, Glacier Climbing, Freshwater Cave diving, Kitesurfing, Whitewater rafting |
Mexico's Yucatan (Yucatán) Peninsula is a scuba diving paradise that contains multiple world-class diving spots. The Riviera Maya, for example, is famous for the deep sinkholes called Cenotes, leading to various underwater sea caves and tunnels.
You can also dive and swim with bull sharks, whale sharks, and nesting turtles if small technical skydiving expeditions aren't your thing.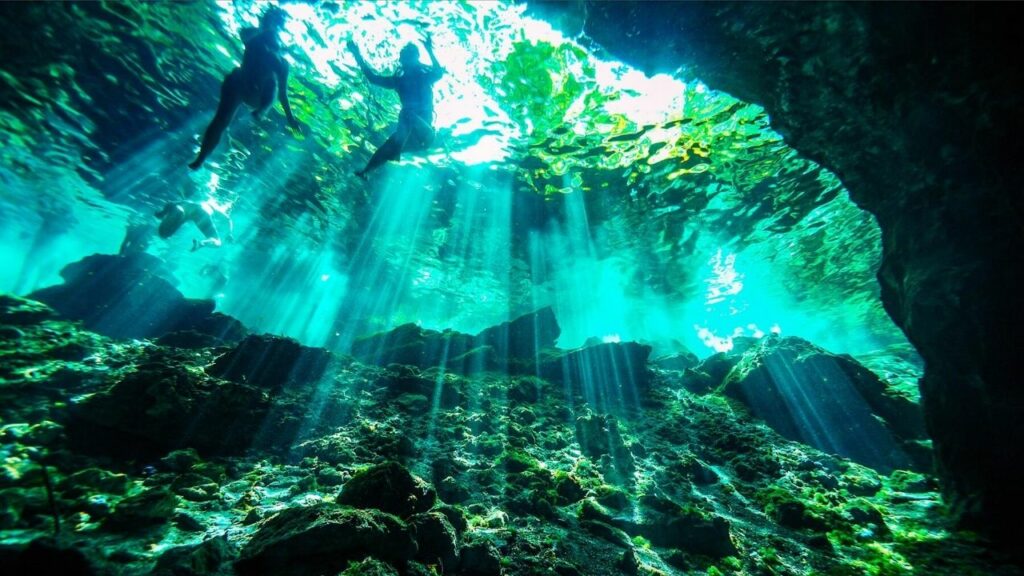 Speaking of Yucatan's Cenotes, you must visit the Angelita near the Tulum region. At about 100ft deep, you can experience its unique and almost magical beauty. You dive in the clear freshwater that's separated from the saltwater below by a layer of hydrogen sulfate. It's like swimming above the clouds, just under the water.
The Socorro Islands (or Revillagigedo Archipelago) is another famous spot worth diving in Mexico.
3. Raja Ampat, Indonesia
| | |
| --- | --- |
| Marine Life | Manta Rays, Sharks, 75% of all coral species, 1500+ fish species |
| Best Time to Visit | October to May |
| Water Temperature | 80-86°F |
| Other Popular Spots | Lembeh, Misool Island, Lembongan, |
| Other Extreme Sports | Paragliding, Surfing, Triathlon, Paddleboard, Flyboarding, Rock Climbing |
Raja Ampat in the Komodo region of Indonesia is a must-dive location for every scuba enthusiast because of its wide variety of aquatic fauna. One of its diving spots, Cape Kri, has a record of having the most number of fish species in a single diving site.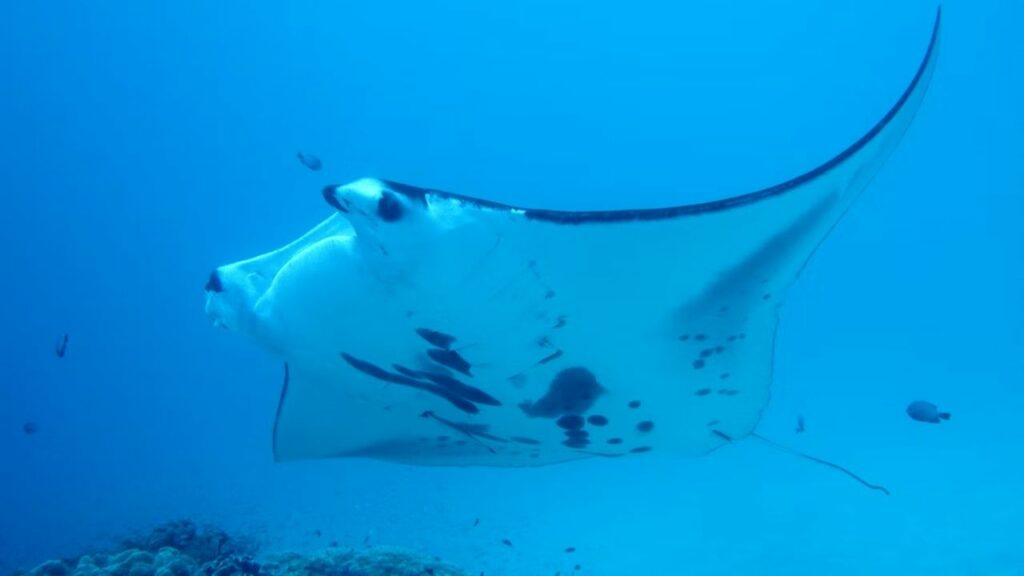 After Raja Ampat, head south to Misool Island, famous for being some of Indonesia's most beautiful underwater spots. Other popular Indonesian scuba diving spots are Lembongan in Bali (famous for its manta sightings) and Lembeh in Sulawesi (the muck diving hub of Indonesia).
4. The Galápagos Islands, Ecuador
| | |
| --- | --- |
| Marine Life | Whale shark, Manta Ray, Iguanas, Mola Mola |
| Best Time to Visit | December – May and June – November |
| Water Temperature | 60-75°F (in winters), 70-86°F (mostly) |
| Other Popular Spots | Punta Vicente Roca, Wolf, and Darwin Islands |
| Other Extreme Sports | Rafting, Kayaking, Rock climbing, Mountain biking, Surfing, Rirappellingling |
If you want to scuba dive for some rare endemic species, look no further than The Galapagos Islands in Ecuador. The islands are isolated and preserved from human foliage as they're about 560 miles far from the coast of Ecuador.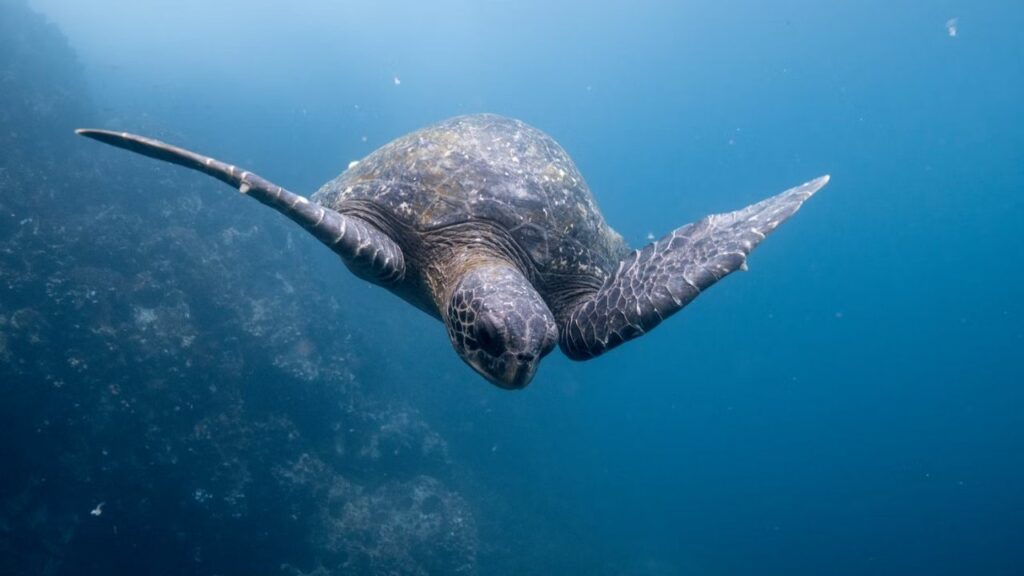 The Galapagos Islands are widely popular as the most immersive scuba diving spot globally, thanks to its uniquely versatile diving experience. Its isolation helps a LOT of species survive in the Galapagos. You can dive with whale sharks, manta rays, sea lions, hammerhead whales, iguanas, penguins, and more.
After reaching the islands, head towards Wolf and Darwin Islands to see scalloped hammerheads, silky sharks, and manta rays. Or go to the Punta Vicente Roca to watch Ecuador's mysterious Mola Mola.
5. Jardines de la Reina, Cuba
| | |
| --- | --- |
| Marine Life | Silky sharks, Great hammerhead sharks, Nurse sharks, Blacktip sharks, Caribbean reef sharks |
| Best Time to Visit | January to April, September to December |
| Water Temperature | 72-84°F |
| Other Popular Spots | Bay of Pigs, Punta Francés on the Isla de la Juventud, Cayo Largo near Cienfuegos |
| Other Extreme Sports | Surfing, Kayaking, Kiteboarding, Trekking, Caving |
Jardines de la Reina in Cuba is home to many of the world's shark species. Dive in the Garden of the Queens Marine Park to swim with silky sharks, hammerhead sharks, lemon sharks, and Caribbean reef sharks.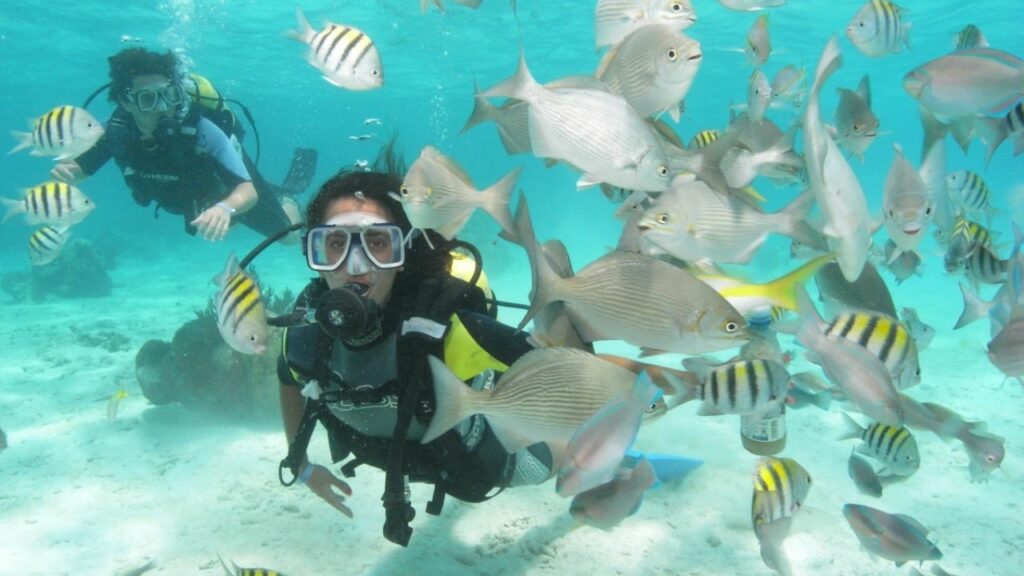 Additionally, Cuba has a humongous amount of protected water (about 850 sq. miles) that contains one of the largest coral reef systems in the world.
6. Great Barrier Reef – Australia
| | |
| --- | --- |
| Marine Life | Various species of sharks, humpback whales, inshore dolphins, dugongs, and more. |
| Best Time to Visit | June to October |
| Water Temperature | 84°F |
| Other Popular Spots | – |
| Other Extreme Sports | Whitewater rafting, Bungee jumping, Climbing, Hand gliding, Adventure caving |
Australia's Great Barrier Reef is the largest coral reef system in the entire world. It provides a breathtakingly beautiful scuba diving experience. You'll need a live board for the full experience because the famous spots like Ribbon reefs around Lizard Island are off-shore.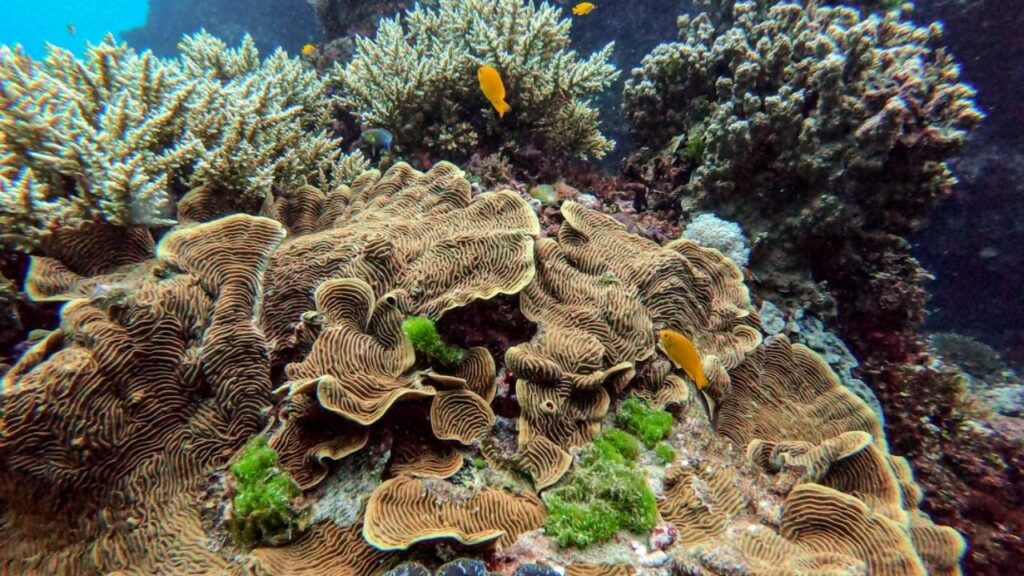 Though it's worth the effort because their isolation from human activity keeps the original reefs intact. You'll be surprised at the kind of uncommon species you'll meet in The Great Barrier Reef.
7. The Red Sea – Egypt, Jordan, Israel, Sudan
| | |
| --- | --- |
| Marine Life | 200 endemic species of fish, hard and soft corals and more |
| Best Time to Visit | Throughout the entire year |
| Water Temperature | 70°-84°F |
| Other Popular Spots | The Brothers, Daedalus ReefSharm El-Sheikh, Hurghada, Dahab, SS Thistlegorm |
| Other Extreme Sports | – |
The Red Sea is the most amazing scuba diving spot in the Middle East. The Red Sea is known for sightings of endemic species and beautiful underwater scenes. That's why I've mentioned four different countries to include the entirety of the Red Sea.
The Red Sea has so many popular scuba diving spots that it's difficult to put all of them in the guide. Some of these are the SS Thistlegorm (Ras Mohamed), Tiran (Sharm El-Sheikh), Hurghada, and beyond.
Scuba diving is available throughout the year, but you should go between March-May or September-November as the colder and hotter seasons aren't favorable here.
Honorary Mention: Lake Baikal, Russia
You won't find Russia's Lake Baikal in the list of the world's top diving spots. But what chance does the world's best have against a place you might end up falling in love with?
Lake Baikal in Russia is one of the most beautiful scuba diving spots in the world. With an astounding depth of over 5,000 feet, Baikal is the world's deepest lake. It's home to 20% of its entire freshwater marine life that you won't get to see anywhere else.
Plus, it's one of the clearest lakes in the world!
Popular Holiday Destinations with Amazing Scuba Diving
If scuba diving is one of many goals for your next adventure, you can also consider these four holiday destinations. Their diving spots are pretty comparable to the best in the world.
The Cayman Islands (Caribbean): There are over 160 scuba diving spots, and the water is so clear you can see almost 150 feet deep. Fans of the popular movie franchise can dive deep down to look at shipwrecks or just swim around with dolphins and stingrays.
The Maldives: This place is perfect for everyone. You have some calm and relaxing diving spots for beginners and others with swift currents favored by advanced divers. Though diving is ongoing throughout the year, you should visit in the Fall for a picture-perfect experience.
Thailand: Scuba diving in Thailand and some of its closer islands is an absolute delight, particularly during the start of Winter to the end of May. UK's divemagazine.co.uk suggests every scuba diver should visit the seamount of Richelieu Rock at least once in their lifetime.
Bahamas: You might know the Bahamas as a holiday destination, but The Great Bahama Islands are known for "diving with sharks" in the scuba community. Swim with hammerheads, oceanic whitetips, reef sharks, and even Tiger sharks.
Well, these were the best scuba diving spots for your next trip. Of course, there are at least a dozen more spots like Palau (Oceania) and Manta Night Dive (Hawaii) that are just as good, so be sure you pick one that checks all of your boxes.
Happy diving!