Modern packrafts are simply amazing – they're ultralight and super convenient for the adventurer in you. Ever had a day when you're just rafting along, enjoying the scenery, and wishing you could just raft up to the river bank and go for a hike?
But you can't do that, can you? Because who would take care of the giant wooden kayak?
A packraft is an inflatable lightweight rafting boat – a portable alternative to traditional wooden kayaks. Packrafts are compact but highly durable and stable.
You can easily store these inflatable boats in your backpack during hiking or mountain biking trips. Let's look at the best packrafts the current market can offer.
Best Packrafts to Buy in 2022-23
1. Premium Choice: Kokopelli Nirvana Self-Bailing Packraft W/Tizip

Price: $1,300 – $1,500
Weight: 13lbs
Size: 90 x 37 inches (outer), 57 x 15.5 inches (inner)
Load Capacity: 300lbs
Kokopelli's Nirvana is the best packraft to buy for the 2022-23 whitewater rafting season. It has self-bailing capabilities and useful features such as Tizip air-tight storage. The raft is durable as the floor material is 840d DuPontTM KEVLAR Aramid-Nylon.
And it gets better. You'll have a couple of D-rings around the packraft for tying additional gear during the adventure.
Buy Kokopelli Nirvana Self-Bailing Packraft on Amazon
Alternative: Alpacka's Forager is an excellent alternative to Kokopelli's Nirvana, but it costs $1900 ($500 more than Kokopelli). If you want something with a removable deck, you can go with Alpacka's Expedition, which costs $1700.
2. Editor's Choice: Kokopelli's Recon Self-Bailing Packraft

Price: $1050
Weight: 18lbs
Size: 90 x 37 inches (outer), 57 x 15.5 inches (inner)
Load Capacity: 300lbs
Kokopelli's Recon Self-Bailing Packraft is one of the most durable inflatable packrafts in the $1000 category. The body is made of 1000D reinforced PVC. It also has a full-length inflatable floor made of 210 diamond-ripstop nylon.
The raft is known for its maneuverability because it has the same shape and design as Kokopelli's Nirvana. Finally, the raft has D-rings and thigh straps around the boat for additional gear.
Did I mention it is a self-bailing packraft at just $1000?
Additionally, if you're willing to spend an extra $200-$300, you can go for the Recon Self-Bailing Packraft with a Spraydeck.
3. Ideal Choice: Kokopelli's XPD Inflatable Packraft

Price: $750
Weight: 13lbs
Size: 85 x 37 inches (outer), 51 x 15.5 inches (inner)
Load Capacity: 300lbs
Kokopelli's XPD is an excellent pick for adventurers like me who aren't particularly looking for hardcore whitewater rafting.
XPD comes with Tizip Storage & Quick Deflate to build on its adventure and outing vibes. Though it's not recommended for use above class II rapids since it's entirely made out of 1000D reinforced PVC.
But that's not to say it isn't durable. Once you use XPD, you'll realize it's bulkier and heavier than similar rafts like Kokopelli's Rogue Lite and Twain.
Buy Kokopelli's XPD Inflatable Packraft on Amazon
4. Best in Budget: Advanced Element's PackLite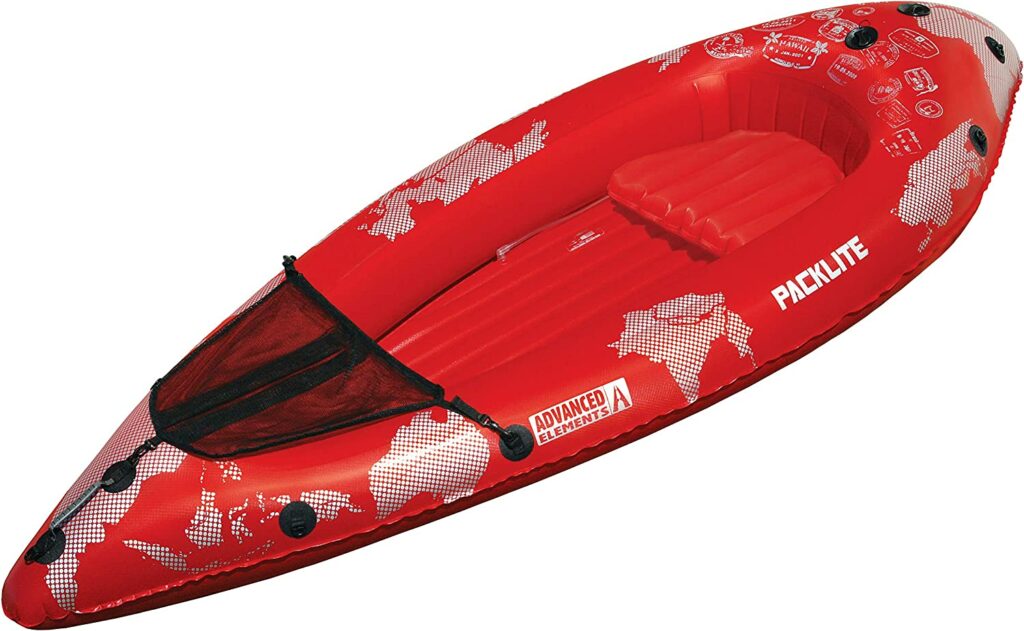 Price: $379
Weight: 4lbs
Size: 94" x 35" (outer)
Load Capacity: 250lbs
Advanced Element's PackLite is the best inflatable packraft if you're working on a budget. Granted, it doesn't hold a candle to Kokopelli's $1500 raft, but AE has done a great job in giving you your money's worth.
At just $379, PackLite is super compact and lightweight without trading off the much-needed durability. It also fills up quickly thanks to the military-grade valves.
And, it's great for the environment since it's eco-friendly and PVC-free. The only problem with this deal is that it doesn't come with a pump, so you'll have to buy one separately.
Buy Advanced Element's PackLite on Amazon
Suppose you can spring a couple extra dollars while keeping the budget under $500. In that case, I suggest you go with Aquaglide Backwoods Purist 65.
Buy AQUAGLIDE Backwoods Purist 65 on Amazon
How do you pick a packraft?
1. Size of the Packraft
The first thing that you must consider is the size of the packraft itself. Do you require a single-person packraft, a double-seater packraft, or a single-person plus extra packraft?
The third option allows some extra space for small children, dogs, and extra gear. A single-person packraft is generally the best in whitewater because everyone in your group can follow their own pace and experience the adventure safely.
On the flip side, a double-seater packraft isn't only bigger but has extra features thanks to the added area. Double pedaling power can go way faster than the other two options. It's good if you have a buddy with whom you're used to rafting in sync.
2. Weight & Load Capacity of the Packraft
This is more of a personal decision since you need to decide the maximum weight you're comfortable carrying on a hike.
You'll simply trade some added benefits if you go with the ultralight options. But it won't affect the durability in any way, so it's not a bad deal.
Speaking of weight, also check the laid capacity of the raft. Can it sustain your weight and the weight of additional gear you might wanna carry?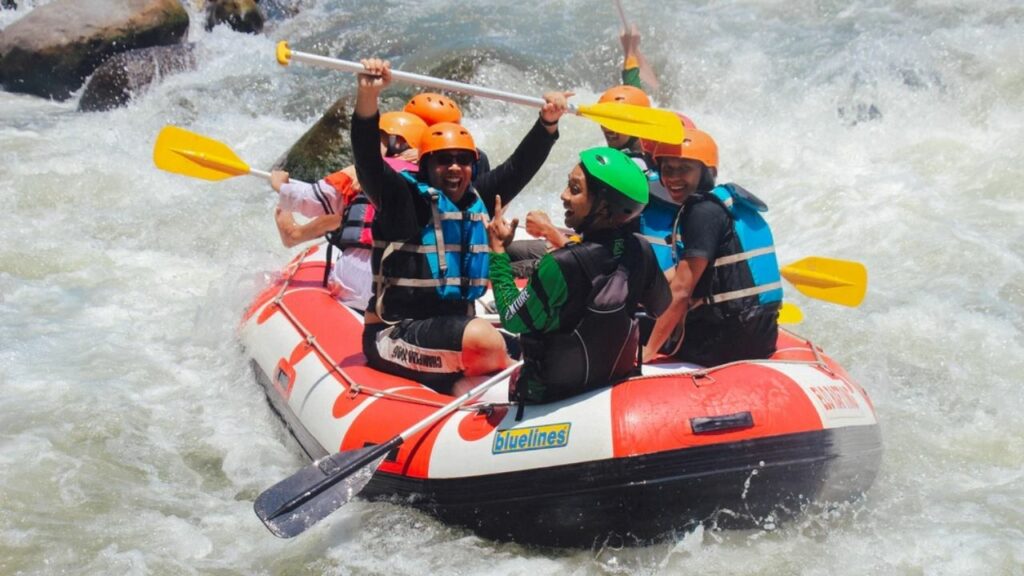 3. Material & Build Quality
When carrying your whitewater ride inside a backpack, you better be 100% sure about its build quality.
The strength factor of a packraft (durability and thickness) is measured in denier (D). So, a packraft with a higher denier number would be more durable and stable. Still, it'll also be heavier than a lower denier alternative.
For example, a packraft made with 440D ballistic nylon is less durable and lighter than an 840D one.
As for the material, most packrafts are made of coated fabrics such as nylon and polyester. Both are incredibly durable and tear-resistant.
I don't recommend buying cheaper packrafts made of PVC film, even if they come with a reference.
4. Protective Coating
Good-quality packrafts have an additional layer of coating to make them stronger.
Thermoplastic polyurethane (TPU), Polyurethane (PU), or Urethane are the most widely used coatings, and their performance is measured in thickness (pounds per sq. foot).
It's also important to check how much of the boat is coated. Manufacturers may advertise the packraft to have a TPU coating without mentioning that only the bottom of the raft is coated.
Premium rafts have tubes on both sides coated alongside the hull and bottom of the packraft.
5. Important Extra Features: Self-Bailing & Deck
Some packrafts come with a self-bailing feature. It allows them to draw water in from the bottom and release it from the holes on the upper end of the packraft. It helps in maintaining stability and speed in whitewater rapids.
Other essential extras include an inflatable seat in the packraft to give you an elevated seating position and an internal luggage compartment.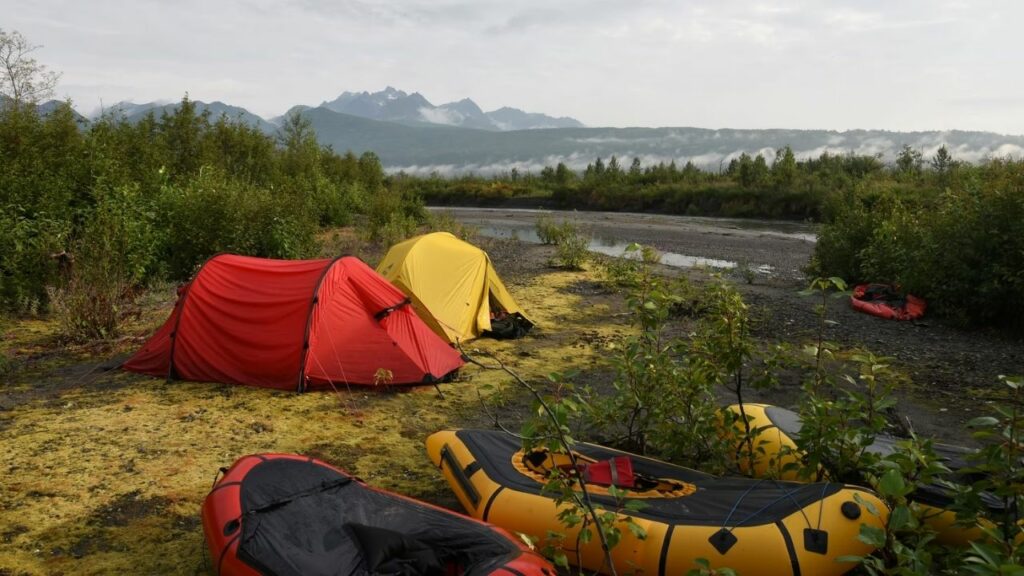 You should also look for a packraft with a deck to protect you from the splash if you're going to be whitewater rafting in the cold. A whitewater deck keeps you warm and dry but makes the raft bulky.
Of course, you can look for a boat with a removable whitewater deck. It won't be as efficient in keeping you dry since some water seeps through the zippers. But it's definitely better than nothing.
Why do you need a packraft? Is it worth the price?
Reason 1: They're Extremely Lightweight & Portable
Your kayak is literally in your backpack – that's how much portability packrafts have. It just blows my mind.
Compared to a standard raft that weighs about 20 – 80 lbs, the average weight of a packraft is 10 – 15 lbs. It's also the perfect choice for people who live in the city since you can store it inside a closet.
There's also an ultra-lightweight option in packrafts. They have similar durability and cover as much space as a water bottle.
Reason 2: They're More Beginner Friendly Than You'd Think
The standard packraft design is beginner-friendly by default. Thanks to the broader hull, and massive air-filled edges, packrafts have a higher buoyancy.
This design makes them highly stable and increases their maneuverability in both flowing water and whitewater. Additionally, most packrafts don't require you to learn the leaning techniques, which are a nightmare to master.
Reason 3: They're Good For Experts As Well
Packrafts have something for everyone, even experts. When was the last time you took your kayak on an airplane?
I've mentioned portability, but this has a different pro point for experts – you can now check out as many whitewater rapids as you want without logistics holding you back.
Reason 4: They're More Durable Than They Look
Are you wondering, "everything else is OK, but how can I entrust my safety to something in my backpack when I'm up against whitewater?" That's a valid question, but durability was never an issue.
Packrafts are pretty durable for their size. Packraft models from good companies (recommended in this guide) have been tried and tested in some harsh environments. Still, their durability remains unfazed even against sharp rocks and shallow bottoms.
Reason 5: Adventure Trip vs. Hardcore Whitewater Rafting
With a packraft in your backpack, hiking and rafting go hand-in-hand for your next exploration. If you're not going to a class IV or above rapid, choose the most convenient choice and have fun.
Frequently Asked Questions (FAQs)
1. How much does a packraft cost?
A good-quality packraft can cost between $300 and $1500, depending on your choice and feature requirements. Packrafts are generally expensive since it's a small market and the product isn't mass-produced in big plants.
However, according to seasoned rafters, the price-to-performance ratio and various modern features in packrafts are well worth the price difference.
2. How heavy is a packraft?
Packrafts generally weigh 10-20 pounds, including all the accessories and support gear for a packraft. They're ultralight because they're designed to fit inside your backpack and brought along on a mountain hike.
3. How fast do packrafts go?
Packrafts normally go about 2-5 miles an hour. Still, the speed of your raft is highly dependent on the speed and direction of the water current, your arm and pedaling strength, and your pedaling technique.