True whitewater rafting is about navigating that thin line between "having fun" and "wait, what just happened?" moments.
You get this out-of-body, mind-blowing experience that you can only understand first hand. And while a lot can potentially go wrong, most incidents are preventable.
Here, we'll walk through how you can prepare for your next whitewater rafting trip – from a need-to-know pre-rafting workout and the vital equipment, you need to some pro tips.
Should you eat anything before (and during) whitewater rafting?
More than a few people may disagree, but I'm telling you straight up – you should eat a hearty breakfast beforehand.
Eating a protein-rich breakfast on the rafting day is the most crucial part of whitewater rafting preparation. A good amount of proteins and carbs is necessary because rafting is an intense activity. However, I don't recommend consuming a lot of fats or filling your stomach either.
Truth is, movements can get restricted when your stomach is full, so I recommend keeping your breakfast at about 80% of your usual capacity. You can have anything rich in proteins and carbs, though, from steak, eggs, and hamburgers to tofu, tempeh, and hummus for vegans.
If you're prepared, go ahead and plan meals ahead of time. Who doesn't like a nice meal on river trips? Riverbent.com made an excellent guide on Raft Trip Meal Planning, so you can refer to that.
Let's continue.
What workout / exercises should you do before?
Stretching your muscles is an absolute necessity if you're about to do an activity as intense as whitewater rafting. Our muscles are short (tighter) by default. And we make them flexible and even strong by stretching before an intense activity.
Here's what a good pre-rafting workout looks like: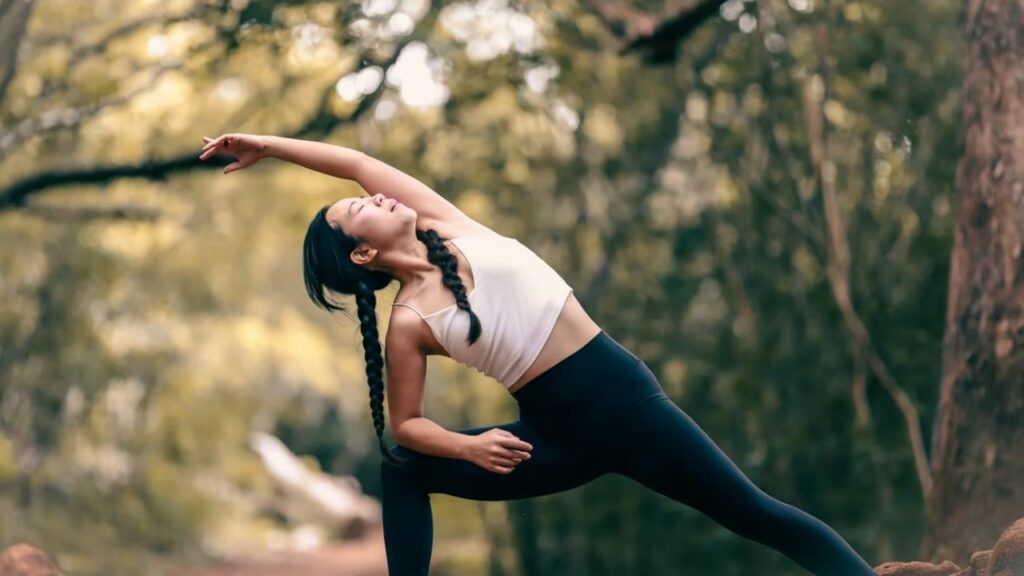 Step 1: Stretch
Stretch all of your limbs for at least 5 to 10 minutes slowly, but avoid straining your shoulders while pedaling or getting leg cramps. The purpose is to stretch your muscles as far as they can go without injuring yourself.
Step 2: Exercising Your Torso
Next, you want to focus on building your upper body strength. This is especially true if you're shooting for class III, IV, or V rapids. These rapids require a ridiculous amount of upper body strength for navigation.
For now, you can start by doing exercises like pushups, pullups, and chest presses. The most crucial factor in step 2 would be your form. People tend to focus on reps or sets instead of form, which is terrible if you want to build your muscles evenly without getting hurt.
Step 3: Exercising Your Core
The core is typically exercised in two ways – strengthening and balancing. Your primary focus is strengthening, and the best way to strengthen your core is by doing planks. Try out different planks, like side planks and switching things up between sets. You can also do yoga to balance your core.
Step 4: Exercising Your Lower Body
You'd think that you don't need as much lower body strength as you do upper strength, but it's actually the opposite. Your lower body is what provides the support and balance you need to pedal the raft.
Build leg (especially calf) muscles by doing sets of lunges and squats. Feel free to include weight balls in your leg workout.
Step 5: Building Endurance
Endurance building is the easiest of all. Just go for a run, bike ride, or swim at a convenient time during the day to build endurance.
Step 6: Post-Workout
Finally, consume some protein and stretch to end your workout.
You can adopt all of the above exercises as your daily workout routine to strengthen your body. But on rafting day, just do them at minimal intervals.
And, of course, discuss all of these exercises with your gym trainer to avoid injury.
What to pack and wear on a whitewater rafting trip?
The rafting season is in the summer for obvious reasons. Still, some people prefer going during the spring or fall to avoid crowds.
Your choice of clothing for whitewater rafting depends entirely on the lake's weather conditions during your trip. You'll want to wear caps and woolen clothing during winters and any non-cotton clothes in summer. A swimsuit and water-resistant clothing (wetsuit) are necessary for any season.
1. Common Items
Here are some items you'll need regardless of the weather:
Sun protection: Sunscreen and a covered shirt are, of course, the best protection against UV rays. You should also wear protective hats and polarized sunglasses or sunglasses with built-in UV eye protection (Sun Protection Factor).
Use sunscreen with at least 25 SPF. Be sure it's water-resistant, so it doesn't dissolve in the water.
Swimsuit: Always bring a swimsuit on your rafting trips. You may want to take a dip if the opportunity arises.
Bug spray: You probably won't need it during the trip, but you may want it before and after if you're hanging out alongside the river.
Paddling Jacket: No explanation needed.
Wetsuit: Wearing a waterproof layer underneath is probably the best thing you can do to keep yourself comfortable. I recommend going with an Ultraviolet Protection Factor (UPF) rating above 30.
Avoid wearing clothing made of cotton. Instead, go with woven fabric such as wool, fleece, polyester, or any other fabric that dries quickly and doesn't soak up water.
Pro Tip: Keep extra towels with you. Also, leave jewelry and other accessories at home. Only take belongings that you're comfortable leaving behind while you're rafting.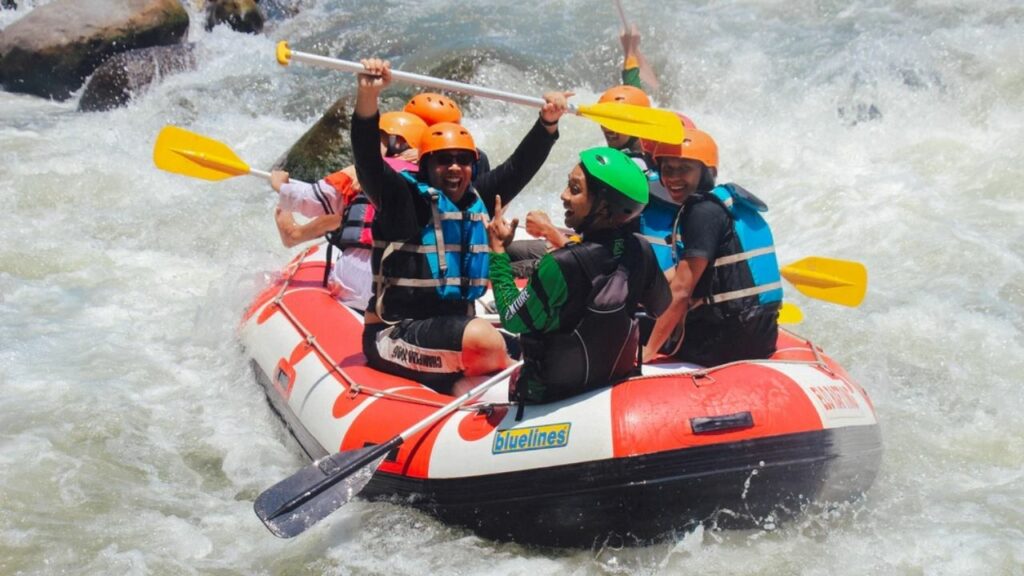 2. Clothes To Wear In Summer
During summer, you only need a half-sleeved t-shirt and shorts along with a wetsuit for your whitewater rafting trip. You can either wear river sandals or tennis shoes (preferable).
3. Clothes To Wear In Winter
During winter, you should wear a woolen cap, sweater, and woolen socks along with a wetsuit and tennis shoes for your whitewater rafting trip. You can also wear woolen or polyester or fleece bottoms instead of shorts if it's more comfortable in colder temperatures.
What other equipment do you need while rafting?
Here's every other piece of equipment you'll need on your trip besides a raft and oars (with paddles).
Life Jacket: Even if you're the best swimmer in your group, you'll still need a life jacket because of the strength and speed of whitewater waves.
Rafting Helmet: Because you gotta protect your think tank.
Repair Kit: Keep a raft repair kit if you don't have a guide and are organizing the trip yourself.
First Aid Supplies: Just in case.
Water Bottle: Water is more important than food. Bring the maximum amount you can carry without it becoming a burden.
1. How to use the paddle?
You can't go whitewater rafting without learning how to paddle.
The correct way to use the rafting paddle is to keep one hand on the shaft at the base of the paddle. Hold the end of the shaft over the "T" grip with your other hand and then paddle. Make sure you maneuver it correctly so that the T grip doesn't bounce back and hit you.
Is rafting safe for non-swimmers?
In short, yes and no. Let me explain.
While you can go on whitewater rafting if you don't know how to swim, I suggest you learn the basics of swimming first. Don't overestimate PFDs (Personal Floatation Devices) or "life jackets," they'll help you float but not swim. Though non-swimmers can go to class I or even class III rapids with a PFD.
Is there a weight limit for whitewater rafting?
There are no hard and fast rules or specific laws, but your weight still matters on whitewater rafting trips. Rafts are built to hold a tremendous amount of weight, but limits still exist.
The weight limit for most whitewater rafting companies is between 90 to 275 pounds, and even that's variable. However, your weight itself matters less than your physique and overall health to ensure your safety. The weight limit ensures you're fit for the raft and can use the safety equipment as well.
What confuses most people is that you can be perfectly healthy yet still be ineligible for rafting. At the same time, medically unhealthy and overweight individuals might be eligible. It seems arbitrary, but it's not.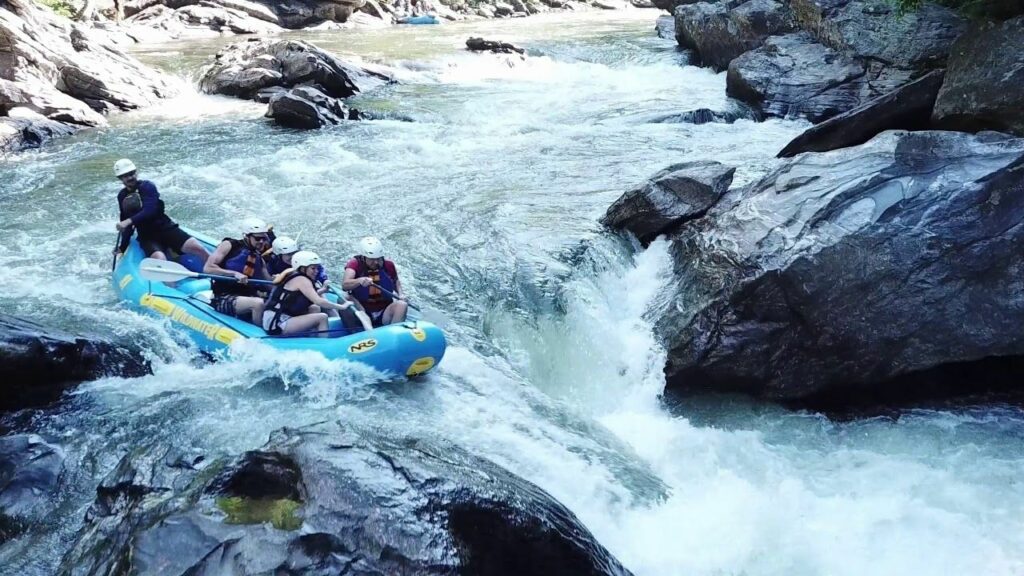 The truth is, your weight matters less than your volume (physique). Basically, you need to pass two conditions for eligibility:
Can you fit into the safety equipment properly?
Do you have enough strength, endurance, and flexibility while being overweight to handle your position in the raft?
Pro-Tip: Always Listen To Your Guide
Ask as many questions as needed when shopping for a rafting guide (or an outfitter). Make sure they're licensed professionals. And once you're done, let the pros do their job so you can have fun and stay safe without worrying too much.
You're now more than prepared to face any surprises on your next whitewater rafting trip. Now just let the good times roll.