Truck bed mattresses are lifesavers for us city dwellers during camping trips. It's the perfect blend of sleeping outdoors in the woods without leaving the comfort and mental security of our "enclosed rooms."
That said, they're quite tricky to choose. Both air and foam mattresses have valid pros and cons. Not to mention, you have the third option to cut an old mattress and DIY the whole thing.
So, what's the best truck bed mattress you buy right now in 2022? How can you choose between an air mattress and a foam mattress? Let's find out.
Which mattress is best suited for camping?
Here are the five best truck bed mattresses you can buy without thinking twice.
1. Hikenture Double Sleeping Pad, Camping Mattress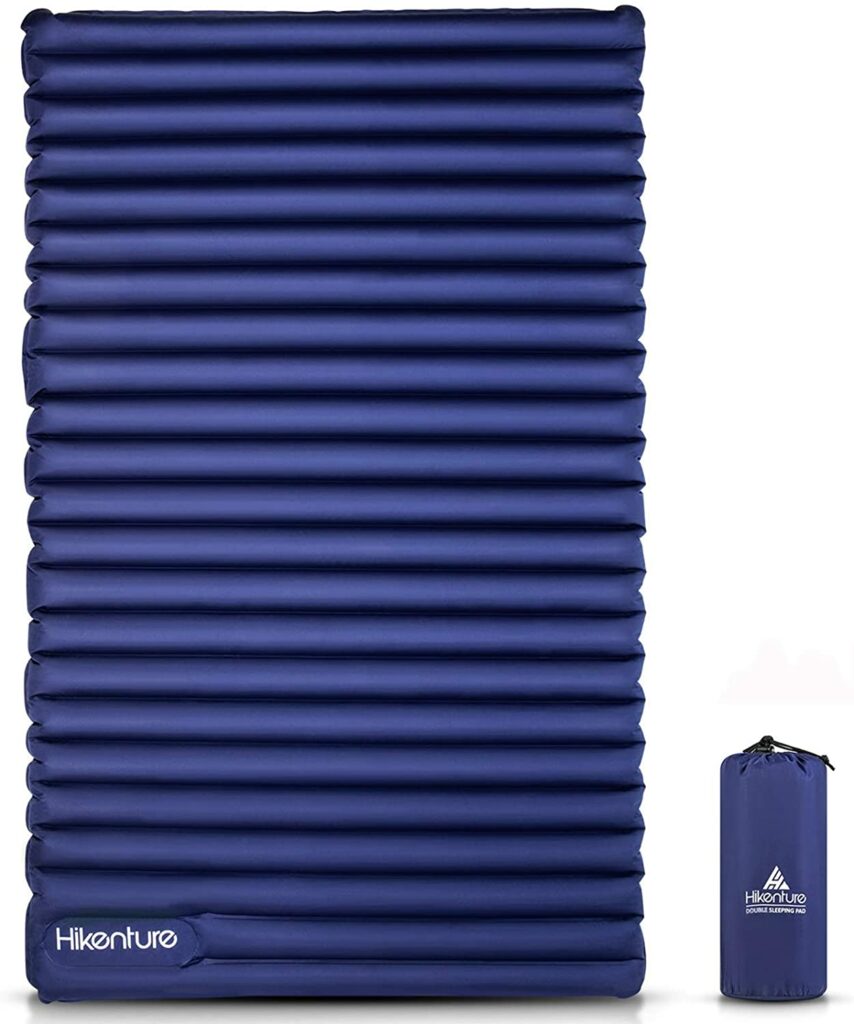 Hikenture's Double Sleeping Pad is the cheapest (and great) truck bed mattress you can buy in 2022 for under $100. The product only costs $80 and includes various premium features.
Its body is water-resistant, has two valves for quick and easy inflation/deflation, is lightweight, and most importantly, the surface area is big enough to accommodate two adults comfortably.
Buy Hikenture Double Sleeping Pad on Amazon
2. Folding Mattresses by Best Choice Products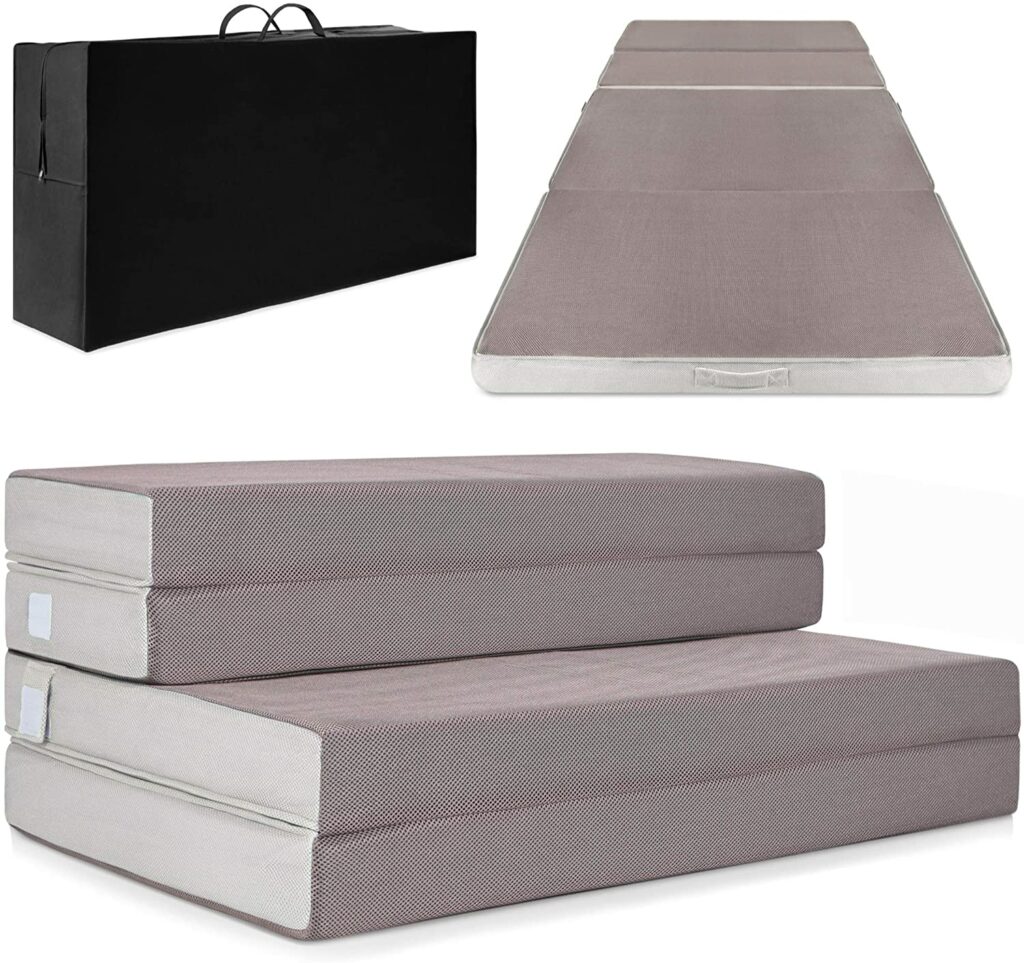 Best Choice Products make the most affordable and amazing folding truck bed mattresses of all sizes. One mattress costs between $110 (twin) and $150 (full size).
It's a trifold foam mattress with a sturdy build to provide maximum comfort. Unlike an air mattress, folding mattresses can be packed and laid flat on the truck bed. This would save you extra space.
Buy Folding Mattresses by Best Choice Products on Amazon
3. Airbedz Original Truck Bed Air Mattress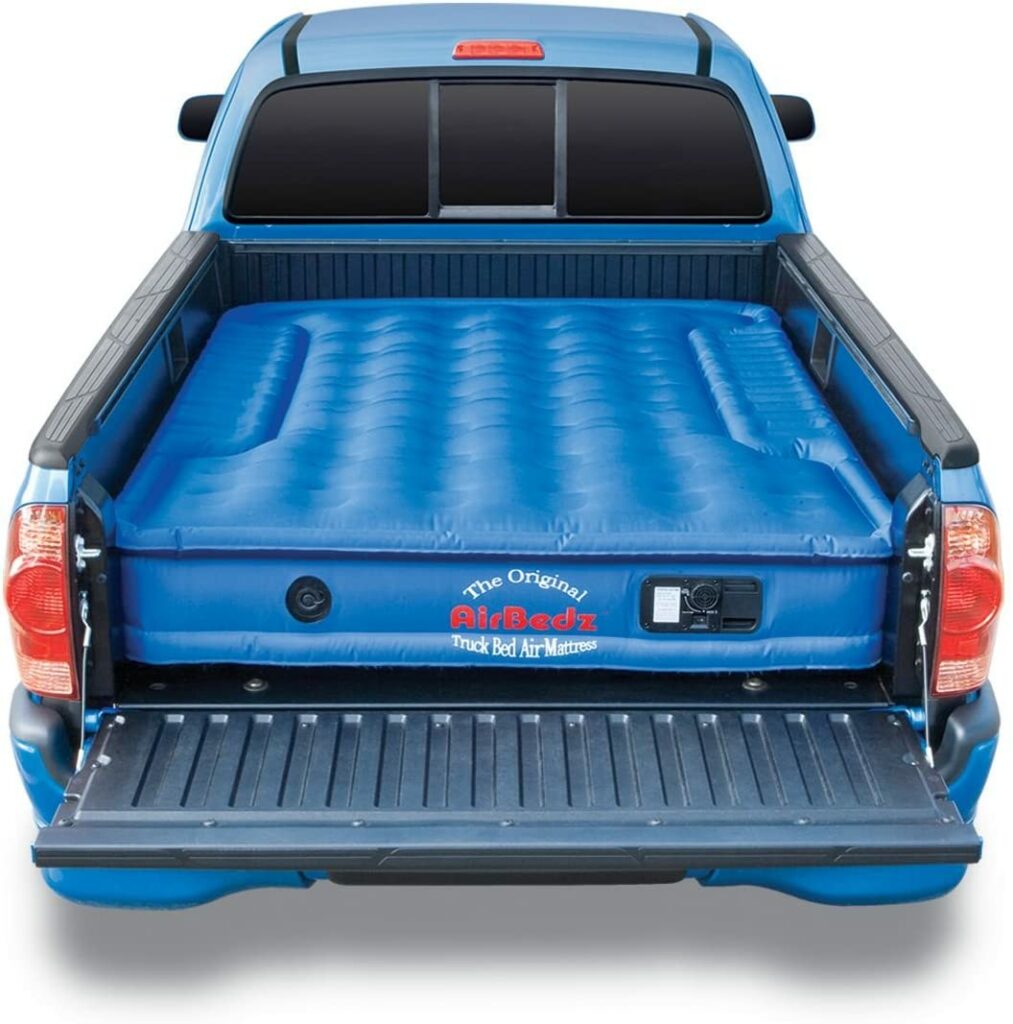 AirBedz Original is the best truck bed air mattress you can buy in 2022. At a retail price of $290, the Original is an expensive model that boasts many premium features. It's made from PPI 102 polyester and designed to fit around the wheels on all ends.
Like Hikenture, the AirBedz original has valves to speed up inflation and deflation without tiring you out. This mattress's built-in pump comes with a power cord and a rechargeable battery.
Buy AirBedz Original on Amazon
4. Pittman Outdoors AirBedz Lite PPI PV202C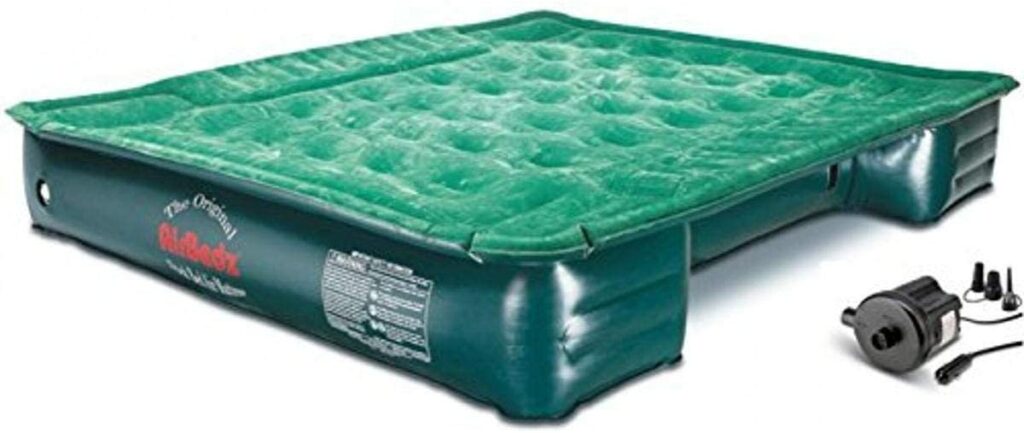 If the original was expensive for you, they also have a light version.
At $190, AirBedz Lite is an excellent PVC air mattress to add to your camping setup. This model comes in standard full size, which would easily fit most 6-ft truck beds.
AirBedz Lite has a built-in pump with a charging cord like its counterparts. Unfortunately, you can't use this one with 5-ft truck beds.
Buy Pittman Outdoors AirBedz Lite on Amazon
5. KingCamp Self-Inflating Sleeping Pad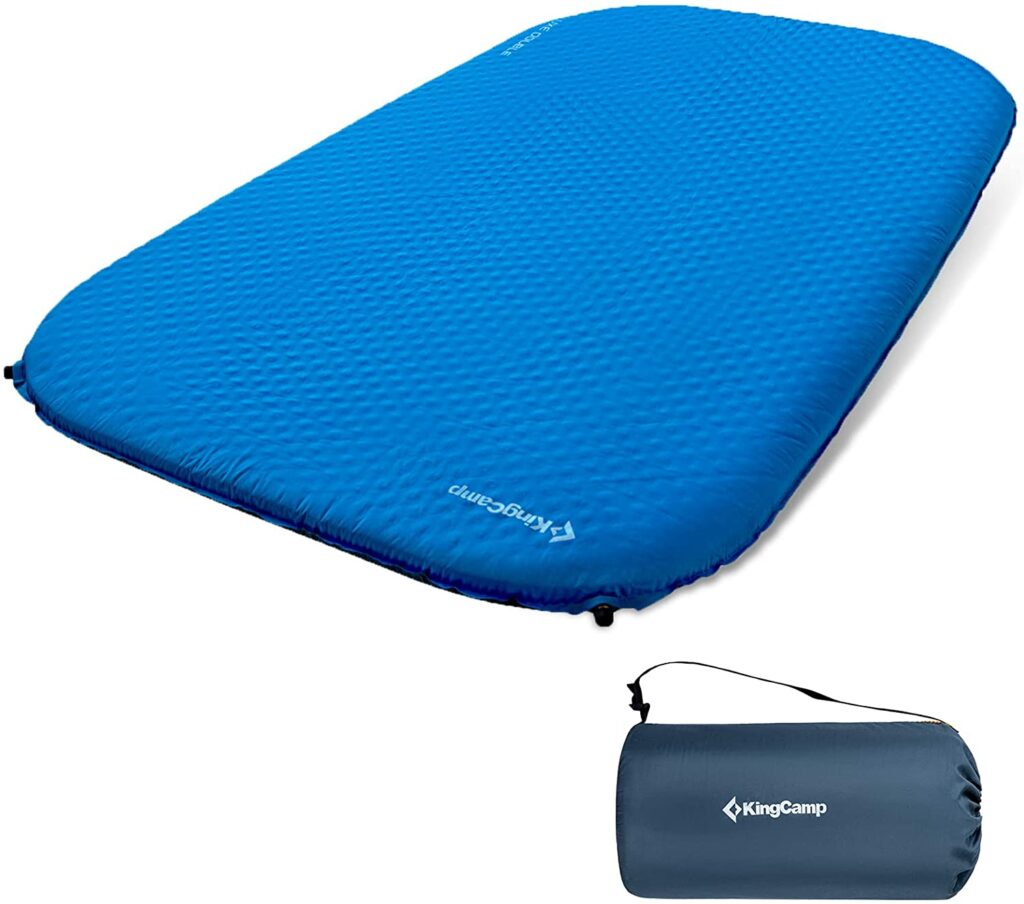 Self-inflating mattresses are a popular choice among city dwellers as they don't require much effort.
Such mattresses self-inflate when opened and deflate when rolled back. It makes packaging and storage very convenient for you.
The mattress is made of insulating materials, so it has a good build to withstand cold and hot vacations. But there's a downside, self-inflating mattresses aren't as comfortable as memory foam mattresses.
Buy KingCamp Self-Inflating Sleeping Pad on Amazon
How to choose a truck bed mattress?
I made a mistake when I got my first truck bed mattress. I didn't research enough and made my budget without knowing these mattresses' various features and types.
In short, I overpaid for a mattress that I didn't need. And let me tell you, air mattresses were subpar back then.
1. Mattress Type & Material: Foam vs. Air
Foam mattresses, especially memory foam, are the gold standard. Air mattresses have come a LONG WAY since their inception; their foam counterparts are simply more comfortable in every way.
Additionally, foam mattresses can compress and fit in smaller spaces. You can even cut it with scissors to customize a preferred size.
To their credit, air mattresses easily adapt to the shape of your truck bed and provide the maximum sleeping space possible. They can also be packed and stored away after deflation. If you're going to buy an air mattress, I can't recommend Airbedz enough.
Another argument for either side is that foam mattresses (often foldable or roll-able) can take up a lot of space while air mattresses can't. BUT you never have to worry about punctures with a foam mattress.
2. Portable vs. Non-Portable
Don't go buying humongous foam mattresses unless you have dedicated storage space for them. Otherwise, they might not last long enough to see more than a few trips.
If you're short on space for a huge mattress, I recommend looking for portable options or getting two single-size ones.
3. Your Usage
Your camping situation/style is important in deciding your budget and, ultimately, the mattress. If you're going to be using it once in a blue moon, you can get away with the entry-level cheaper mattresses.
If not, you'll have to spend some money (about $200) to get a reasonable mattress that is durable enough to last a couple of years.
How can I make my truck bed more comfortable?
Despite your first instinct, you can comfortably sleep in that protruding metal sheet that you call a truck bed – with a few adjustments.
To make your truck bed more comfortable, do the following steps:
Choose a suitable mattress as your foundation. Foam mattresses are the best for cold camping, but you can go with either air or foam depending on your needs.
Use sleeping bags (or pads) and pillows to make warm, comfortable bedding on top of your mattress.
Finally, use a truck tent or canopy for "external protection" and keep the natural elements away from you.
Few people use truck tents because they're expensive and a hassle to set up. But they're excellent for what they're supposed to do.
You can use additional things to make your impromptu bed more comfortable, such as a small AC, a heater, or a fan.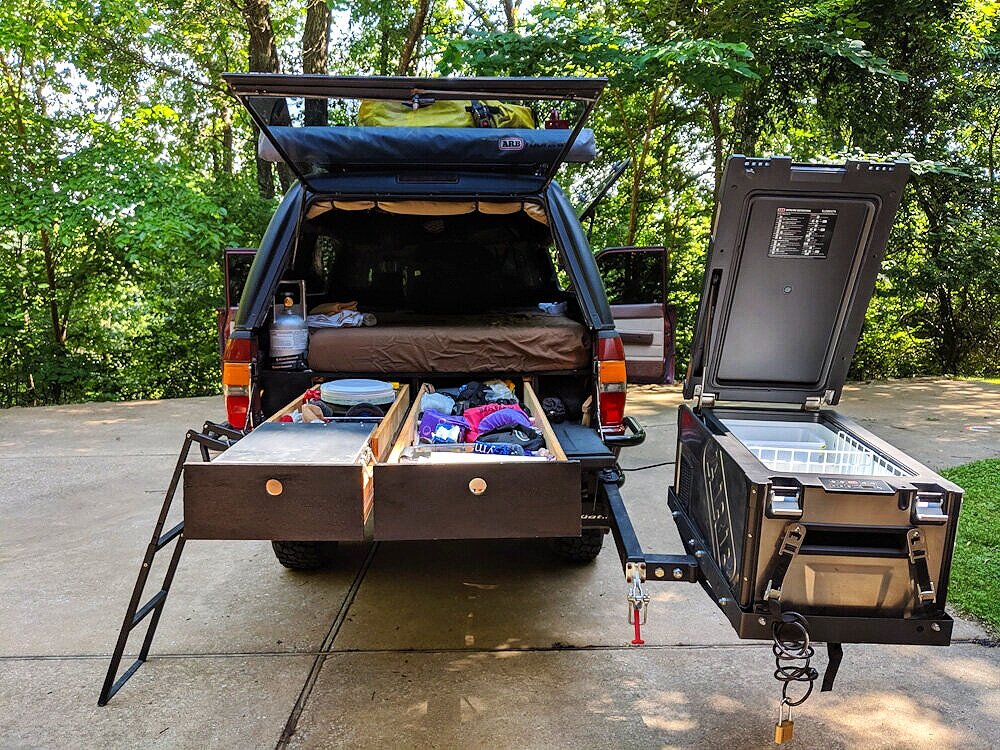 Frequently Asked Questions (FAQs)
1. How much is a truck bed mattress?
Quality truck bed mattresses generally cost between $150 to $250 in the U.S. The exact amount varies between states and brands. Mattresses with "extra" and "cutting edge" features can cost you under $400.
2. What size mattress fits in a truck bed?
Full size or double-size mattress (54″ by 75") is the standard size for truck beds. While some truck beds vary in length (73″ to 75"), foam mattresses are compressible for a snug fit. For extended trucks, you can go with full XL-size, which is 54″ wide and up to 80″ long.
3. What size air mattress fits in a truck bed?
Full-size or double-size air mattresses (54″ by 75") can fit in any standard truck. You can even go for full XL-size air mattresses since they're not going to be inflated all the time, unlike foam mattresses. You can open the tailgate at night and utilize the extra room.
4. Does memory foam get hard in cold weather?
Memory foam mattresses get harder and more inflexible in colder temperatures. It's not a huge problem unless the weather is extremely cold. This could make the rigid mattress uncomfortable until it stores enough heat to warm up.
5. Can you sleep in a 5-foot truck bed?
Sleeping in a 5-foot-long truck bed is difficult if you're about, or over, 6 feet tall. However, it's not impossible. You can fit by making small adjustments, like sleeping diagonally and using pillows/bags on either end to keep your feet slightly elevated in the air.
6. Can a queen/king-size mattress fit inside a truck bed?
Queen-size and king-size mattresses will not fit inside a truck bed. A standard queen size mattress is 60″ by 80," and a standard king size is 76″ by 80″. In contrast, most truck beds are under 5ft (60″) in width and 6.25ft (75") in length. Such mattresses can only fit in a few extended trucks.
7. Will a mattress fly out of a truck?
In most cases, a mattress will not detach and fly out of your truck bed. Air mattresses should be properly folded and tied before moving out. In contrast, foam mattresses are usually slightly bigger than the truck bed, so they compress and fit snuggly when you close the tailgate.
8. How do you transport a mattress in a truck?
Transporting a mattress in your truck bed heavily depends on the mattress type.
Air mattresses and foldable mattresses must be packed and tied properly.
You should tie foam mattresses unless they're a snuggle fit.
Never transport your mattress on its side since it could damage the product.
Cheers to comfy camping!