If you ever wondered how to camp without getting your hair wet and staying clean, you just need a dry shampoo.
Camping is a fantastic way to disconnect from the hustle and bustle of everyday life and reconnect with the great outdoors. But let's face it, you can also feel less than fresh on long hikes and dusty trails.
Dry shampoo is a game-changer when managing your hair while camping. It's a quick and convenient solution to keep your hair fresh and awesome! When applied to the roots, dry shampoo works by soaking up the oil and dirt.
But the benefits of dry shampoo go beyond oil absorption. It can also add volume, texture, and freshness to your hair, making it the perfect companion for camping trips.
Top Recommendations: Best Dry Shampoos for Camping
1. Editor's Choice: Klorane Dry Shampoo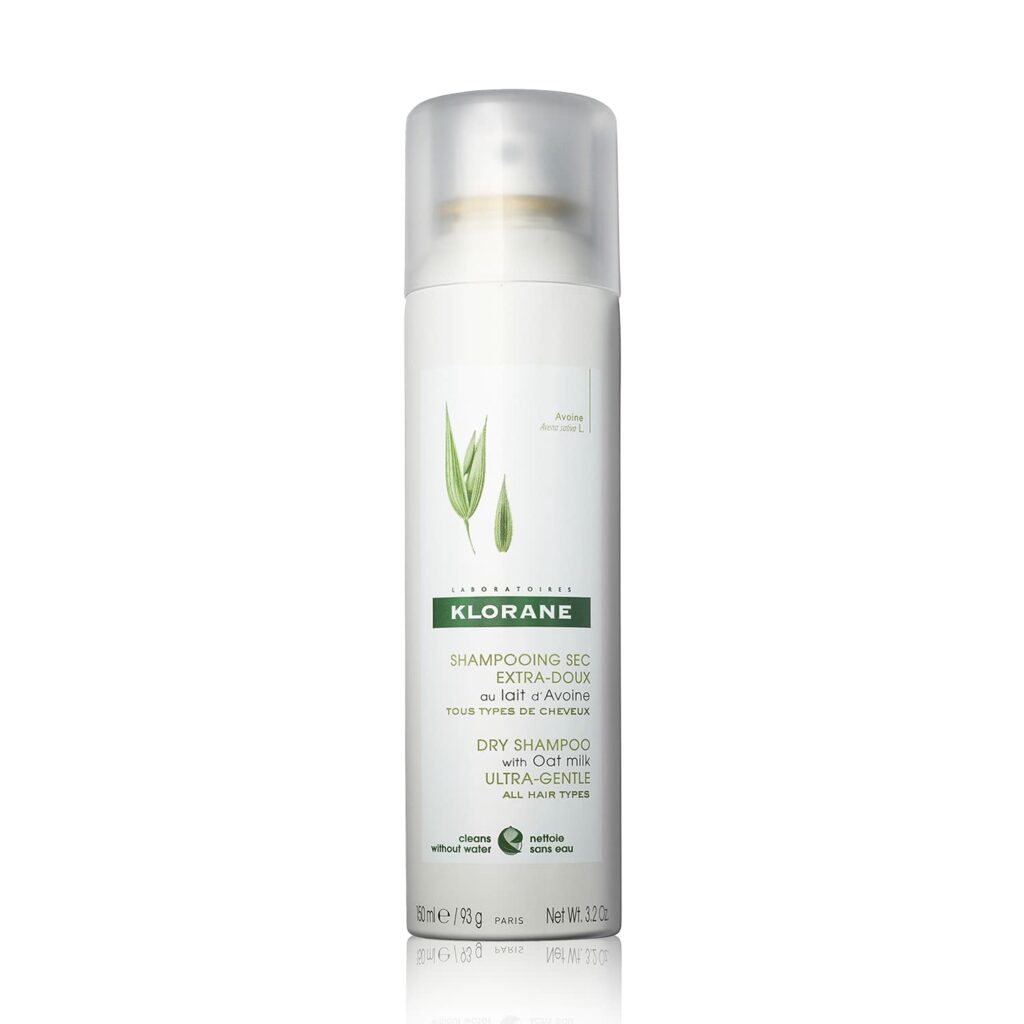 Klorane Dry Shampoo is the ultimate choice for campers seeking the best dry shampoo. Its exceptional qualities and reasonable price ($6-10 per ounce) make it a must-have for outdoor adventures. The gentle formula is enriched with organically harvested oat milk, corn, and rice starch.
Formulated for all hair types and textures, this gentle and earth-sourced dry shampoo harnesses the power of natural ingredients. Simply shake gently and spray onto the roots in between the shampoos.
Buy Klorane Dry Shampoo on Amazon
2. Best Unscented: Act+Acre Plant-based Dry Shampoo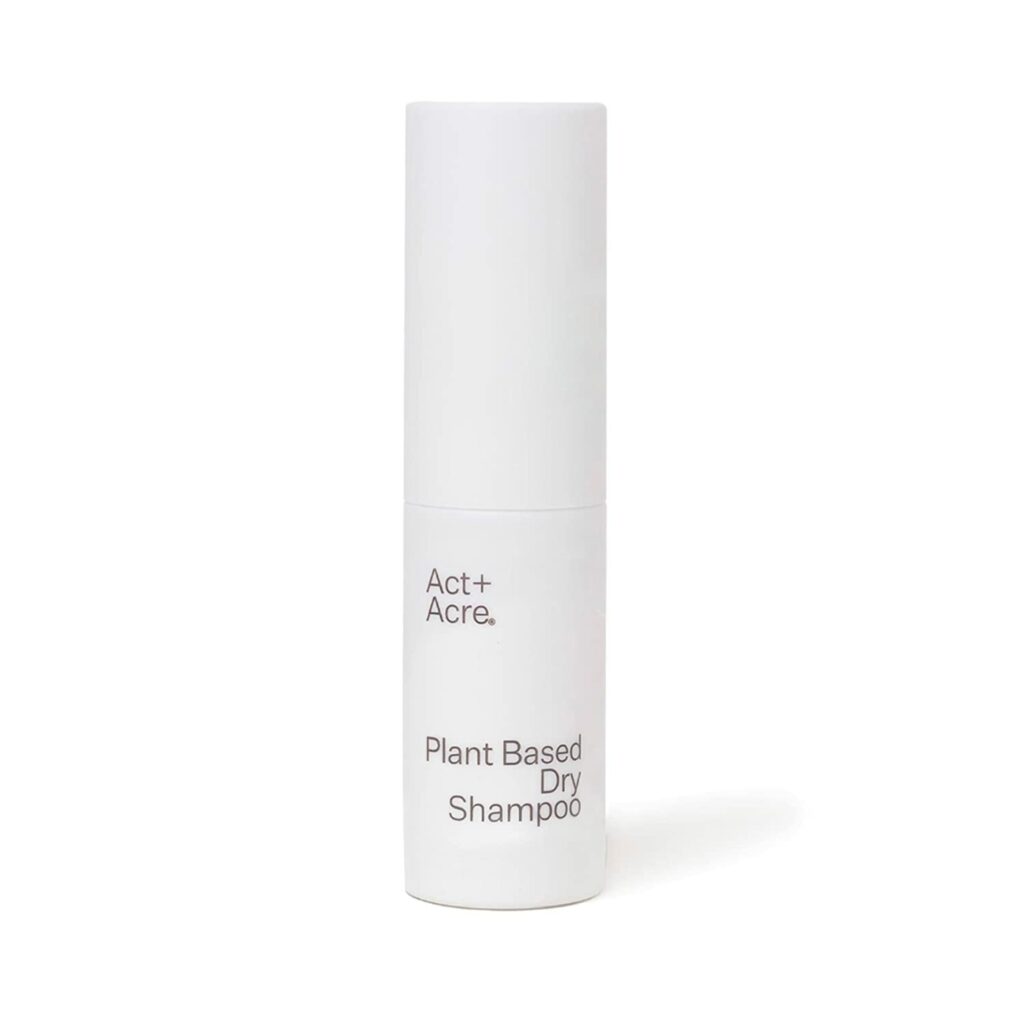 Okay, I'm gonna address the elephant in the room first. Yes, it's very expensive at approx. $35 per ounce. That said, the product is great if you can afford it.
Act+Acre Plant-based Dry Shampoo is the best unscented dry shampoo for campers. Its natural and fragrance-free formula and travel-friendly size make it the ultimate choice. With Act+, you can say goodbye to dry scalp and clogged follicles, as it's free from aluminum, alcohol, and other harmful substances.
What sets it apart is the inclusion of fulvic acid, a super nutrient detoxing the scalp and delivers over 65 minerals to your hair follicles. Suitable for all hair types, colors, and genders, this dry shampoo is a versatile solution for everyone.
Buy Act+Acre Plant-based Dry Shampoo on Amazon
3. Best Oil & Buildup: Briogeo Scalp Revival Charcoal + Biotin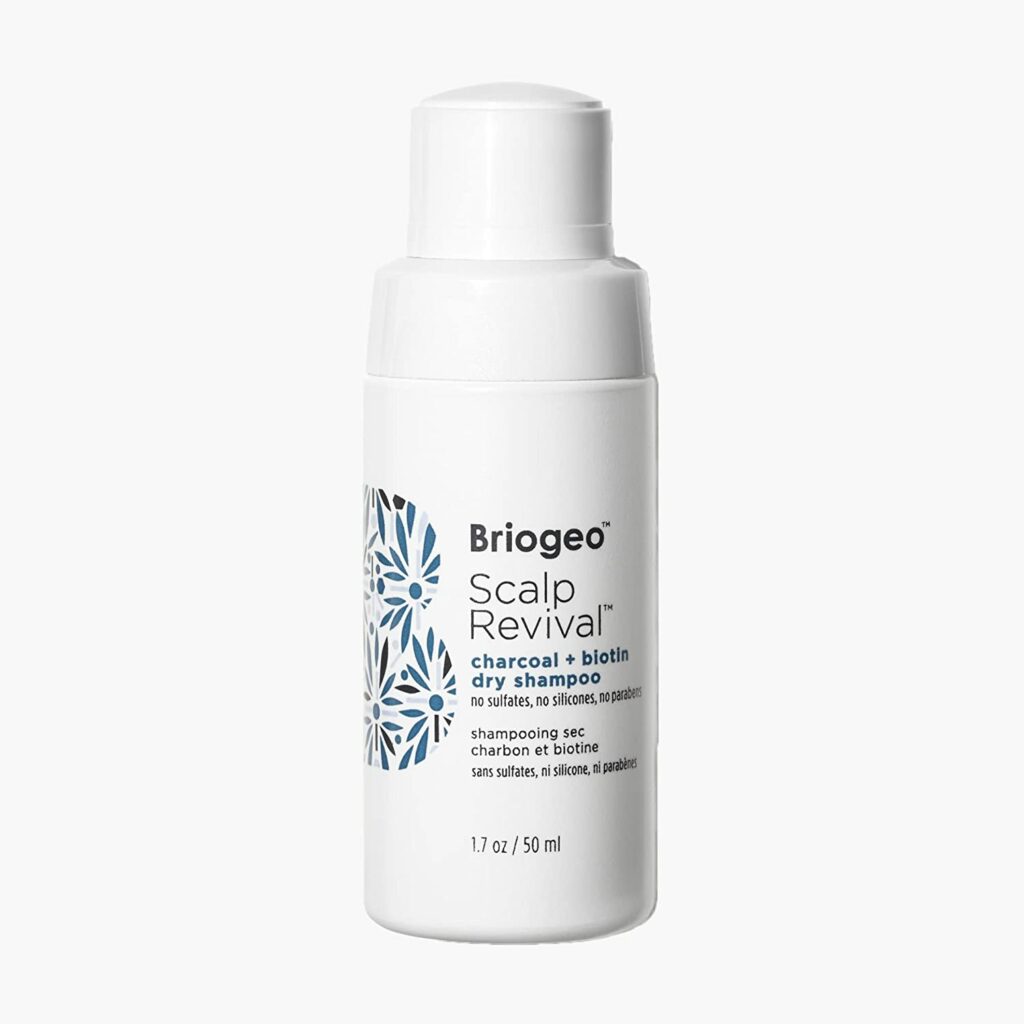 Introducing Briogeo Scalp Revival Charcoal + Biotin, a standout option for those with oily roots and hair buildup. What sets it apart is the inclusion of Binchotan charcoal, which helps draw out impurities and prevent buildup, and provides a gentle cleansing and refreshing experience for your scalp and hair.
Nourishing ingredients like coconut oil, panthenol, and tea tree oil keep your scalp healthy without causing dryness.
Buy Briogeo Scalp Revival Charcoal + Biotin on Amazon
4. Best Invisible: Drybar Detox Dry Shampoo's Clear Invisible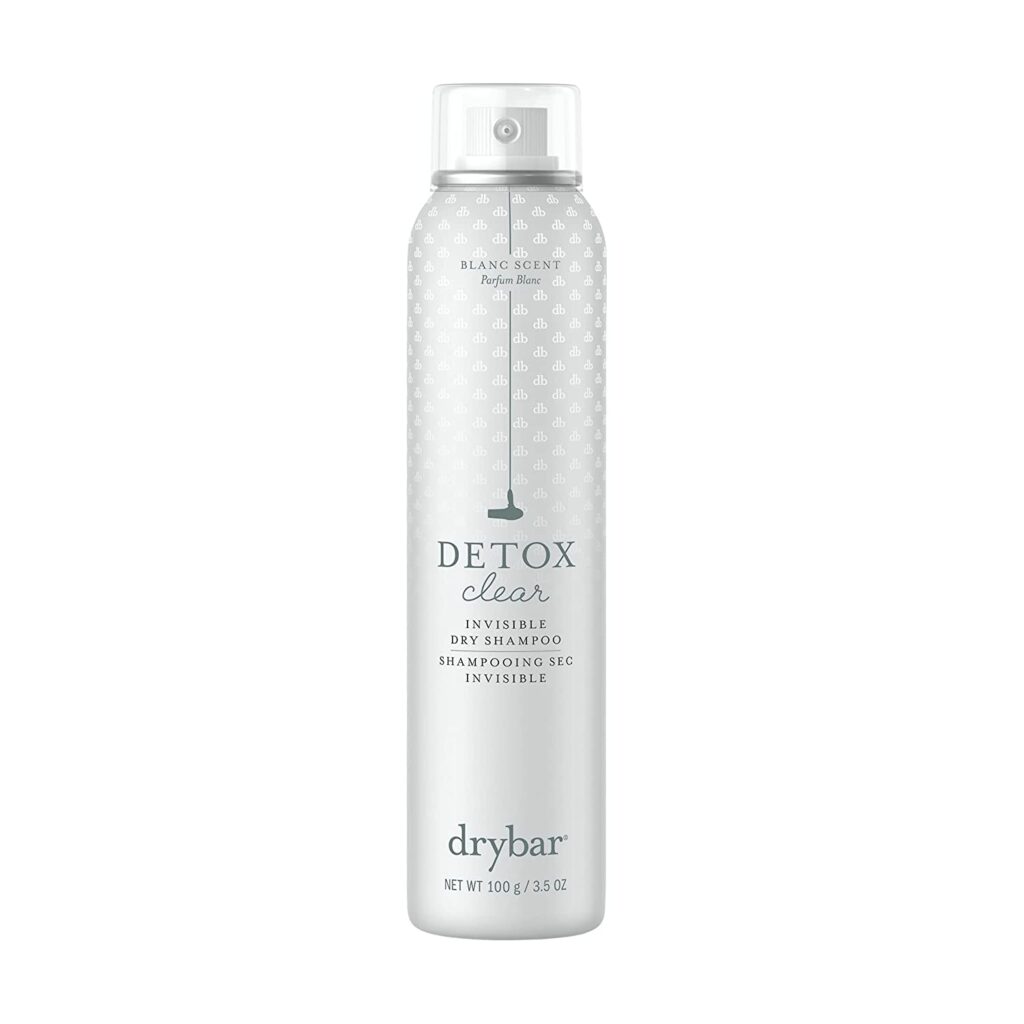 Drybar Detox Dry Shampoo's Clear Invisible uses a 100% sheer formula that leaves no streaks or chalky residue. While it contains a small amount of plant oils, it won't be effective for degreasing.
It's a reliable choice for all hair types if you want something with 0 residues to get an instantly clean and refreshed feel.
Buy Drybar Detox Dry Shampoo's Clear Invisible on Amazon
5. Best Curly: Amika Perk Up Dry Shampoo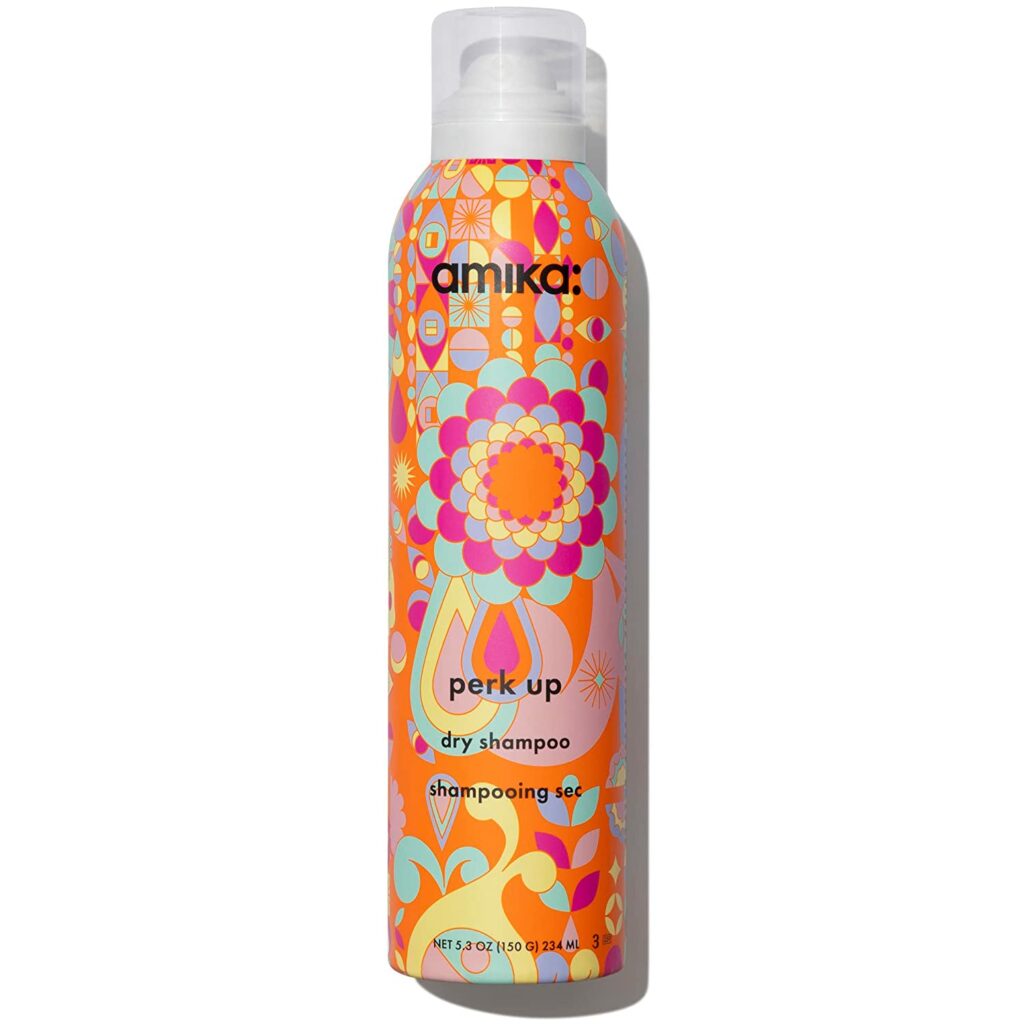 Amika Perk Up Dry Shampoo is a game-changer for curly hair. This weightless formula effortlessly absorbs dirt and oil, adding light volume and texture without unpleasant grittiness.
The best part? It finishes clear, making it suitable for all hair colors, including color-treated hair, without leaving any visible residue. It's vegan-friendly and cruelty-free but also free from talc, sulfates, sodium chloride, parabens, and artificial colors for vegans.
Buy Amika Perk Up Dry Shampoo on Amazon
6. Best Color-Treated: Pureology Style + Protect Refresh & Go Dry Shampoo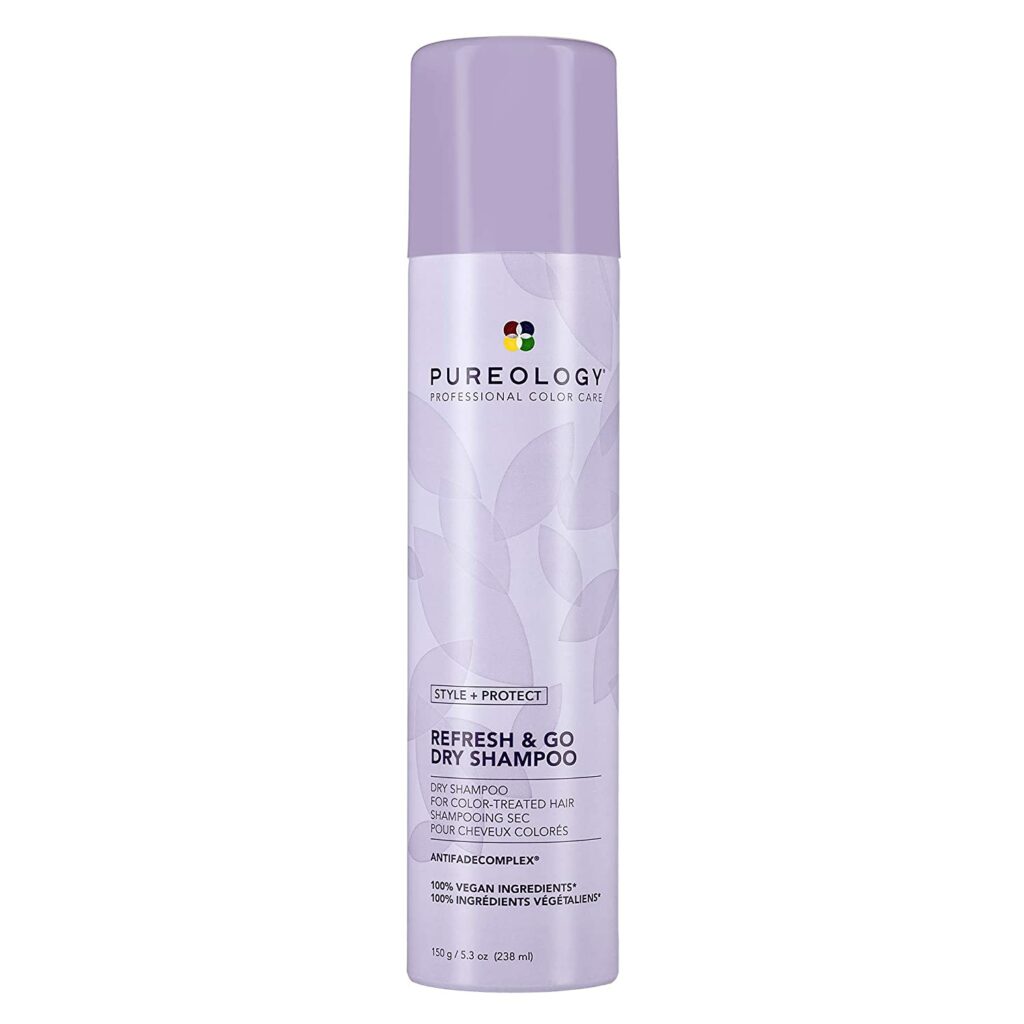 Pureology Style + Protect Refresh & Go is the best dry shampoo for color-treated hair. It contains vitamin E, known for its antioxidant properties that help shield your hair from color-depleting environmental stressors. Combined with UV filters and sunflower oil, this powerful trio forms a protective barrier for your hair.
That said, it does more than just protection. The formula of Pureology's dry shampoo is enriched with a luxurious blend of tuberose, almond milk, and cedarwood, creating a delightful fragrance that leaves your hair smelling fresh and invigorated. The patented Antifade Complex adds an extra layer of defense, preserving the vibrancy of your hair color.
Its non-drying fine mist is designed to absorb excess oil, leaving your hair feeling clean and refreshed without any residue.
Buy Pureology Style + Protect Refresh & Go Dry Shampoo on Amazon
7. Best Dry: Oribe Gold Lust Dry Shampoo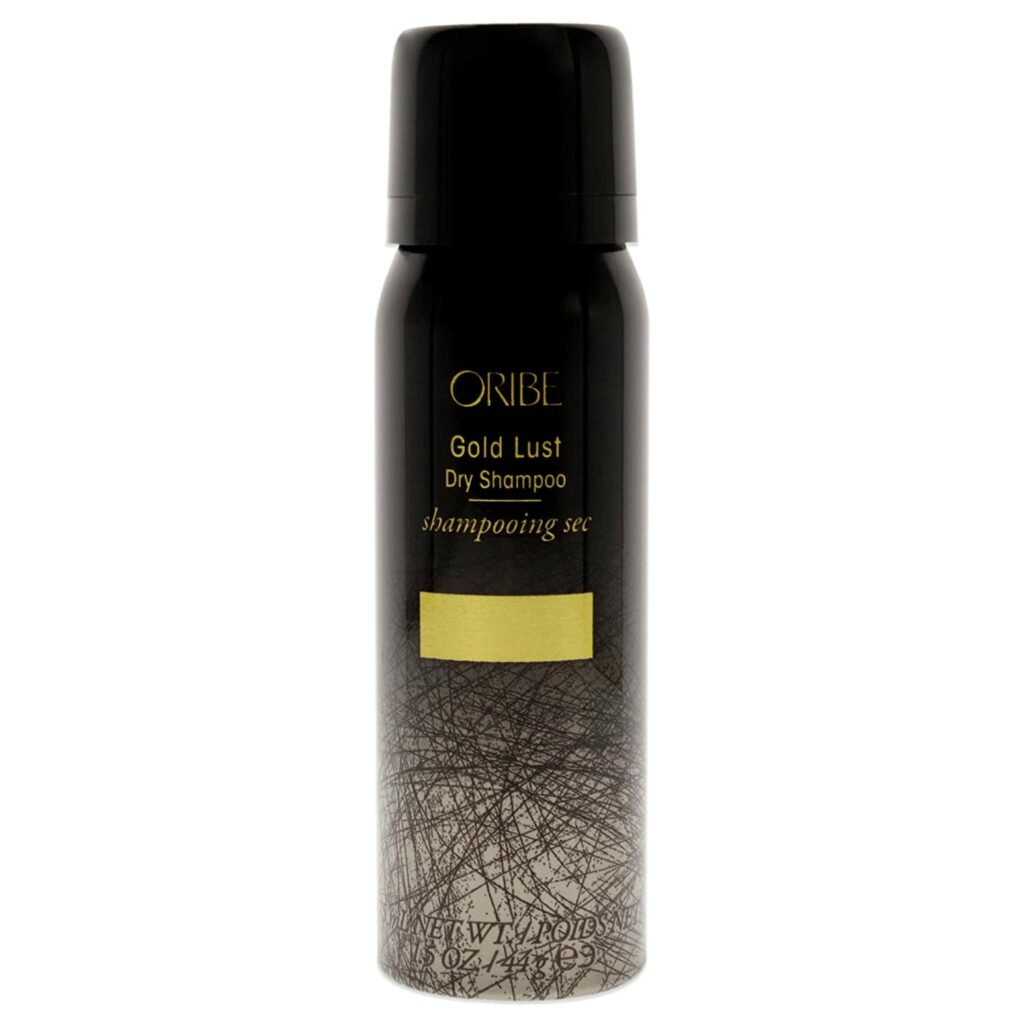 Oribe Gold Lust is the best choice for dry hair when you're out camping. Unlike dry shampoos, Gold Lust won't weigh down your strands. It acts as a protective shield, defending your hair against environmental elements, oxidative stress, photoaging, and the deterioration of natural keratin.
While it may come with a higher price tag, its remarkable benefits make it worth the investment.
Formulated with a unique translucent starch blend, it effortlessly absorbs dirt, oil, and impurities, instantly revitalizing your hair without leaving behind any product buildup.
Buy Oribe Gold Lust Dry Shampoo on Amazon
8. Best Cap: No-Rinse Shampoo Cap by Nurture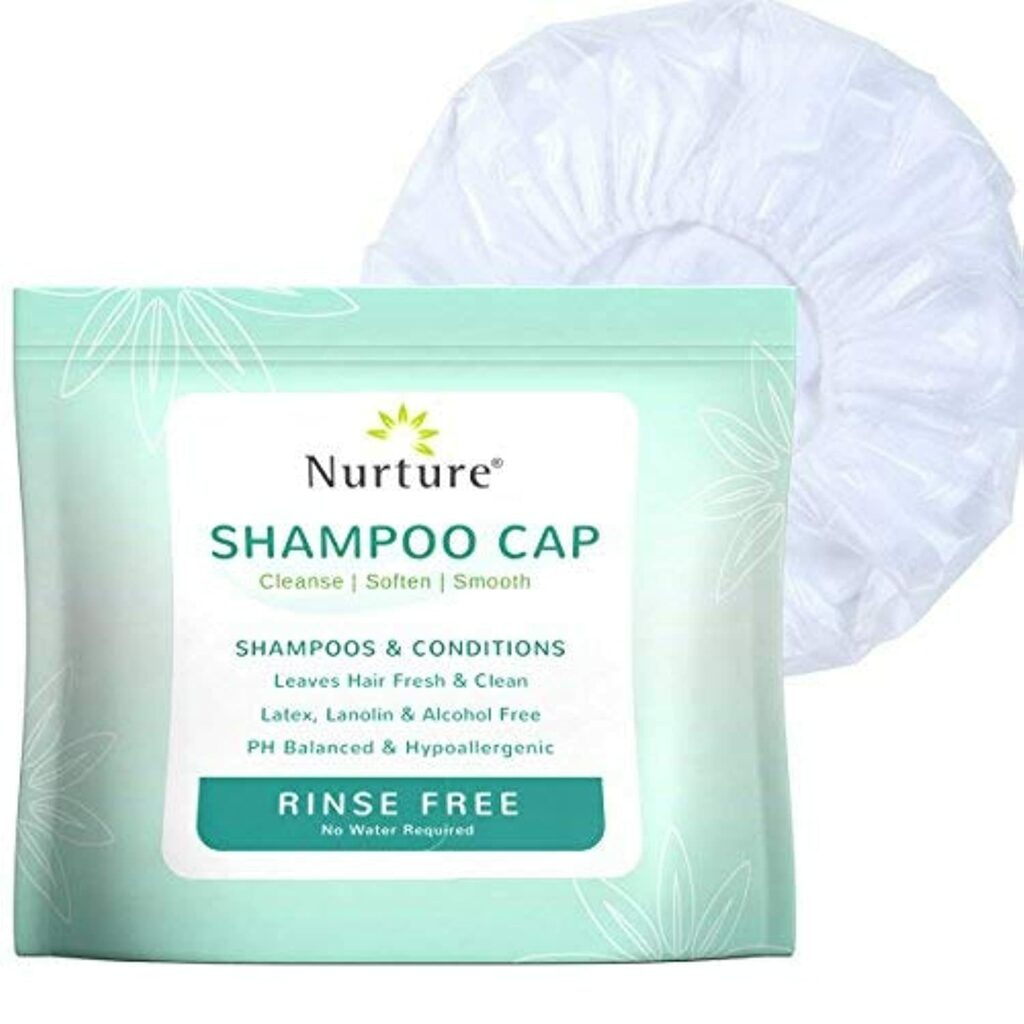 Introducing the innovative No-Rinse Shampoo Cap.
A shower cap that contains dry shampoo inside. It may sound unusual, but it's a remarkably convenient solution for keeping your hair clean when camping or backpacking.
Here's how it works: Simply put on the cap and massage your hair through it for 15-20 seconds, creating a luxurious lather. As your hair becomes wet, remove the cap and towel dry.
The waterless shampoo cap effectively eliminates odors and oils, leaving your hair feeling refreshed with a light, clean scent.
The No-Rinse Shampoo Cap offers several benefits. It's latex-free and safe to use on all skin types, providing peace of mind for sensitive individuals. Plus, it's proudly made in the USA, ensuring high-quality standards and supporting local manufacturing.
While the No-Rinse Shampoo Cap is highly effective for most hair lengths, those with longer hair may require 2-3 minutes to work the product into their strands thoroughly.
Buy No-Rinse Shampoo Cap by Nurture on Amazon
How to choose the best dry shampoo for camping?
There are several factors to consider before you hit the BUY button. The right dry shampoo can make all the difference in keeping your hair fresh and manageable.
1. Portability and Packaging
Space is often limited during camping, and every ounce counts. Look for a product that comes in compact and travel-friendly packaging.
Opt for lightweight options that only take up a little room in your backpack or toiletry bag. Also, look for leak-proof packaging to avoid messy gear spills.
2. Ingredients and Formulation
Choosing a dry shampoo that aligns with your eco-conscious values and the natural environment is essential. Opt for dry shampoos that use natural and environmentally friendly ingredients.
Consider dry shampoos that use natural absorbents like rice starch, arrowroot powder, or kaolin clay.
3. Hair Type and Specific Needs
Not all dry shampoos are created equal, and different hair types have unique requirements.
For dry or damaged hair, opt for a dry shampoo that provides moisture and nourishment. Or choose a product that won't weigh down your curls or leave a residue.
Additionally, you can consider dry shampoos that offer additional benefits like volumizing, texture enhancement, or UV protection, depending on your preferences and the camping conditions you'll be facing.
How do you use dry shampoo for camping?
Step 1: Start with dry hair.
Dry shampoo works best on dry hair, so ensure it is free from moisture or sweat before applying it.
Step 2: Section your hair.
Divide your hair into sections to ensure the even distribution of the dry shampoo. This will help absorb excess oil more effectively.
Step 3: Apply at the roots.
Concentrate the dry shampoo at the roots of your hair, where oil tends to accumulate the most. Spray or sprinkle the dry shampoo directly onto the roots, holding the bottle a few inches away.
Step 4: Massage and brush.
After applying the dry shampoo, gently massage it into your scalp using your fingertips. This helps distribute the product and stimulates the roots. Then, use a brush or comb to remove any excess powder or spray and evenly distribute the dry shampoo throughout your hair.
Is dry shampoo bad for your hair and scalp?
Dry shampoo can be bad for your hair and scalp if you don't use it properly and in moderation, as it's not a replacement for regular hair washing. Additionally, thoroughly clean your hair and scalp after using dry shampoo to avoid unwanted side effects.
Continuous and excessive use of dry shampoo without proper cleansing can lead to build-up on the scalp and clogged hair follicles. This can potentially cause scalp irritation and hinder hair growth.
Tip #1 Use a boar bristle brush: It's great for distributing the dry shampoo evenly and blending it into your hair. It also helps stimulate the scalp and remove any remaining product.
Tip #2 Avoid touching your hair too much: Constantly touching it can transfer oil from your hands and make it appear greasier. Try to avoid excessive touching or running your fingers through your hair.
Frequently Asked Questions (FAQs)
1. What not to look for in dry shampoo?
When searching for a dry shampoo, avoid products that leave residue or a white cast, contain harsh ingredients, have heavy or sticky formulas, feature overpowering fragrances, or lack versatility for different hair types.
Instead, look for lightweight formulas that don't leave residue, and offer additional benefits like volumizing or UV protection if desired.
2. Does dry shampoo absorb overnight?
While dry shampoo can effectively absorb oil during the day, its effectiveness may diminish overnight as the natural oils in the hair accumulate. However, using a dry shampoo before bed can help prevent excessive oil buildup while you sleep.
3. How long should you let the dry shampoo sit?
The recommended time to let dry shampoo sit in your hair can vary depending on the product and hair type. In general, it's advisable to let the dry shampoo sit for a few minutes to absorb the oils and impurities in your hair. However, following the instructions on the specific dry shampoo you're using is essential.
4. How often should I use dry shampoo while camping?
The frequency of using dry shampoo depends on personal preference and the condition of your hair. However, it's important to note that dry shampoo is not a replacement for regular hair washing and should not be used as a long-term substitute.
5. Can I use dry shampoo on colored or chemically treated hair?
Many dry shampoos are safe for colored or chemically treated hair. Check the label or product information to ensure compatibility before purchasing. Some dry shampoos even offer color-protecting properties to help maintain the vibrancy of your hair color.