Purchasing a climbing rope doesn't look that difficult at first glance. You just need a rope. How confusing can it be? Turns out, very.
Different climbing ropes are suitable for different niches – lightweight ropes may give you an advantage in alpine climbing and multi-pitch but aren't as durable. In comparison, extremely durable ropes may weigh too much to carry while climbing and moving about. You have to figure out your requirements and climbing style first.
Speaking of niche, buying any rope within that category won't help either. When shopping for your next climbing rope, you must filter your option based on flexibility, tensile strength, etc.
Don't worry, I will discuss all the characteristics in detail. Let's first look at some of the best climbing ropes 2023 offers.
1. Editor's Choice: Mammut 9.5mm Crag Dry Climbing Rope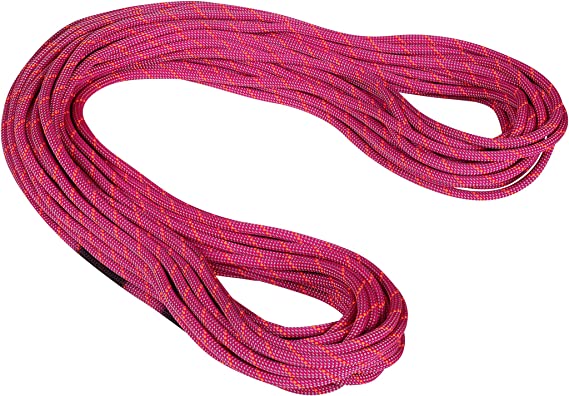 UIAA Falls: 8 – 9
Impact Force: 8.8 kN
Dynamic Elongation: 32%
Static Elongation: 8%
The company has a near-perfect score on this one for a good reason.
Crag Dry Climbing Rope by Mammut, with 9.5mm thickness, is the best climbing rope you can buy in the US in 2023. It's a lightweight single rope with peerless durability, flexibility, and handling. The dry treatment effortlessly repels water and dirt for a long time.
Speaking of dry treatment, Mammut claims that this rope will not be more than a measly 1.5% of its weight in water. You can get this rope for a maximum of 76.5 yards which should easily cover most cliffs for rappelling and top roping.
Buy Mammut 9.5 Crag Dry on:
2. Premium Choice: Edelrid Tommy Caldwell Eco Dry ColorTec 9.3

UIAA Falls: 6
Impact Force: 8.7 kN
Dynamic Elongation: 34%
Static Elongation: 4.8%
Edelrid's Tommy Caldwell Eco Dry ColorTec 9.3 has more features than the name itself. It is a premium product with excellent handling, flexibility, durability, and a stunning pattern.
Though, all this comes at a hefty price. You'd be paying $300 for just 200ft of single rope and over $380 for the full 282ft (80m). For such an expensive product, you can expect obvious features like dry core and sheath, lightweight, water / dirt repellant body, and many more.
Now the real question. Is it worth the price? Yes, I think so. It's an excellent product, especially when broken in, so buy it if the rope is within your budget.
Buy TC Eco Dry ColorTec 9.3:
3. Budget Choice: Edelrid Boa Eco

UIAA Falls: 7
Impact Force: 8.8 kN
Dynamic Elongation: 32%
Static Elongation: 9.3%
Edelrid's Boa Eco is the best climbing rope to buy if you're on a tight budget. At just $180 for 200ft, it's quite cheap compared to other ropes with similar durability and handling. It also comes with Edelrid's ThermoShield coating for extra protection.
But we can't have everything, can we?
The budget option lacks in two aspects among other options on this list. First, it's heavier than others (62g/m). Second, it doesn't have a dry core and sheath.
Buy Edelrid Boa Eco on:
4. Green Choice: Edelrid Swift Eco Dry (single)

UIAA Falls: 5
Impact Force: 8.8kN
Dynamic Elongation: 33%
Static Elongation: 9%
If you advocate for a greener Earth as we do, you can go with Edelrid Swift Eco Dry climbing rope. It's eco-friendly and one of the most versatile designs you'll ever see.
Edelrid's Swift Eco Dry segment features three types of ropes – single, twin, and half. So, you can go home with an eco-friendly product regardless of your climbing type.
At about $280, you get a dry core and sheath to protect your rope and make it last longer. Additionally, it's coated with Edelrid's ThermoShield treatment to increase the durability of each fiber in this product.
Buy Edelrid Swift Eco Dry:
How to choose climbing ropes?
1. Make a budget.
Generally, good quality climbing ropes from reputable brands cost upwards of $200. This ensures the durability and quality of the rope and, thus, your safety. However, depending on your budget and requirements, you can get cheaper ropes for about $100-$150.
The bottom line is you won't have to go nuts if you make a reasonable budget. And you stick to it after seeing all the expensive options with their over-the-top cool features.
2. Choose a suitable type of climbing rope.
There are three major types and one extra: single, half, twin, and static.
Single: They're great for traditional rock climbing and belaying. You need to find one long enough to cover your entire route twice since you'll need someone to belay properly.
Half: These are ideal for rappelling and other advanced climbing tracks, but they're highly difficult to maneuver. Don't buy unless you're sure of your technique and skill.
Twin: They're simply a rope system with two single ropes either flowing together or in a helix formation. You get extra security, but it's a lot of hard work. It would be best if you had excellent maneuverability to use twin ropes.
Additionally, you can choose static ropes if you want to climb fixed lines and transport heavy loads. Static ropes are highly durable, so you can use them, but they aren't the greatest asset in recreational climbing.
3. Set a minimum safety rating filter.
My safety concern is one of the primary reasons I prefer buying from reputable brands. I may be adventurous, but I always prefer taking calculated risks. Carefully check the safety ratings of your climbing rope as provided by UIAA or another organization of similar relevance and trustworthiness.
As per UIAA standards, all single and half ropes must withstand five hardcore falls designed by UIAA to be acceptable. Double ropes have to endure 12. If your rope has acceptable fall ratings from UIAA, it's GOOD.
The UIAA criterion also includes static and dynamic elongation. The elongation greatly affects how much impact you'll feel from the fall. Look for a climbing rope with lower static and dynamic elongation.
4. Check the thickness (diameter) and length.
Whether you're using a single rope or a double, the diameter of individual rope matters. As such, climbing ropes can come in three ranges of thickness.
9.4mm or thinner ropes are suitable for long-distance hiking and multi-pitch climbing. They're lightweight, so you can easily carry them over long distances. Though, it's worth noting that they aren't as durable as thicker ropes.
The second range of ropes falls between 9.4mm and 9.9mm. They're the all-rounders of climbing ropes – a perfect balance between item weight and durability. These mid-range ropes are mostly used for sports climbing. I'd avoid them if you do hardcore top roping.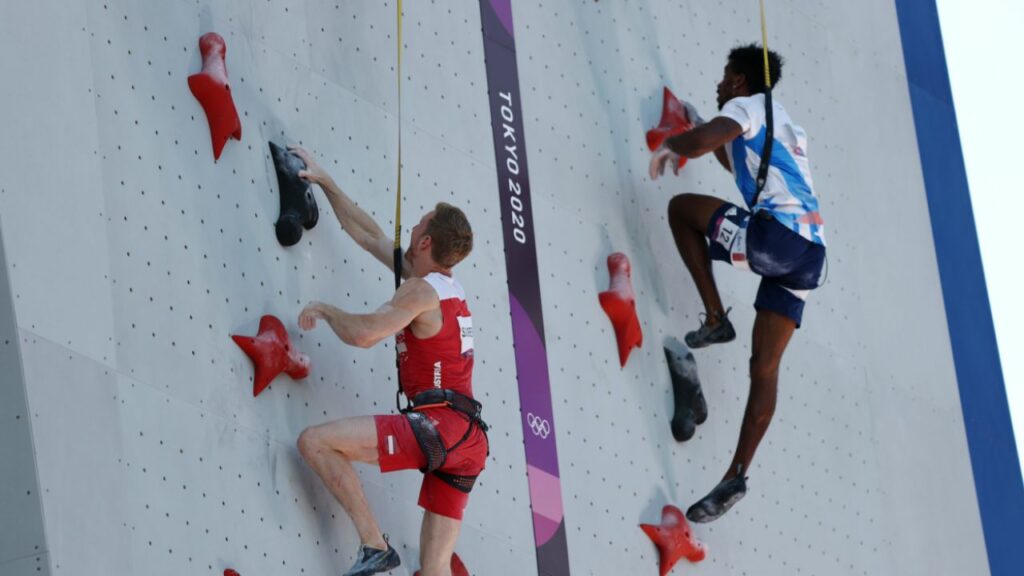 For outdoor/indoor top roping, I recommend climbing ropes of thickness 10mm or above. The added thickness will greatly affect the durability of the rope and your safety.
Now, if you're particularly looking for a thick static rope with the least flexibility and more durability, you can find good ones between 9mm and 13mm from top brands.
As for the length of the rope, 200ft is a standard size, so that you can go with that more often than not.
5. Browse extra features.
Weight: While it's greatly affected by the thickness, rope material is an important factor too. Choose the lightest rope with the ideal thickness and durability available to you.
Middle & End-Warning Marks: Some ropes have marks to notify that you have reached the middle section / about to reach the other end of the rope. It helps let you calculate your next steps carefully.
Dry Treatment: Ropes with dry treatment done on the core and sheath are hella expensive but worth the cost if your budget allows. It offers extraordinary moisture protection and keeps your climbing rope from absorbing water and getting heavier.
Can you rappel / climb with a paracord?
Technically speaking, you can rappel or climb using a paracord instead of a standard rope, but you shouldn't because it's extremely dangerous. Using a paracord that way isn't an issue of skill (though you WILL need a lot of it), but it's fundamentally unsafe and must not be tried.
Why do climbers use two ropes?
Generally, experienced climbers use two ropes (or a dual rope) to expand their possibilities. Two ropes can offer you more protection during falls and get you twice as far when abseiling. More importantly, it can reduce the rope drag that might otherwise affect the performance.
Notice how I mention experienced climbers only? That's because using two ropes has its own set of disadvantages. First, the obvious one, it's more expensive than using a single rope.
Additionally, maneuvering two or a dual rope requires considerable skill. It's a lot of work. Your ropes might get tangled and end up hurting you if you don't know what you're doing.