Getting the right backpack is super important for a successful climb. You want a backpack that carries all the essentials without getting in your way or slowing you down. With the perfect pack on your back, you should be able to move freely and faster.
Climbing backpacks are designed to fit your body comfortably, even when loaded with various items. They're made with accessibility in mind and have plenty of pockets.
Nonetheless, I have curated this list of the best seven backpacks I climber can have.
Depending on the style, size, and features, good climbing backpacks can cost between $100 to $300+. You can buy yourself a decent one for $180. However, the cost goes upto $280 for more comfort and durability, along with some other helpful features.
1. Osprey Mutant 38 Backpack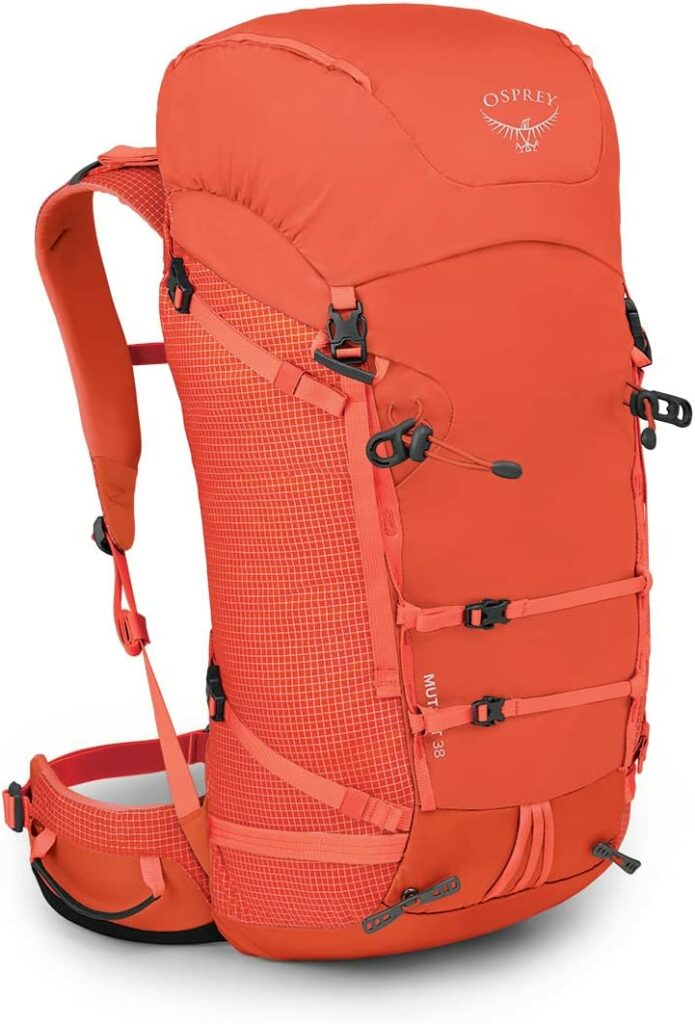 The Osprey Mutant 38 Backpack is the best budget backpack for climbing. It has a large main compartment with plenty of external pockets for easy access to your gear. The pack features a breathable back panel, an adjustable torso length, and a comfortable hip belt.
I have used it for several hikes, proving to be a reliable backpack. The suspension system is adjustable, and the shoulder straps are designed to reduce strain on your back and shoulders. It also has an integrated hydration system, which makes everything just easier.
This Osprey backpack is lightweight yet durable and features a removable top lid and two side pockets for extra storage. It also features a sternum strap for ultimate climbing comfort and stability.
| | |
| --- | --- |
| Price (on Amazon US) | $195 |
| Capacity | 38L |
| Load Range | 10-40 lbs |
| Backpack Weight | 2.8 lbs |
| Personal Rating | 4.5/5 |
Buy Osprey Mutant 38 Backpack on Amazon US
2. Gregory Focal 58 Backpack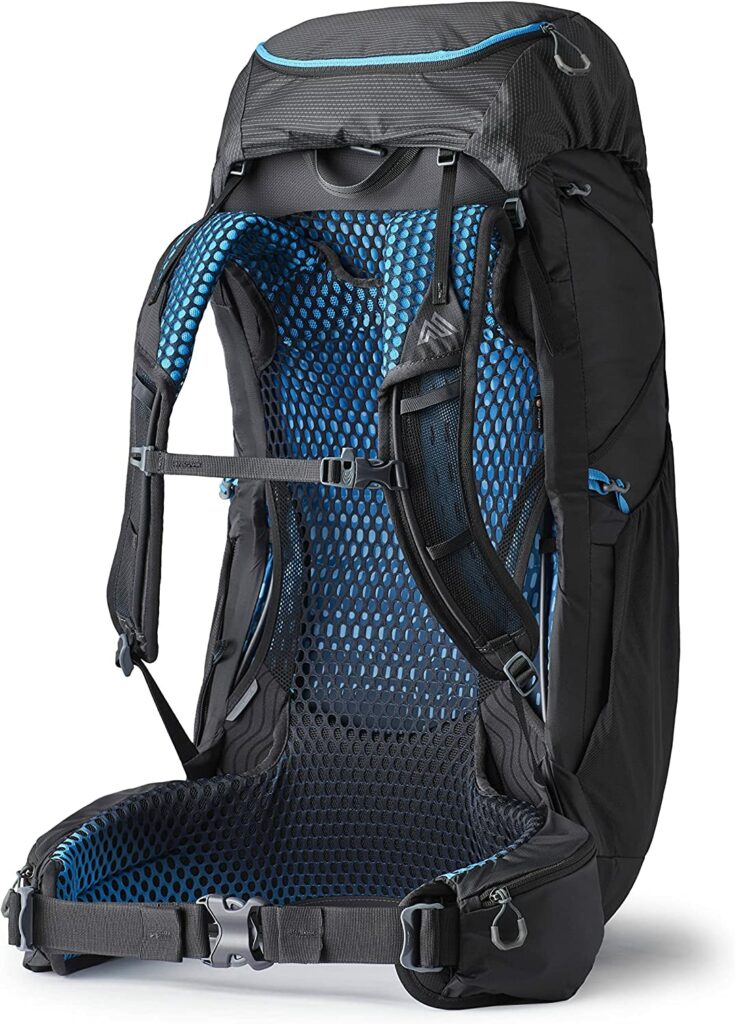 The Gregory Focal 58 Backpack is the best backpack for climbing. It's the latest installment in the Focal series and one of the spaciest backpacks in their catalog. It is available in 48L as well as 58L configurations.
It weighs only 2.6 lbs, which is incredibly light. The internal frame upholds its durability regardless.
You'll seldom run out of storage with the Gregory Focal 58 Backpack; even the hipbelt has two big-sized pockets! It includes two sizable zippered pockets on the floating lid and two side mesh pockets. The side opening makes the pockets quite accessible. Your water bottle can go there.
The floating lid design means you can add bigger stuff than usual without the fear of overloading. Each side of the bag also features a compression strap, just in case you want extra storage.
Additionally, the back mesh is well-ventilated; no fear of sweating rivers with this one.
| | |
| --- | --- |
| Price (on Amazon US) | $240 |
| Capacity | 58L |
| Load Range | Max. 35 lbs |
| Backpack Weight | 2.58 lbs |
| Personal Rating | 4.5/5 |
Buy Gregory Focal 58 Backpack on Amazon US
3. The North Face Banchee 65 Backpack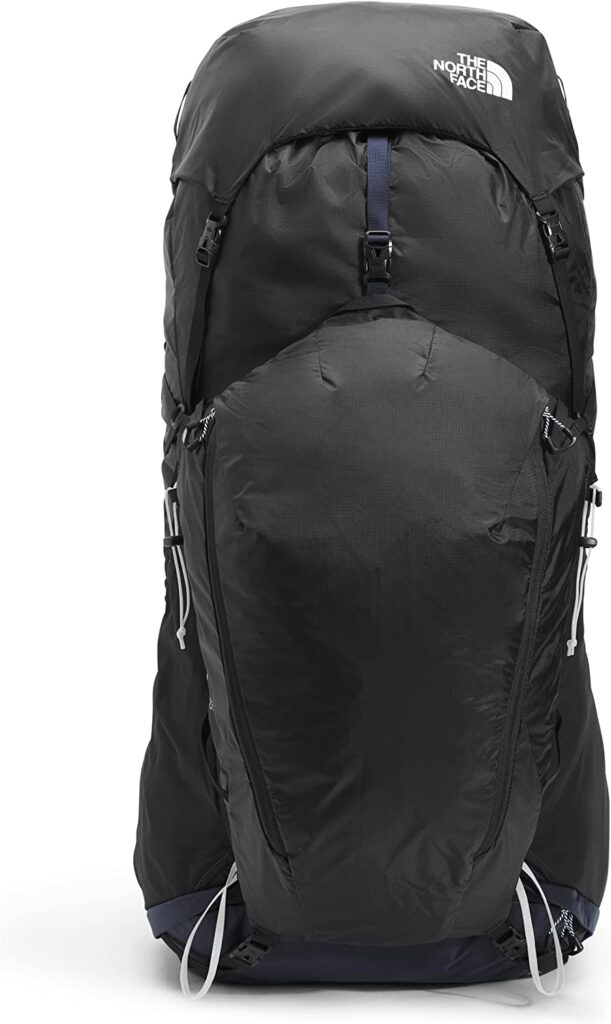 The North Face Banchee 65 is a heavy backpack, coming in at 4 lbs, but that's until you consider its huge volume. It is available in 63L and 67L configurations, each designed with up-to-the-mark ergonomics.
Just like the Gregorys, this one sports an impressive hipbelt pocket. Your smartphone, cameras, and other accessories (even some skincare!) can conveniently fit there. But that's just the tip of the iceberg.
This backpack has a total of 8 pockets and broad and comfy shoulder straps, ergonomically designed to ensure comfort. Two pockets are large zippered ones, and positioned next to them is an even larger pocket for items that demand more space.
It offers adjustable torso length (5 inches), making it stand out from the others when it comes to comfort. The backpack is available in three colors: Banff Blue, Moroccan Blue, and TNF Black. Moroccan Blue is a personal favorite.
Premium materials, ergonomic design, accessible pockets, and loads of storage make the North Face Banchee 65 an all-rounder in its category.
| | |
| --- | --- |
| Price (on Amazon US) | $250 |
| Capacity | 67L |
| Load Range | Max. 45 lbs |
| Backpack Weight | 4 lbs 10 oz |
| Personal Rating | 4/5 |
Buy North Face Banchee 65 Backpack on Amazon US
4. Deuter Aircontact Pro 70+15 Backpack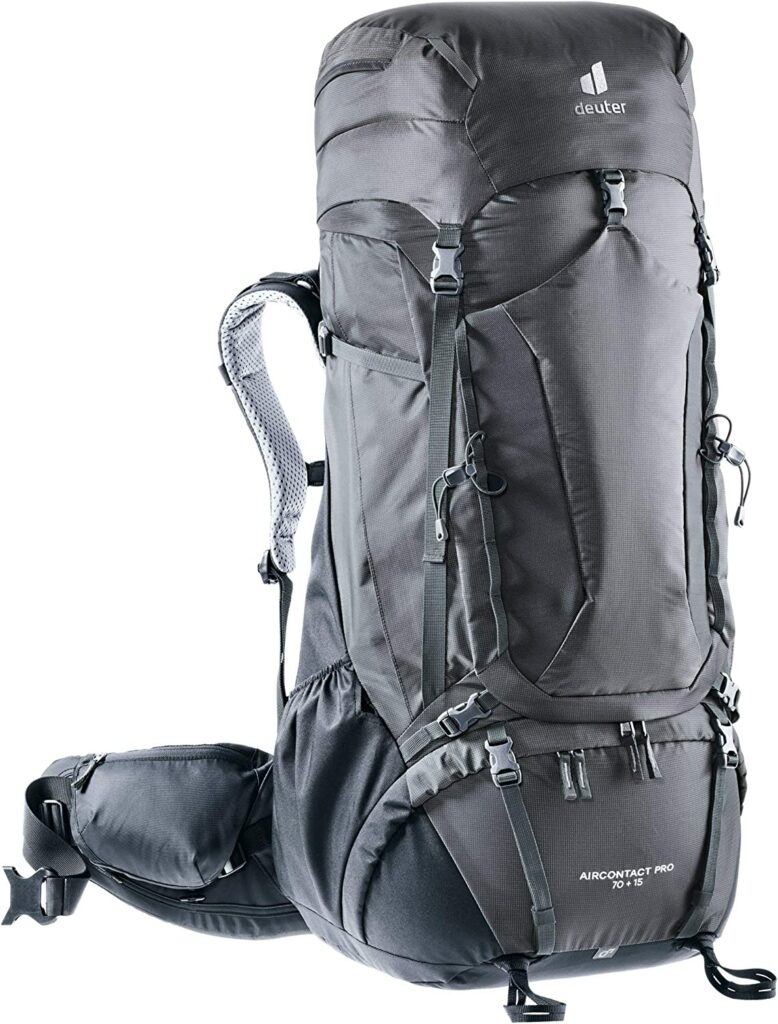 The Deuter Aircontact Pro 70+15 is a heavy-duty premium backpack. It has a massive capacity of 70+15 Liters, 70L on the main body and 15L on the upper compartment. The latter can be detached and used as a smaller, lighter standalone bag.
This backpack boasts the VariFlex suspension system, allowing a wide (roughly 8 inches) range of torso adjustment. The materials used are top-notch. This model is made of Deuter's 330D micro rip pro 6.6 fabric. The cushioning on this backpack makes up for its 7 lbs of weight. It offers an overall well-ventilated and premium fit.
This backpack includes many convenience features, like tent pole pockets, wet laundry compartments, internal compression straps, and three side compression straps.
The weight distribution over the straps on this backpack is impressive. That's a trend you'll see in most of Deuter's backpacks.
| | |
| --- | --- |
| Price (on Amazon US) | $285 |
| Capacity | 70+15 L |
| Load Range | Max. 66 lbs |
| Backpack Weight | 7.84 lbs |
| Personal Rating | 4/5 |
Buy Deuter Aircontact Pro 70+15 on Amazon US
5. Osprey Exos 58 Backpack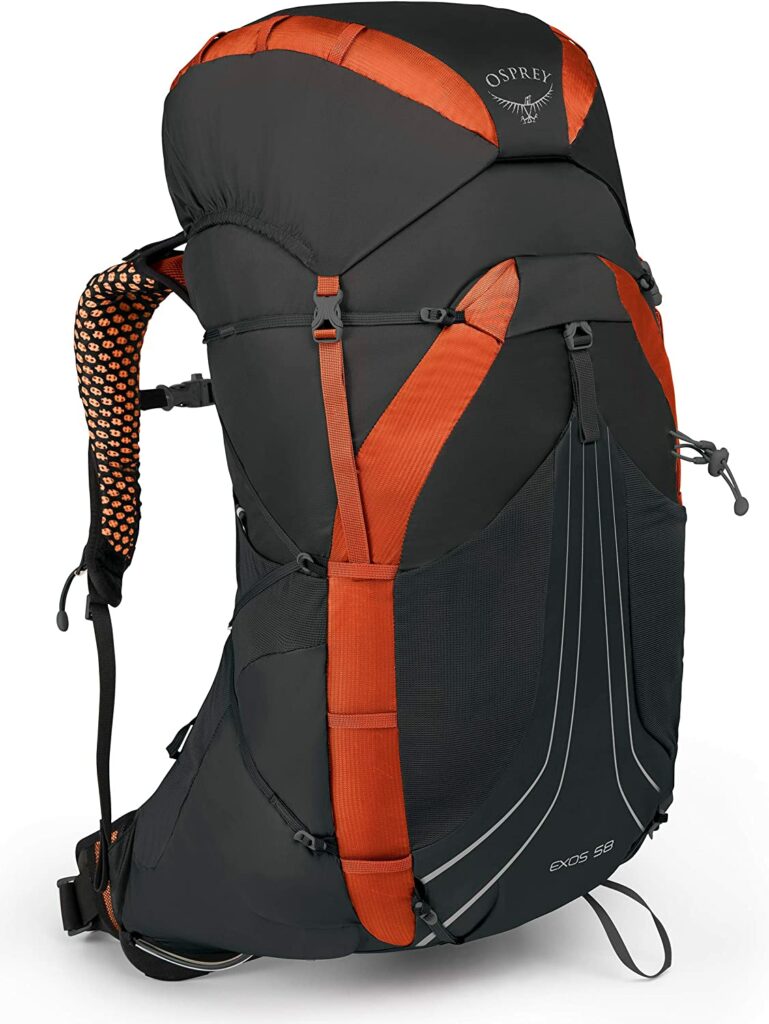 The Osprey Exos 58 backpack is lightweight. Yet, the durable pack is designed to meet the needs of the most adventurous explorers and hikers. The pack features a lightweight frame and advanced AirSpeed suspension system that make it comfortable to carry even when loaded with heavy gear.
The Exos 58 is made of a durable 210-denier nylon fabric that is lightweight and abrasion-resistant. It also features a DWR (durable water-repellent) finish.
The pack has plenty of storage, including a large main compartment, two mesh side pockets, and two stretch mesh pockets on the hipbelt. The top lid pocket is great for small items like your cell phone, wallet, and keys. Inside the main compartment, you'll find a hydration sleeve and removable sleeping pad straps.
The side pockets are perfect for water bottles, snacks, and other small items you want to keep close at hand. However, the pack does not have an internal frame, so that it may provide less support than other backpacks.
| | |
| --- | --- |
| Price (on Amazon US) | $260 |
| Capacity | 58L |
| Load Range | 30-35 lbs |
| Backpack Weight | 2.9 lbs |
| Personal Rating | 3.5/5 |
Buy Osprey Exos 58 on Amazon US 
6. Granite Gear Blaze 60L Backpack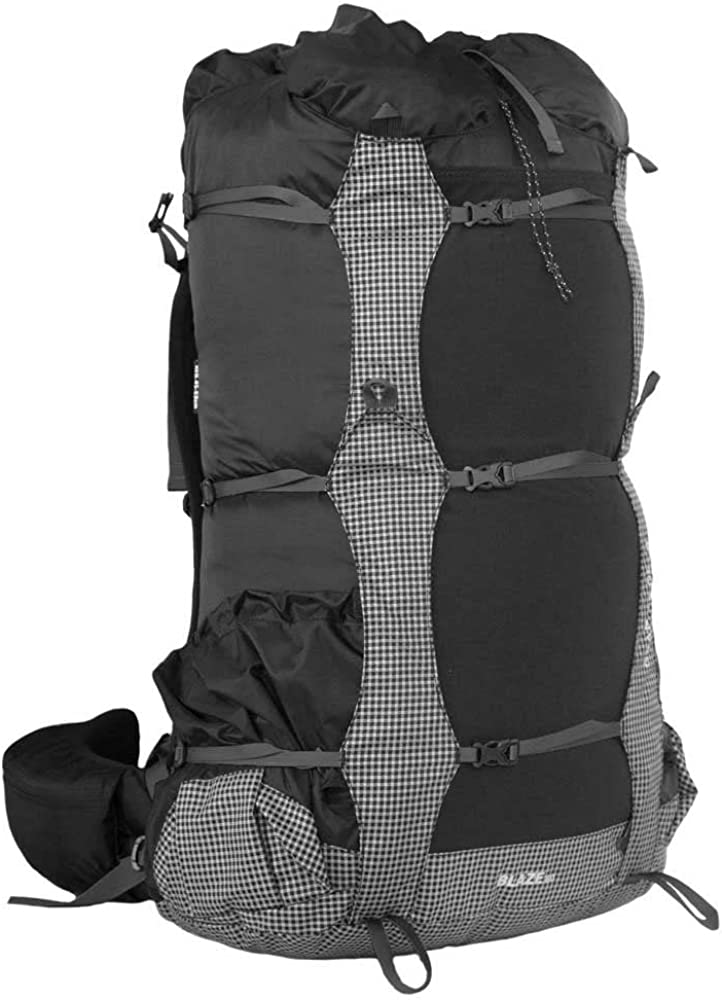 This versatile and comfortable pack is designed to provide maximum comfort and support for multi-day hikes, technical backpacking trips, and extended travel. Blaze 60L has a fully adjustable suspension system, adjustable hip belt, and plenty of storage options.
Constructed with durable, lightweight materials, it is a great option for extended trips. It features a unique, air-flow suspension system that ensures superior breathability, allowing you to stay cool and comfortable even on the longest of hikes.
The adjustable hip belt and sternum strap provide additional support and comfort. In contrast, the adjustable shoulder straps allow you to customize the fit to your body type.
The main compartment features a top-load design with a zippered top closure for easy access, and the bottom of the pack features a sleeping bag compartment for added convenience.
| | |
| --- | --- |
| Price (on Amazon US) | $269 |
| Capacity | 60L |
| Load Range | Max. 50 lbs |
| Backpack Weight | 3 lbs |
| Personal Rating | 3.5/5 |
Buy Granite Gear Blaze 60L Backpack on Amazon US 
7. Mammut Trion 50 Backpack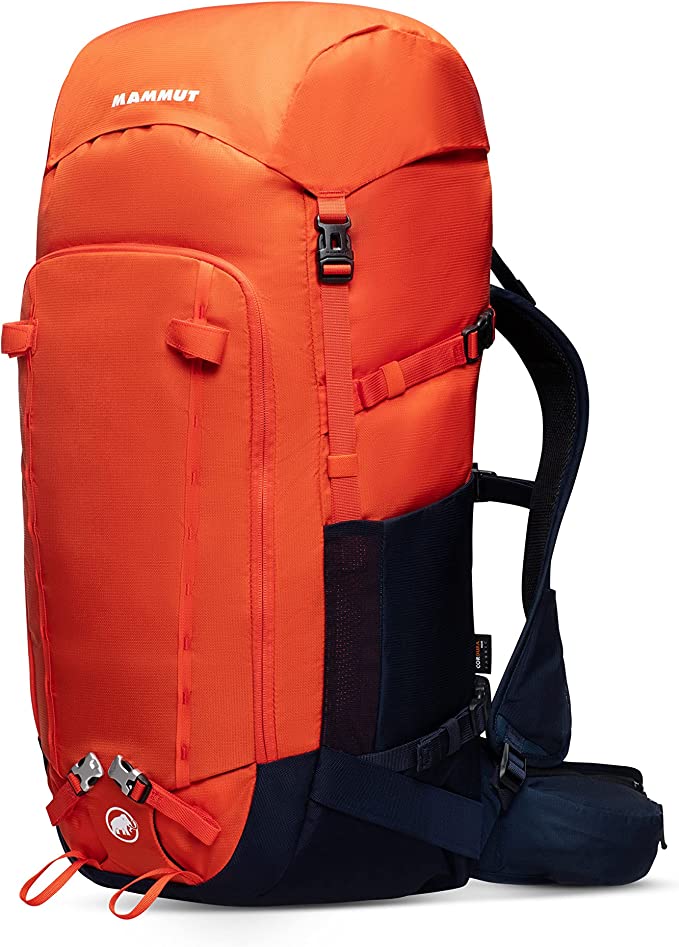 The Trion 50 backpack by Mammut is designed to provide the utmost comfort and flexibility while trekking. It features a full-length zip, adjustable shoulder straps, a hip belt, and a sternum belt, with a range of pockets and compartments for your gear and supplies.
The pack is made from a lightweight yet strong and durable nylon material. It has a capacity of 50L and weighs just 1.4kg, making it an ideal choice for hiking, camping, and other outdoor activities. The backpack also features a waterproof rain cover, allowing you to keep your gear dry in wet conditions.
The sternum belt helps distribute the weight evenly across your shoulders and back, and the full-length zip allows easy access to your supplies. It offers plenty of room for your gear, including a dedicated laptop sleeve.
The backpack is available in three color combinations, out of which my favorite is the Hot Red Marine. The bright color can help you easily find your pack in crowded areas. The Mammut Trion 50 Backpack is a great choice for a light and comfortable backpack.
| | |
| --- | --- |
| Price (on Amazon US) | $269 |
| Capacity | 50L |
| Load Range | Max. 28 lbs |
| Backpack Weight | 3 lbs |
| Personal Rating | 3.5/5 |