Searching for the perfect backpack for your next expedition? From daypacks and rucksacks to multi-day trekking backpacks, there are hundreds of options for outdoor explorers in the hiking and trail community. And yet – only a couple dozen are worth buying.
Trust me – the backpack you choose can make or break your trip. I learned this lesson the hard way back in the day. It's not worth risking back pain, blood flow circulation, and extra pockets on an extended hiking and camping adventure or day trip.
Today, I'll give you an inside look at the best backpacking backpacks this year. Ideally, you want something thats' comfort-oriented, posture-saving, ultralight, waterproof, and space-savvy. Budget-friendly and multi-functional utility are a plus for good vibes.
You can use a regular backpack for hiking, but it isn't ideal. Regular backpacks for school and everyday use may be suitable for short hikes. But they lack must-have features for backpacking and trekking (e.g. space efficiency, load stabilization, watertight and weather resistant, etc.)
Now let's look at the top "outdoor soul-packs" in the market.
Best Backpacks for Long-Distance & Thru-Hiking in 2022-23
Backpacks for long-distance hiking are "large bags" with 50-60+ liters capacity. Hikers mostly use the same for thru-hiking as well. It's a four to six-month-long endeavor where hikers follow a set trail to complete the route.
You want a comfortable, lightweight bag that uses the given space as efficiently as possible.
1. The Premium Choice: Gregory Baltoro 75L Backpack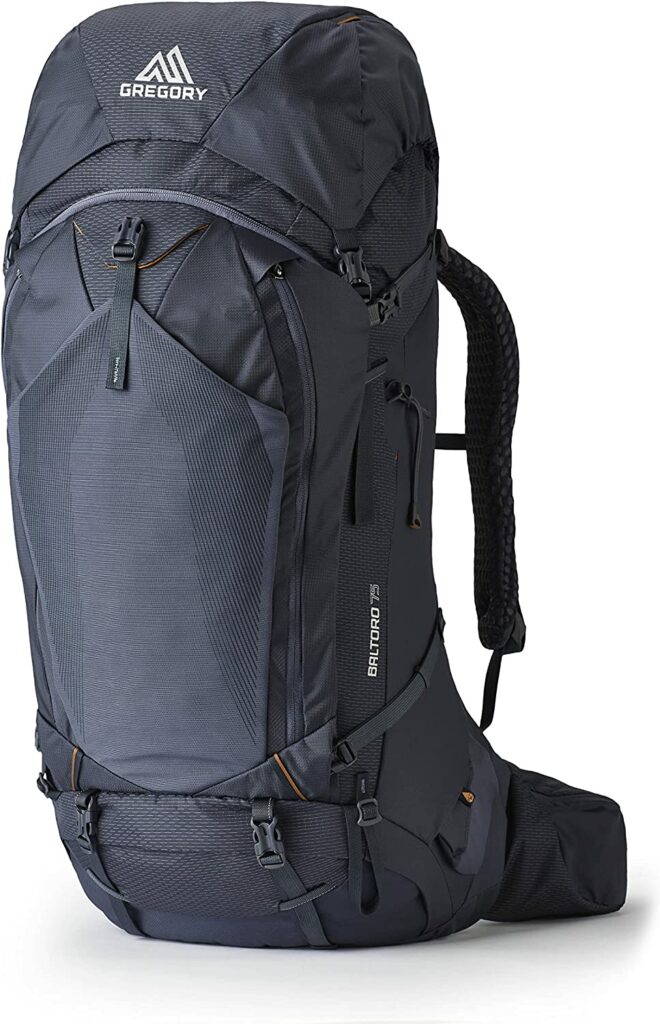 Price: $330
Capacity: 75 liters
Load Range: 50-60+lbs
Weight: 2.42lbs
Gregory's Baltoro is the best backpack you can buy in 2022 for long-distance hiking at a reasonable price. At $330, you get Gregory's premium quality, tons of space (65-75 liters), and super comfortable padding.
The Baltoro range is designed to be extremely comfortable while hauling weight. So, if you pack heavy, this backpack gives you a fully-mesh back panel, premium cushion, and the well-engineered organization departments.
Buy Gregory Baltoro 75L Backpack on Amazon
Looking for something smaller and cheaper but with the same durability and robustness? I recommend Gregory Baltoro 65L Backpack because 75 liters might be overkill for many people.
2. Editor's Choice (for Men): Osprey Atmos AG 65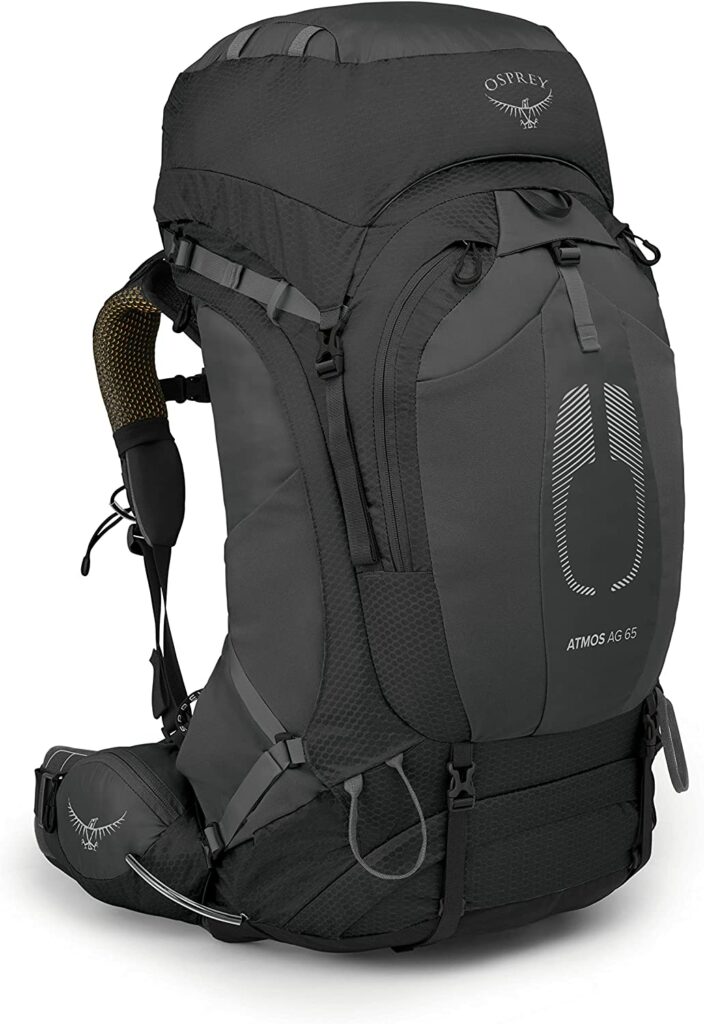 Price: $290
Capacity: 65 liters
Load Range: 30-50lbs
Weight: 4.48lbs
Osprey is one of the most well-known backpack makers in the United States. And despite the heavy weight of this product, you'll find that most professional backpackers use Atmos AG 65. Why? Because it's the perfect balance between space, comfort, stability, and organization.
Osprey's anti-gravity suspension is the most important feature of this backpack; it balances the load so that it feels you're carrying much less weight. Each compartment in this backpack increases your efficiency thanks to the well-thought placement, especially for the front and side pockets.
Buy Osprey Atmos AG 65 on Amazon
3. Editor's Choice (for Women): Osprey Aura AG 65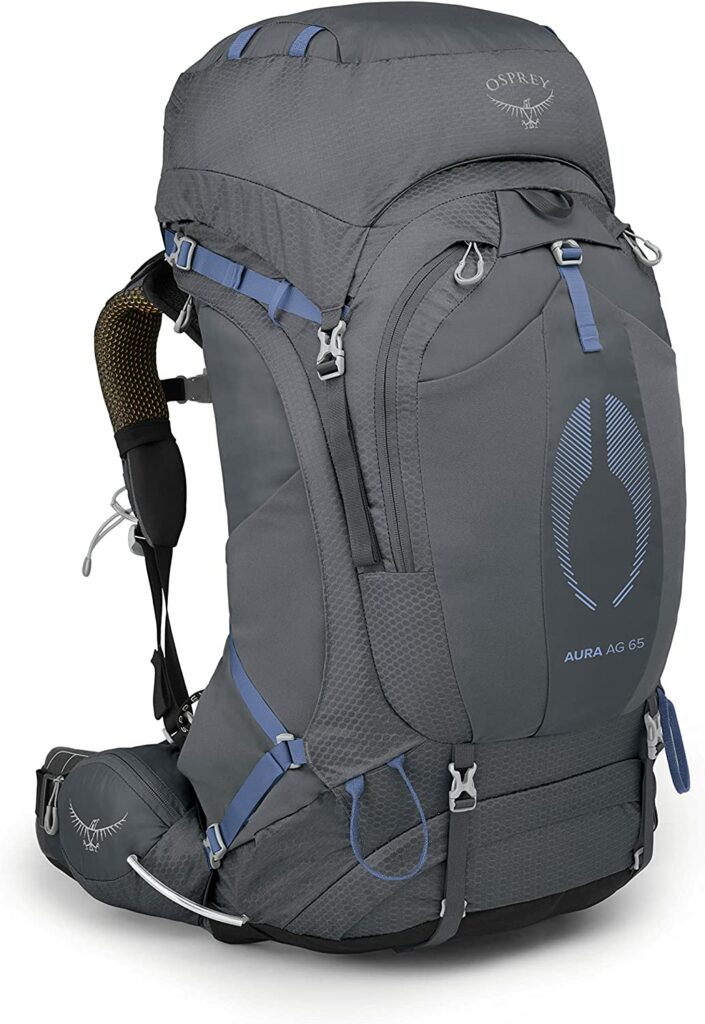 Price: $275
Capacity: 65 liters
Load Range: 30-40lbs
Weight: 4.47lbs
Osprey's Aura AG 65 is the best long-distance backpack for women in 2022. It has all the features Atmos does, like the anti-gravity suspension and more!
The Aura AG 65 is ergonomically designed to be the most comfortable and efficient backpack for women. If you're willing to carry a 4.5 pounds backpack, you won't be replacing Aura for a LONG time.
Buy Osprey's Aura AG 65 Backpack on Amazon
4. What I Use: Deuter Unisex Aircontact Lite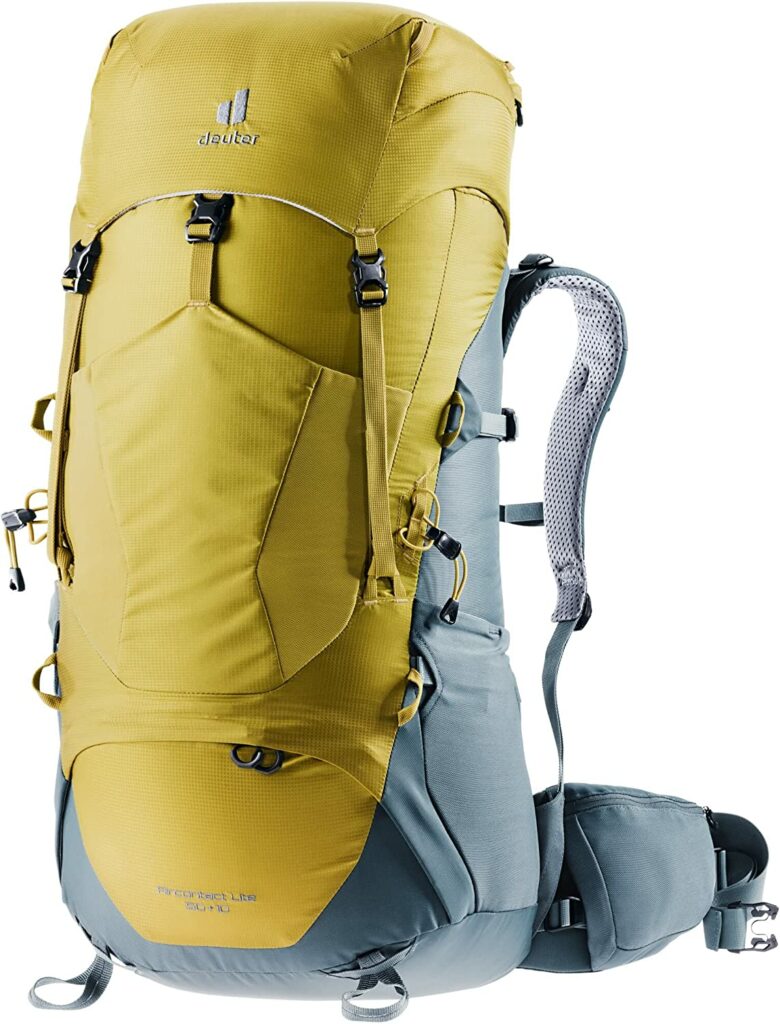 Price: $234
Capacity: 50+10 liters
Load Range: 40-50lbs
Weight: 3.86lbs
I am currently using Deuter's Unisex Aircontact Lite because of its build quality and comfortable features. Deuter makes some of the most durable backpacks for outdoor enthusiasts. The company is quite popular in Europe but underestimated here in the States.
The Aircontact Lite has an ergonomically designed "back system" to ensure optimal balance and perfect load transfer whenever you carry your backpack. This one is a 50+10L model, so it has separate compartments for the two capacities, making organization much easier.
However, the biggest issue with Deuter backpacks is that even with all the features, they're noticeably heavier than other backpacks.
Buy Deuter Unisex Aircontact Lite on Amazon
Best Daypacks to Buy for One-Day Hike in 2022-23
"Daypacks" are for one-day hikes that don't involve camping at night. You use a daypack on a quick trek for a couple of hours – it holds your water, ID, cash, and other essentials. They're generally categorized as "small bags" with a 20-26 liters capacity.
1. The Premium Choice: Osprey Talon 22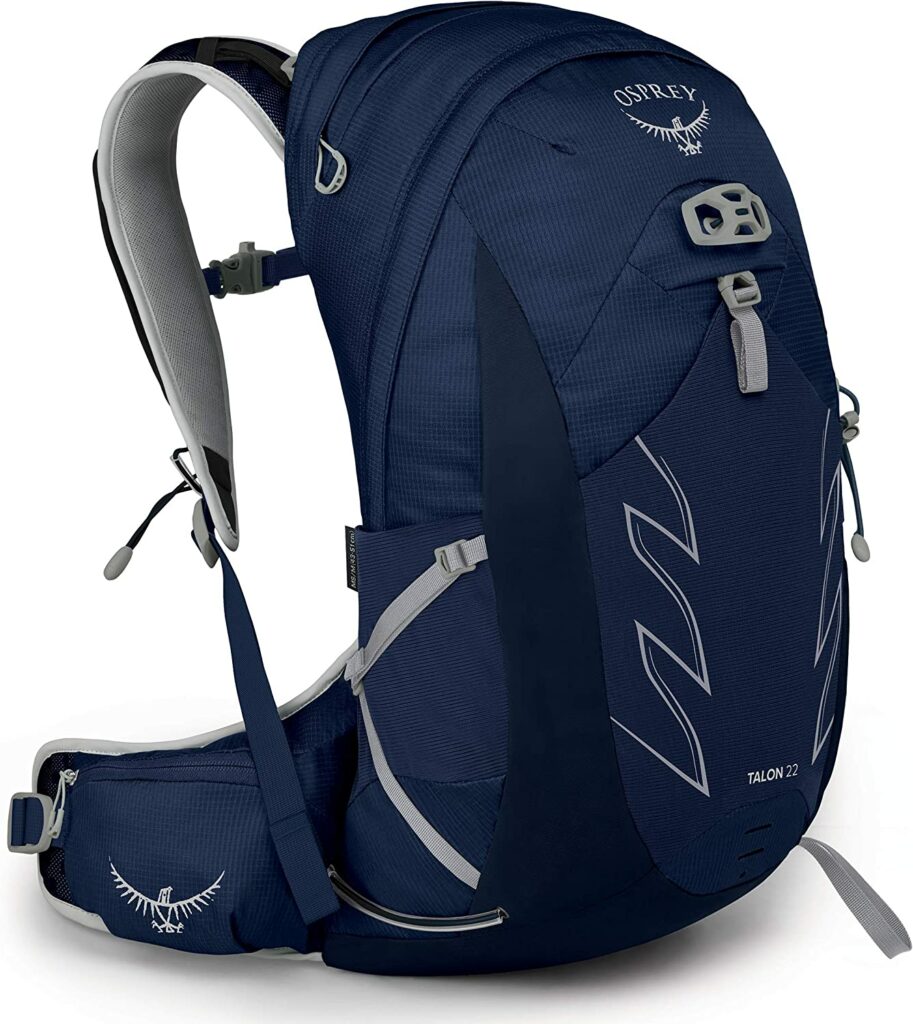 Price: $150
Capacity: 20 liters
Load Range: 10-20lbs
Weight: 1.91lbs
Osprey Talon 22 has been the go-to choice on a single-day hike for quite some time. It's a durable and premium product "packed" with many features, making it super comfortable to use.
The external hydration sleeve on this backpack can hold a water bottle with a 3L capacity. Talon 22 also features Osprey's Stow-On-The-Go pole attachment to "carry" your trekking poles on the back.
Alternative: Deuter's Futura Casual backpack is another great option for the $150 range. The surprisingly lightweight backpack has a 24-liter capacity without compromising durability.
Buy Deuter Futura Casual Backpack on Amazon
If you want something over the 25L limit, I recommend Osprey Stratos 36 – it has everything you get in Talon 22 but with 36L space and much more durability.
2. Editor's Choice #1 (Under 24L): Deuter Speed Lite 21L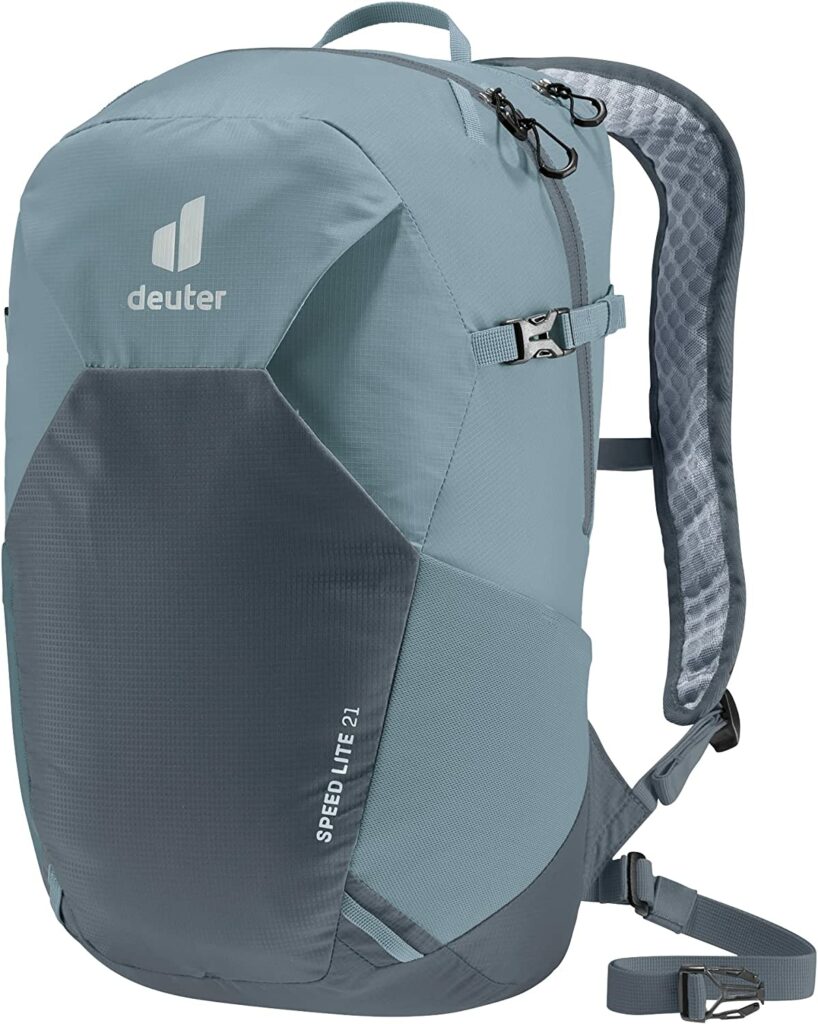 Price: $63.17
Capacity: 21 liters
Load Range: 10-15lbs
Weight: 0.91lbs
Deuter Speed Lite 21L is their latest creation for the under $100 product line, and I personally love it. I have been using this backpack since last year.
It has an ergonomic V-shape design that ensures perfect load positioning for long walks. The backpack comes with a detachable waist belt and a 2-liter hydration compartment.
While it can easily sustain a load upto 15lbs, I recommend keeping it near 10-12lbs only. The bag may be durable, but its small size makes a 15lb load uncomfortable.
Buy Deuter Speed Lite 21L on Amazon
3. Editor's Choice #2 (Over 24L): Osprey Hikelite 26 Hiking Backpack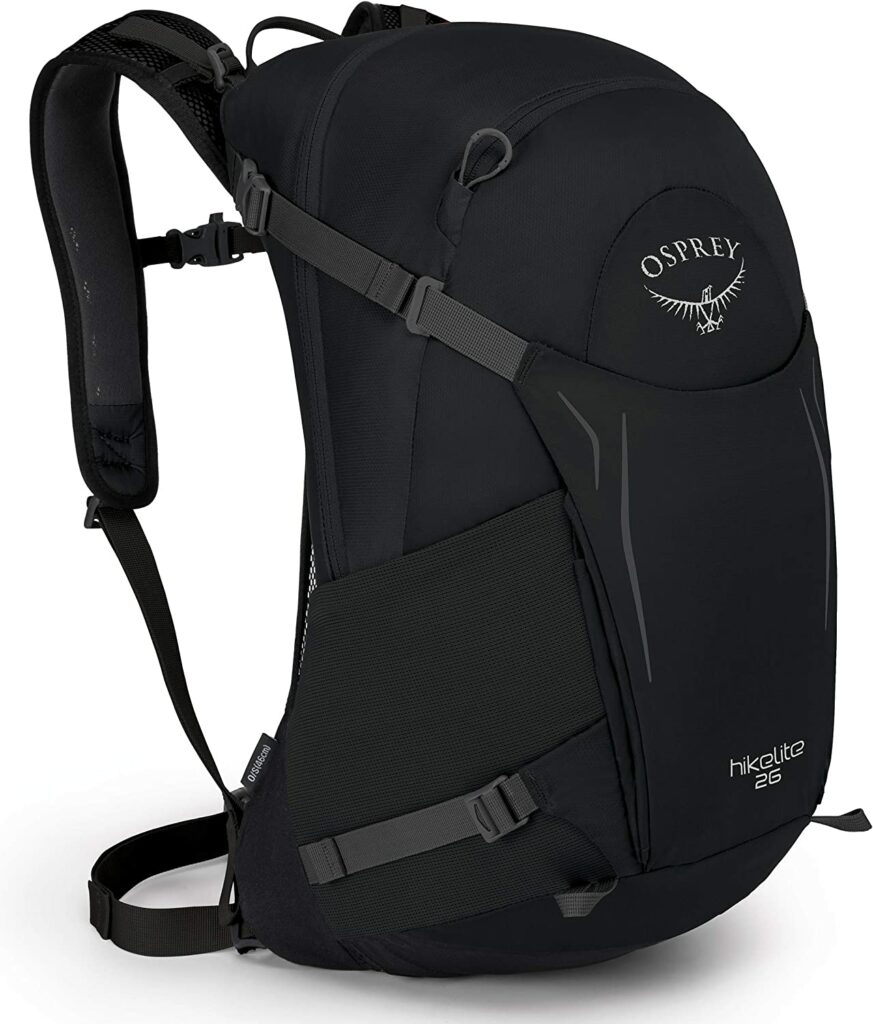 Price: $103.44
Capacity: 26 liters
Load Range: 15-20lbs
Weight: 1.62lbs
Osprey Hikelite 26 is more of a toned-down version of their Talon line-up. It's geared towards comfort and prolonged single-run usage. The backpack features their premium AirSpeed Mesh for ventilation at the back and on the straps.
It has internal compartments for a 3L hydration sleeve and attachments for carrying your trekking poles.
Osprey Hikelite 26 is a well-made backpack with an ergonomic design, durability, and added features for comfort. If you can get this bag for under $100 with any discount, it's a steal.
Buy Osprey Hikelite 26 Hiking Backpack on Amazon
4. Best on Budget: TETON Sports Oasis 18L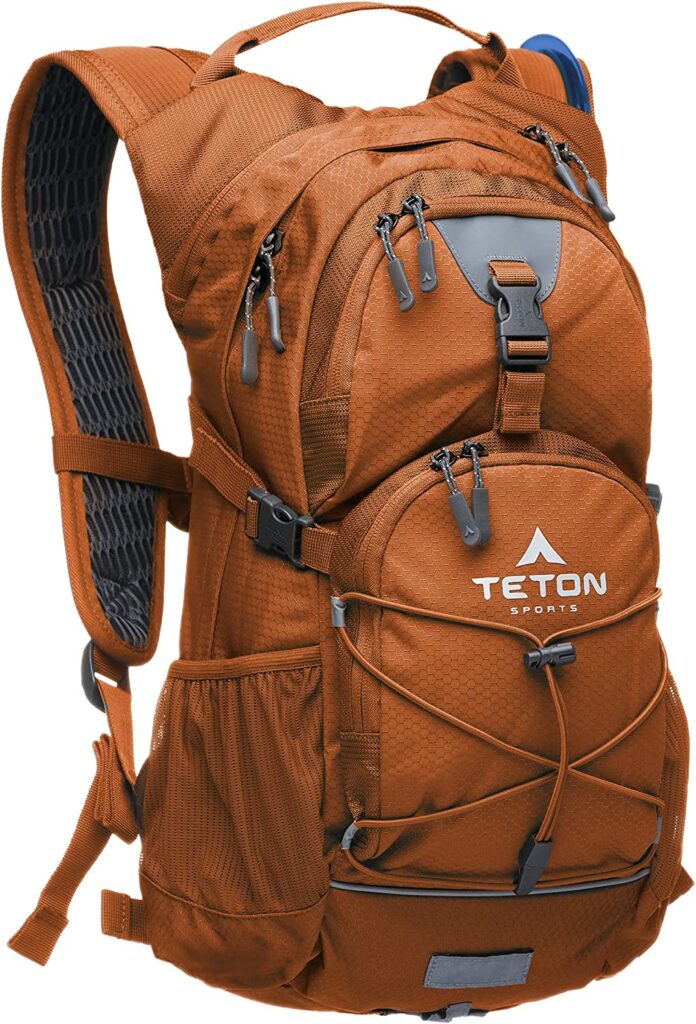 Price: $49.99
Capacity: 18 liters
Load Range: 10-12lbs
Weight: 2lbs
TETON's Sports Oasis 18L is the best daypack you can buy in 2022 if you're on a strict budget. The bag focuses heavily on durability with a cheaper price tag; that's why it's heavier than other daypacks on the list.
Nonetheless, the 18L bag has two opposite zippers for ease of use and a 2L hydration pack compartment. It's made for hikers with smaller stature or if you like to run on the mountain.
Buy TETON Sports Oasis 18L on Amazon
Best Backpacks for Camping in 2022-23
Mid-range backpacks with 30-40L capacity are ideal for weekend camping or 3-4 day trekking trips. You have enough space to pack 36-48 hours' worth of supplies without having to haul around an enormous backpack.
1. Best for Men: Osprey Talon 44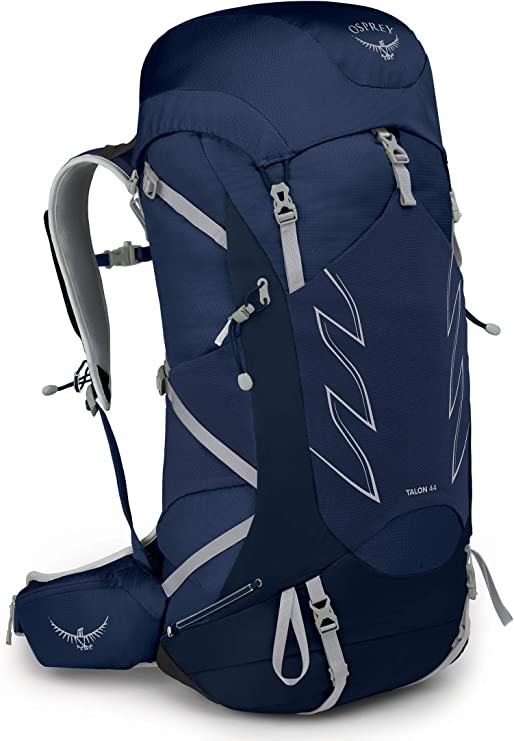 Price: $199.95
Capacity: 42 liters
Load Range: 20-35lbs
Weight: 2.95lbs
Osprey's Talon 44 is the best mid-size backpack for men in 2022. It's a little extra than you'd ordinarily need for a weekend camping trip but the perfect size for a 4-day trip, so you won't need two separate bags.
It has all the cool features from Osprey's Talon line-up, like the mesh hip belt pockets, hydration sleeve compartment (3L), trekking pole attachments, and adjustable shoulder harness for the perfect fit.
Looking for something smaller? Go with Osprey Talon 33.
2. Best for Women: Osprey Kyte 36 Women's Backpack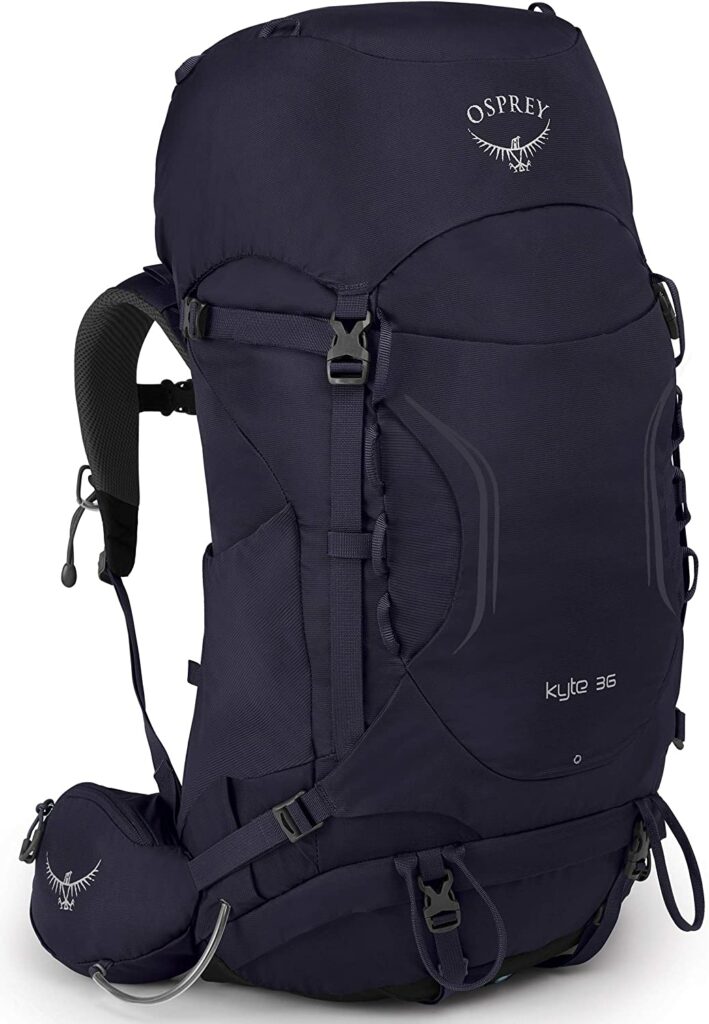 Price: $180
Capacity: 34 liters
Load Range: 20-35lbs
Weight: 3.05lbs
Osprey Kyte 36 is the ideal camping backpack for women. You get a small backpack without losing important features for a weekend trip or multi-day journey. Included are trekking pole attachments, a removable rain cover, and a separate sleeping bag compartment.
Plus, it features Osprey's AirScape ridged foam back panel to maximize comfort and load stabilization.
Buy Osprey Kyte 36 Women's Backpack on Amazon
If you want a larger backpack for a longer trip, go with Osprey Renn 50 Women's Backpack.
3. Best for Beginners: TETON Sports Scout 3400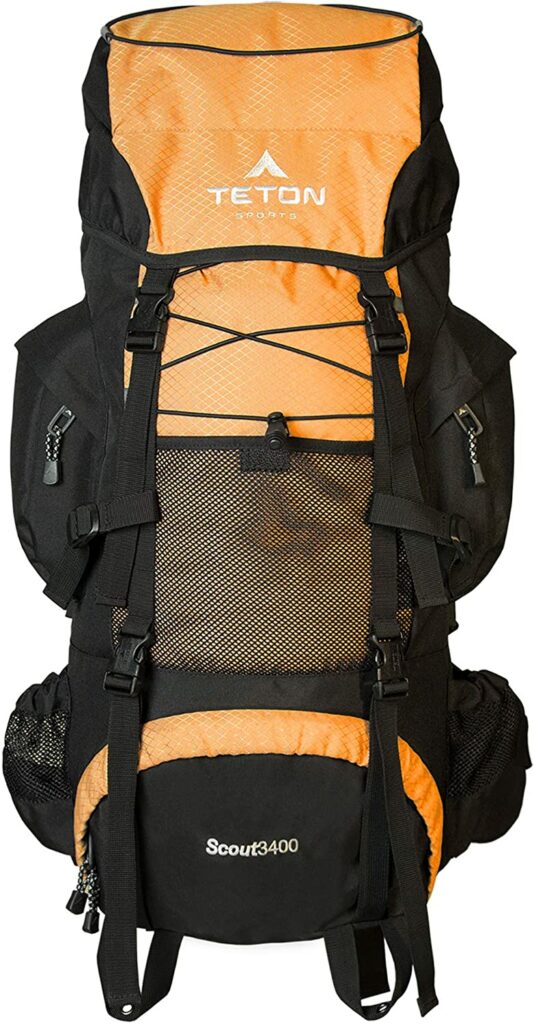 Price: $82.46
Capacity: 55 liters
Weight: 4.5lbs
TETON's Sports Scout 3400 is the ideal choice if this is your first ever camping trip. It's an affordable backpack with plenty of compartments. With 600D material, the backpack is durable enough to hold its own in a harsh environment.
That said, it's heavy, so consider lightweight options when upgrading.