Need a hard reset? Getcho self outside for a lil camping trip. Whether you're gathering the troops or going at it solo, there's nothing like escaping to nature to get away from it all and hype up lazy weekends. Now you just gotta pack.
But what should you bring for survival AND fun in the great outdoors?
If you're a first-time camper, planning and packing can be a doozy. Today I'll make it easy for you. Here's a rundown of everything you need to know for an epic camping excursion.
How to prepare for your first camping trip?
1. What to pack?
First up, the necessities. You can either bring your own gear or rent from a local outfitter near the camping site….but I recommend packing and carrying basic camping essentials. You don't want to forget things like survival gear, sleeping stuff, etc.
Here's the most important items to bring – your "camping essentials" checklist.
A. Clothing
Consider the climate you'll be camping in. If it's going to be warm, you'll want to pack light, airy clothing that will keep you cool. If it's cold out there, warmer clothes will keep you comfortable.
When packing for a camping trip, remember to wear clothing that will keep you comfortable in various conditions. The weather can be erratic, better be prepared.
Keep in mind the activities you'll be doing while you're camping. Suppose you're planning on hiking or doing other activities involving being active. In that case, you'll want to pack clothing that won't restrict your movement. Conversely, if you plan to just relax around the campsite, you can pack casual clothing.
Start with a good pair of hiking boots or shoes. You'll be doing a lot of walking, so comfortable footwear is a must. Also, pack a few pairs of socks, and make sure they are good quality to avoid blisters.
Next, consider what clothing you will need to keep you warm. A light jacket or sweater is a good idea, even if the forecast says it will be warm. The temperature can drop at night, or you may find yourself in a shady spot during the day.
Of course, you'll also need some items for sun protection. A hat must be your go-to when it comes to sun protection. You can also pack some sunscreen and sunglasses.
With these items in your bag, you'll be prepared for anything the camping trip throws your way.
B. Sleeping Gear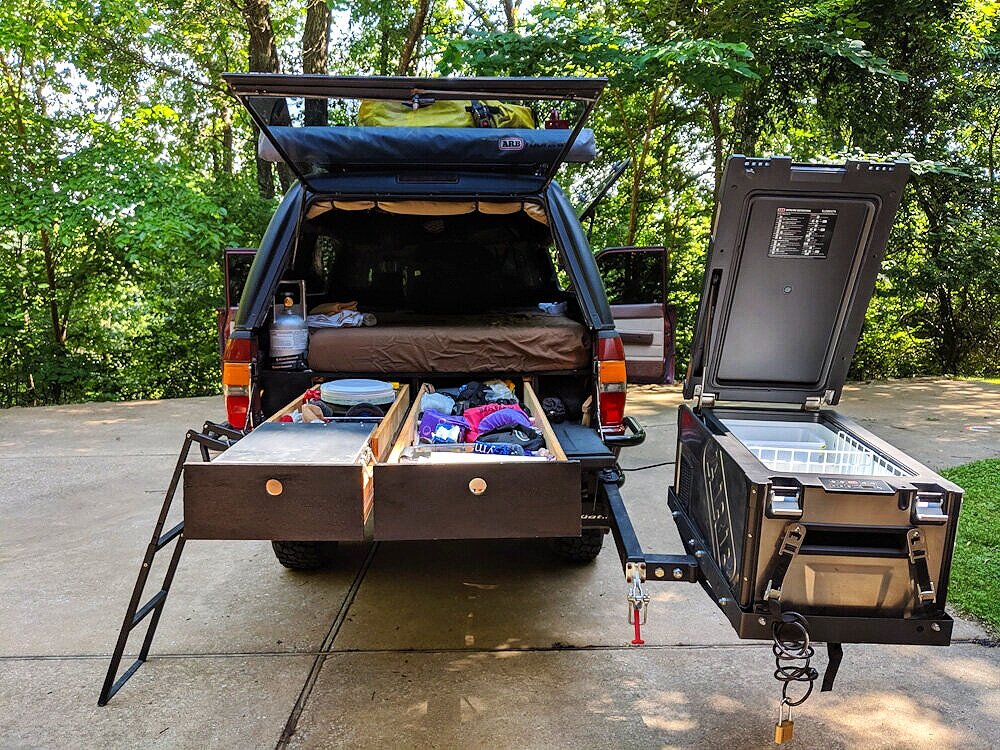 Packing up your sleeping gear is one of the most important things you'll do to ensure you have a great trip. Here are a few tips that'd get you a good night's sleep in the great outdoors.
First, consider what kind of sleeping bag is best for you. There are various options, so pick one that meets your needs. You'll want a warmer sleeping bag if you're expecting cold temperatures. You'll want a lighter sleeping bag if you're expecting warmer temperatures.
Next, pack a sleeping pad or air mattress. A sleeping pad adds comfort and insulation to your sleeping bag, while an air mattress offers more cushioning. Make sure you choose one that's the right size for your tent, and bring extra air pumps.
Finally, remember the little things that make camping comfortable. A pillow, a small blanket, and an eye mask can help you get a good night's rest.
C. Food and Cooking Gear
Camping meals are easy to prepare and require minimal cooking equipment. Canned beans, pre-cooked chicken, and instant mashed potatoes are all great options.
Oatmeal and granola bars are easy to eat on the go. Also, pack some drinks to keep you fuelled during your trip.
If you're not planning on cooking, pack enough snacks and non-perishable foods to get you through your trip. And remember the cooler for all your perishable food items.
If you're planning on cooking, pack a camp stove and all the necessary pots, pans, and utensils.
Read Quick & Easy Guide to Preparing Food for a Multi-Day Hike
D. First-Aid Kit
It's always a good idea to have a well-stocked first aid kit. It can also help to prevent minor injuries from aggravating.
Firstly, ensuring your first aid kit is well-stocked with the basics is important. Bandages, antibiotic ointment, antiseptic wipes, and pain relievers are essential for any first aid kit.
Check the expiration dates on any medications and replace them if needed. Consider adding a few items based on the type of camping trip you're taking. If you're going on a multi-day trip, include a snake bite kit, additional Band-Aids, and items such as sunscreen, insect repellent, and a thermometer.
Once you have all your supplies, it's important to ensure they're stored in a safe, waterproof container. This ensures that they won't get damaged in wet weather. When packing your first aid kit, it's also a good idea to store a copy of your insurance card and any relevant medical documents.
E. Entertainment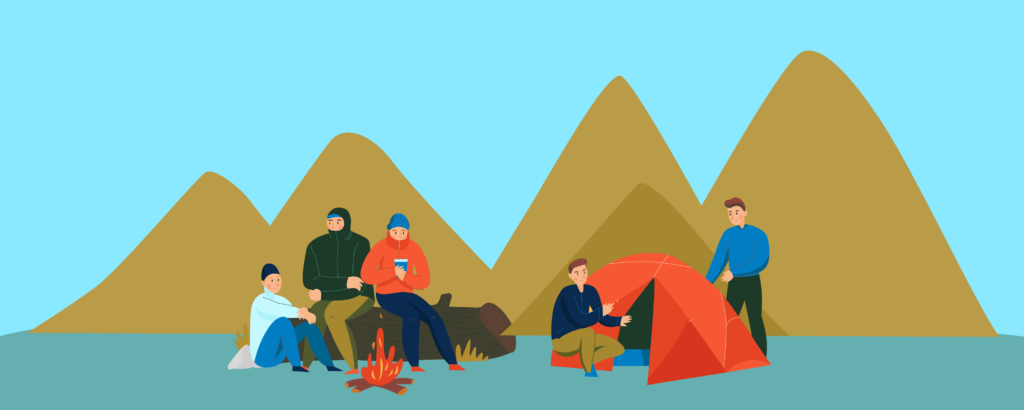 Remember to pack some fun activities to do while you're camping. A frisbee, a deck of cards, and fishing gear are all great options for entertainment on your camping trip.
If you're bringing your music, pack a portable speaker. Cards and games are great boredom busters as well. And if you're bringing your laptop or tablet, remember the charger.
2. Where to camp?
A. Picking a campsite
Pick a spot not too far from home if you need to bail early. Besides that, here are a few things you should consider.
Ensure you have a good view. One of my favorite pastimes while camping is star-gazing while sitting beside the bonfire.
Set up your camp at a safe distance from the trees. Campfire mishaps are always possible, and being close to the trees worsens them. Moreover, you want to avoid surprise visitors in the middle of the night!
There must be a good source of water nearby. No one wants to have to walk miles just to get a drink. You should also look out for bathrooms nearby.
Finally, you can consider proximity to hiking trails, fishing spots, and bathrooms.
B. Making Reservations
Once you've found the perfect spot, reserve your campsite in advance. Making camping reservations can be daunting, but it doesn't have to be! Here are some tips on how to make camping reservations stress-free.
Check the website or call us for more information and make your desired campground reservation.
When you make your reservation, ask questions about the campground's amenities and policies. It's also important to ask about the reservation terms and fees. You must read the fine print and ask any questions you have.
When you arrive at the campground, check in with the office and let them know you've arrived. They will provide a campground map and explain their rules and regulations.
3. Tips for a Successful Camping Trip
A. Set up your campsite before dark.
It's always a good idea to set up your tent before dark. This will help you avoid fumbling around in the dark and make it easier to get a good night's sleep. Here are a few tips to help you get started:
Choose a level spot for your tent. You want to avoid sleeping on a slope all night!
If you're using a groundsheet, put it down first. This will help to keep your tent clean and dry.
Put up the main part of your tent. Make sure that the corners are properly secured.
If you have a flysheet, put this on next. Again, make sure that the corners are properly secured.
Pegging out your tent will help to keep it stable in windy weather. Use strong pegs and ensure they're properly secured in the ground.
Once your tent is all set up, take a look inside to make sure that everything is in order. Then, you're ready to enjoy your camping trip!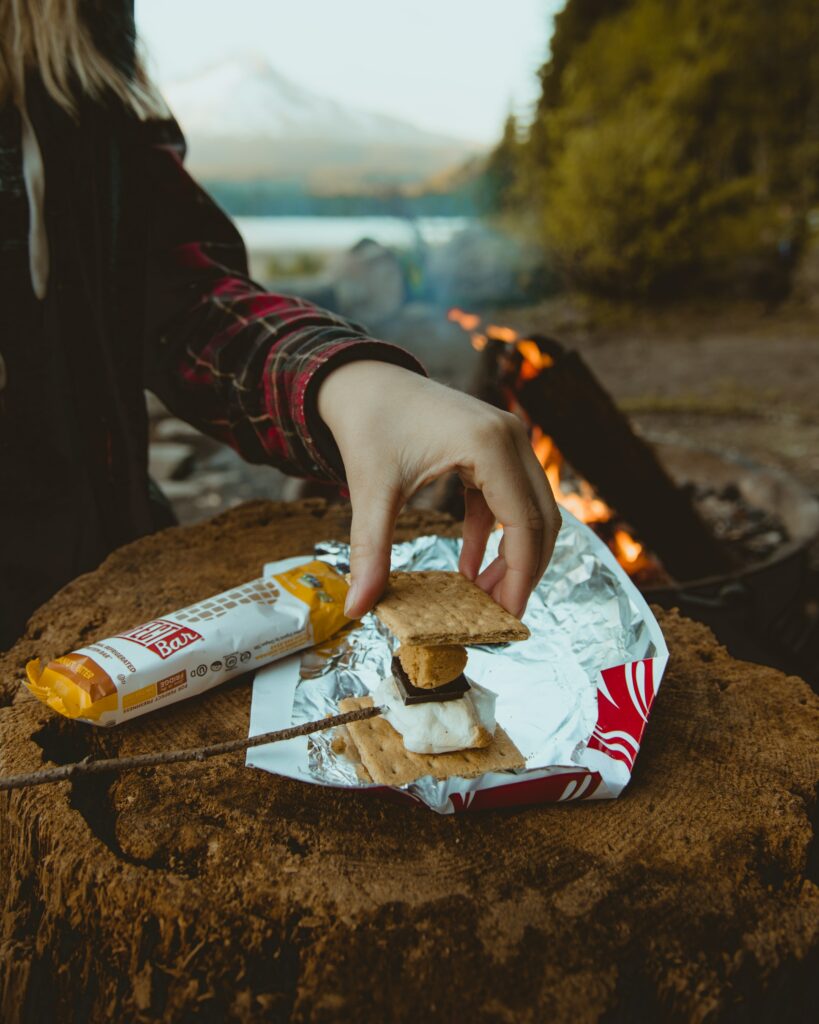 B. Staying Safe
Camping is a great way to get outdoors and enjoy nature, but it's important to be cautious while out there. Here are some tips for staying safe on your next camping trip.
Always be aware of your surroundings. Check for hazards like wild animals, insects, and other campers. Know the area you're camping in and prepare for unexpected events.
Ensure you're informed about the local wildlife and plants in the area. Be aware of any potentially dangerous species and plants, and be prepared to take precautions to avoid them.
Always bring a first aid kit with you. Accidents happen, and having a first aid kit on hand can be a lifesaver. Be sure to bring any medications you may need as well.
Stay hydrated and sated. Bring plenty of snacks and water, and take daily breaks to rest and rehydrate.
Let someone know where you're going. Tell a friend or family member where you're camping and when you plan to return. This way, if anything happens, someone will look out for you.
C. Dealing with weather
Regarding camping, being prepared for the weather is key to having a good time. After all, there's nothing worse than being cold and wet when trying to enjoy the great outdoors.
To be prepared for the weather, check the forecast before you head out. So, you can plan your outfits according to the weather in advance.
Another good tip is to dress in layers. This way, you can always take off or add a layer depending on the temperature. Remember to bring extra clothes in case it gets cold at night.
Finally, ensure a good raincoat or jacket to keep you dry if the weather worsens.
D. Managing Waste
Practicing good waste management while camping is important to help keep our campsites and the environment clean. Here are some tips to help you cut down on waste while camping:
Bring reusable items. Instead of bringing single-use items like paper plates and plastic utensils, bring reusable dishes, cups, and cutlery to use while camping. Not only will this help you save money, but it will also reduce waste.
Make use of biodegradable items. If you need to bring single-use items, try using biodegradable items like paper plates and utensils. These items can break down over time, helping to reduce the amount of waste you generate.
Pack out what you pack in. Before you leave your campsite, make sure to collect all your trash and pack it separately.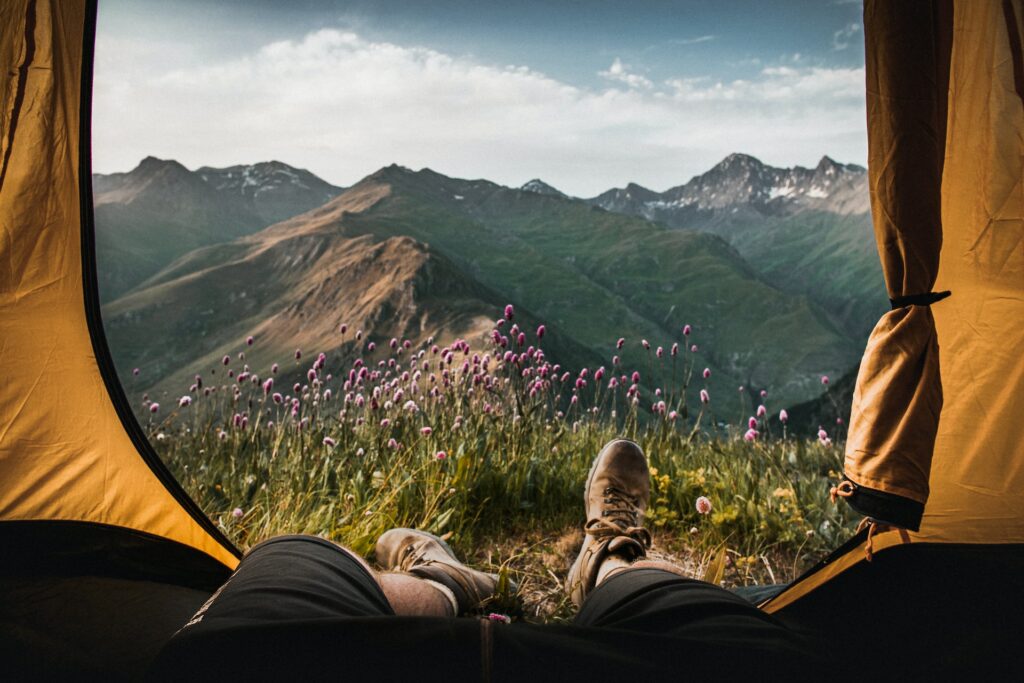 E. Having Fun
One of the best things about camping is that there's no right or wrong way to do it. Everyone can have their own unique experience while still having a great time.
Whether it's a weekend getaway or an extended vacation, there are many ways to make camping fun. Here are a few of my favorite activities to do during a camping trip:
Hiking: There's nothing like a good hike to stretch your legs and take in the sights. Plus, you'll likely spot some wildlife along the way!
Fishing: Whether you're an experienced fisherman or a beginner, fishing is a great way to relax and enjoy the outdoors.
Campfire: Nothing beats sitting around a campfire and roasting marshmallows.
Stargazing – Sit back and relax as you take in the beauty of the night sky. Try to spot constellations, meteors, and satellites.
Outdoor Games – Play classic games like tag, frisbee, and Capture the Flag in the outdoors.
What are the 5 W's of camping?
The 5 W's are the five questions you need to answer before starting your camping adventure. By answering these questions, you'll be able to plan a great camping trip and ensure you're prepared for whatever comes your way.
The 5 W's of camping are:
Where – Where are you going to camp? Are you camping in a tent, an RV, or a cabin?
When – When are you going to go camping? Will you be camping during the summer or the winter?
Who – Who will join you on your camping trip? Are you going with friends or family?
What – What kind of camping gear do you need? Do you need a tent, sleeping bags, or cooking equipment?
Why – Why do you want to go camping? Is it to enjoy the outdoors or to spend quality time with loved ones?
What amount of water should I carry for my camping trip?
Generally, you should bring one gallon of water per person daily. Depending on the length of your trip and your planned activities, you will need to ensure you have enough water to stay hydrated. Additionally, bring excess water if you have strenuous activities planned.
Can I bring my pet with me camping?
Mostly, you can bring your pet with you camping. Camping with your pets can create memories that will last a lifetime. Make sure that your chosen campsite is pet-friendly. When you're at the campground, be sure to keep your pet on a leash at all times.
Be respectful of other campers and clean up after your pet. Some campsites require that your pet is on a leash at all times, so be sure to follow their rules. Pack all of the necessary supplies for your pet. Be prepared for any potential hazards.
What hazards should I be aware of before I go camping?
Before camping, be aware of the following hazards:
1. Wildlife: Be sure to research the area you will be camping in and know what types of animals are present. If you are hiking, be aware of your surroundings and make noise to avoid startling any wildlife.
2. Weather: The weather can be unpredictable, so be sure to check the forecast before you go camping. If severe weather is expected, postpone your trip.
3. Water: Water can be a hazard when camping, both for drinking and for swimming. Bring plenty of clean water with you, and avoid swimming in bodies of water that may be contaminated.
4. Fire: Campfires can be a great way to stay warm and cook food, but they can also be dangerous. Only build your fire in a safe location and extinguish it completely before you leave.