You need the right shorts to stay focused on the send. The only time I care about what I'm wearing is when I'm going climbing or bouldering.
I, like many climbers, prefer shorts to pants. But I know I'll be up shit's creek if they're not breathable or durable enough. The same goes for beginners and pro climbers alike. The right kind of shorts allows for a complete range of motion while guarding your legs against scrapes and gashes.
Climbing shorts are designed to give you the freedom of movement you need when scaling a rock face or working your way up a rope. They are usually made from a stretchy material such as Lycra or spandex, which allows you to move more easily.
In this article, I'll share my top picks for the best climbing shorts available on the market. I'll also provide a brief buyer's guide to assist you in choosing the product that best suits your requirements.
Top 5 Climbing shorts to buy in the US
1.prAna Stretch Zion Shorts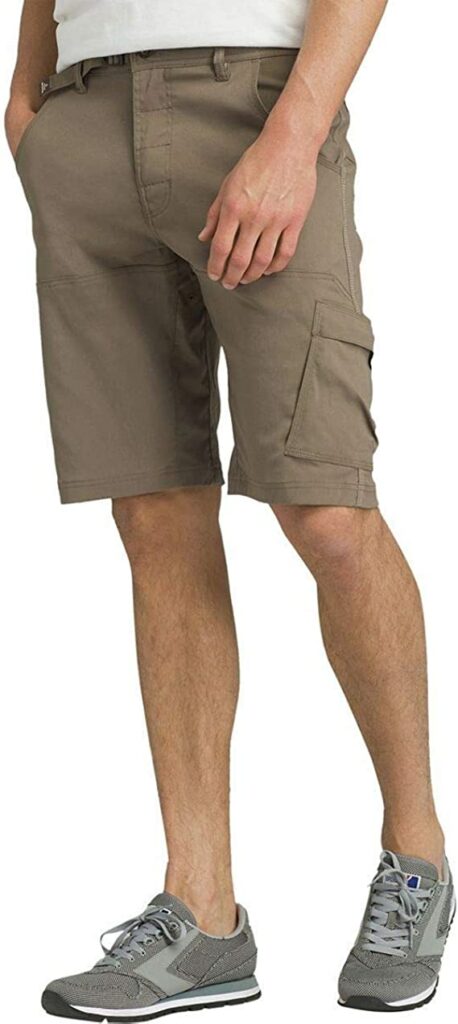 The prAna Stretch Zion are the best climbing shorts to purchase in the These shorts are the way to go if. If you're looking for a tough and durable pair that can handle any adventure on the go. Made from a comfortable stretch fabric, they're perfect for everything from climbing to yoga.
These shorts are specifically designed for climbers, with a stretchy and breathable fabric that is perfect for those hot days at the crag. They also have a durable water-repellent (DWR) finish to keep you dry while sweating out on those long routes.
The comfortable fit and range of motion make them ideal for an active lifestyle. The zippered pockets are a great place to store your keys, phone, or other essentials. Zion Shorts are a fantastic choice, whether you're hitting the trails or running errands around town.
Buy prAna Stretch Zion Shorts on Amazon US.
2. Arc'teryx Palisade Shorts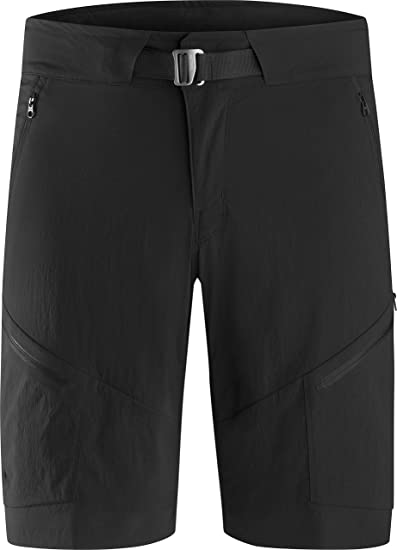 The Arc'teryx Palisade shorts are a great option for versatile, durable shorts. These shorts are made from a lightweight fabric that dries quickly and has a UPF 50+ rating.
They are, therefore, perfect for treks and other outdoor activities. They offer a reliable and comfortable waistband, a loose fit, and an integrated drawcord for a personalized fit. This pair will certainly be my top choice for anyone looking for flexible, robust shorts without sacrificing storage options.
It has a rear pocket and a security pocket with a zipper, which is great for carrying a phone or other small items. The bottom line is you get a terrific fit and a fashionable style. The only drawback is the expensive price tag, but their versatility makes them a strong contender.
Buy Arc'teryx Palisade Shorts on Amazon UK
3. Patagonia Nine Trails Shorts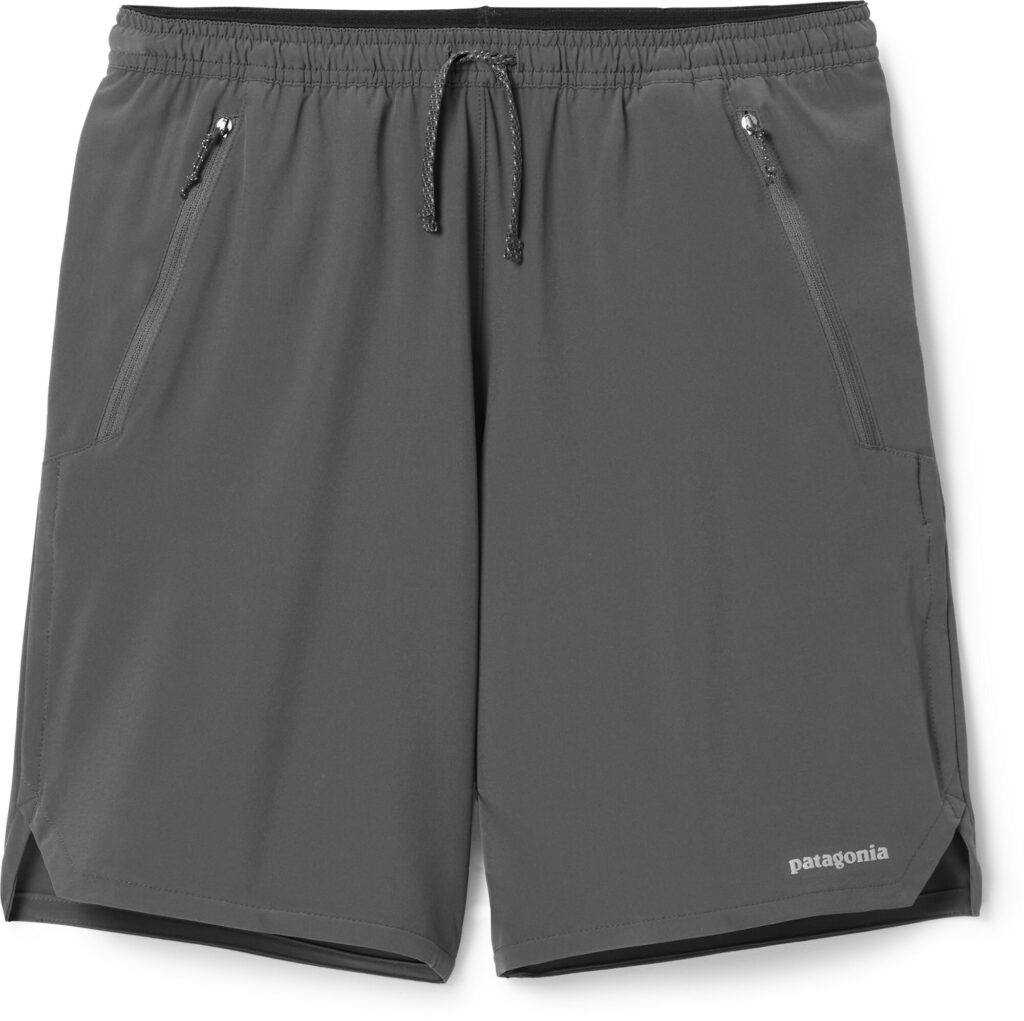 The Patagonia Nine Trails shorts are a great option for those looking for comfort and versatility on a budget. The main selling point of these shorts is their breathability and stretchability, making them ideal for running, hiking, or everyday wear.
They include a supportive internal brief liner and a comfortable waistband made of quick-drying fabric.
Another convenient feature is the adjustable waistband. They also include two side pockets and a zippered rear pocket, which makes them ideal for carrying necessities when out and about. Overall, these shorts are an excellent buy for anybody looking for flexible and comfy shorts.
Buy Patagonia Nine Trails shorts on REI.
4. prAna Brion II Shorts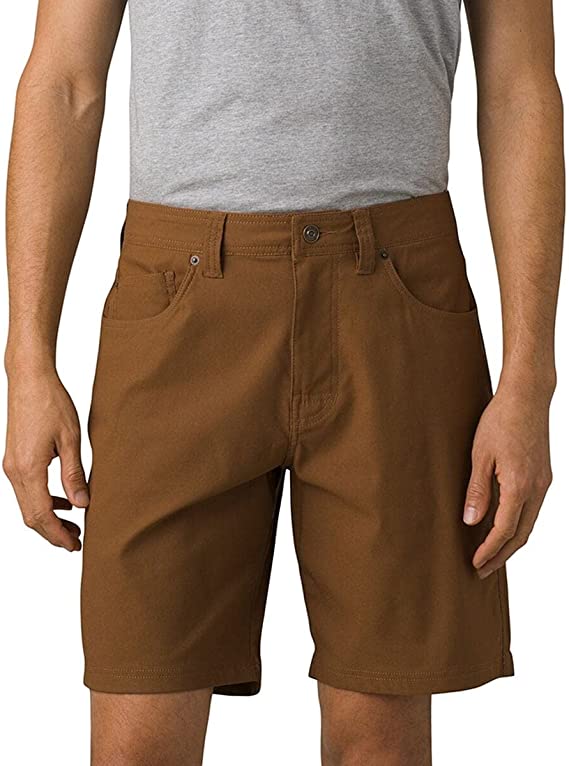 Prana's Brion II Shorts are the perfect choice for any adventure, whether you're hitting the trail or the streets. Made with a stretchy, comfortable fabric, these shorts are perfect for any activity. And with various pockets, you'll have plenty of space to store your essentials.
The shorts have a relaxed fit with a drawstring waist. And they have a UPF rating of 50+ to protect you from the sun's harmful rays. Plus, they have a zippered pocket on the thigh, so you can keep your essentials close at hand.
The leg openings are slightly flared, giving them a flattering look. The shorts are available in several colors and patterns, making it easy to find the perfect pair for your style.
Buy prAna Brion II shorts on Amazon
5. REI Co-op Sahara Cargo Short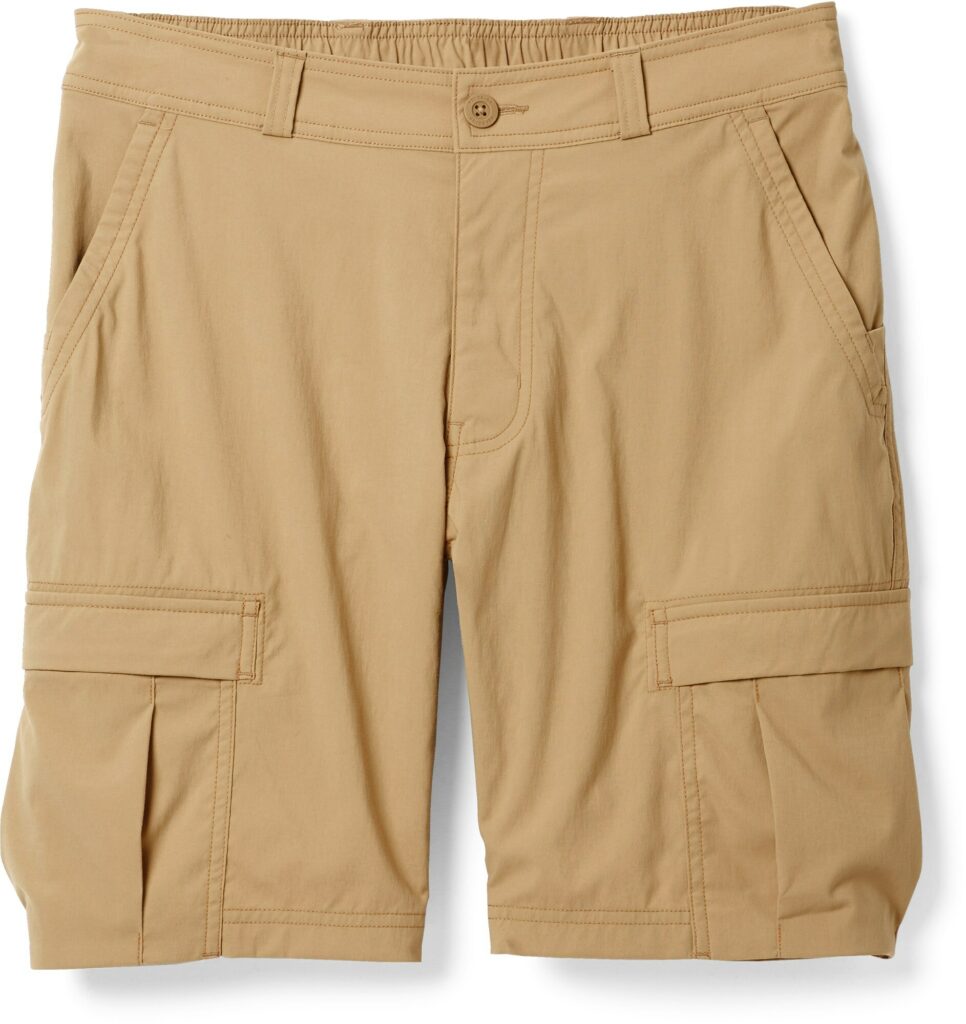 The REI Sahara Co-op Cargo shorts are great for those looking for longer shorts. Made from a lightweight and durable fabric, these shorts are designed to keep you comfortable in hot weather.
The fit is true to size and is very comfortable to wear. The shorts are water resistant as well. With plenty of pockets for storage, you'll be able to carry everything you need on your next hike, climb, or expedition.
I recommend these shorts to anyone looking for a great pair of cargo shorts.
Buy REI Co-op Sahara Cargo Shorts on REI
6. Blike Men's Outdoor Sports MTB Shorts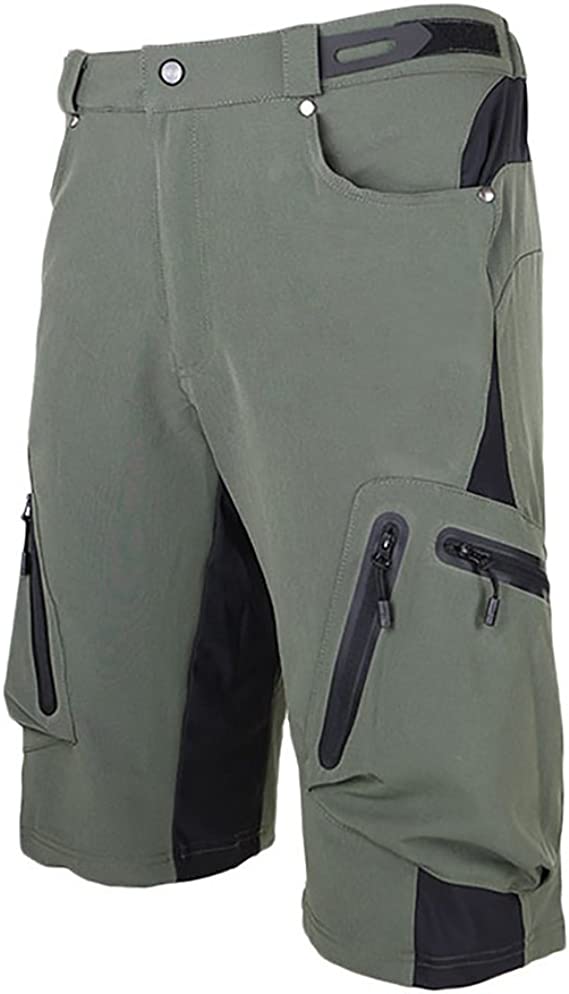 Blike Men's Outdoor Sports Shorts are the best bang for your buck. Made of 100% polyester, they feature an elastic waistband with a drawstring for a comfortable, adjustable fit.
Additionally, there are three pockets on these shorts: two side pockets and one in the back, perfect for carrying small items like your phone or keys while you're on the go.
These shorts are a terrific option for any active man because of the lightweight fabric's quick-drying properties and suitability for warm weather. They also offer an adjustable waistband for a comfortable fit, allowing you to customize them to match your physique.
Buy Blike Men's Outdoor Sports MTB Shorts on Amazon
7. Helikon-Tex Urban Tactical Shorts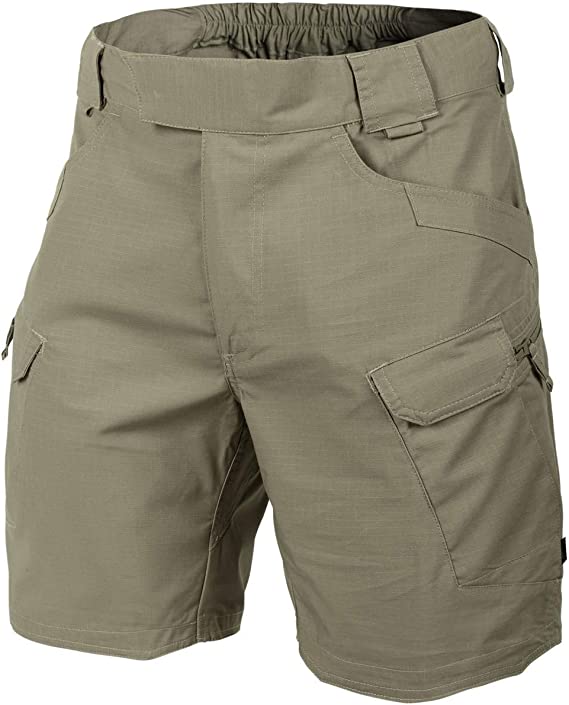 Made from a blend of cotton and polyester, these shorts by Helikon-Tex are durable and breathable, making them ideal for various activities. The urban camo style allows you to blend in with your surroundings, and the numerous pockets offer plenty of room for carrying your essentials.
The placement of the pockets, in particular, is my favorite feature of this design since it makes each item easily accessible. They also include fairly robust pockets that fit the shorts nicely, which sets them apart from other items in their price category.
The Helikon-Tex Urban Tactical Shorts are a fantastic option whether you're hitting the trail or the gym. They will accompany you on several journeys over many years.
Buy Helikon-Tex Urban Tactical Shorts on Amazon
How to choose your pair of climbing shorts?
Climbing shorts are a crucial part of any climber's wardrobe. But with so many different brands and styles on the market, how do you choose the right pair?
1. Make a budget and stick to it.
No matter how wonderful a pair of shorts are, you can make less money on them than you can afford. A good pair of climbing shorts can be cheap, but you want to make sure you get quality.
Once you've set a budget, start looking at different brands and styles of shorts. Decide what features are most important to you, and look for a pair with those. For instance, search for shorts made of a lightweight fabric if you want a light and breathable pair.
Certain designs cost more than others, but with a little shopping around, you should find a pair of shorts that hits the perfect balance between function and price.
2. Consider the material.
You must consider breathable fabrics since they wick moisture away and create a more comfortable experience. Climbing shorts are typically made from either cotton or a synthetic blend.
Cotton is more breathable and comfortable, but it doesn't wick away sweat as well as synthetic materials. Synthetic materials are often more durable but can be less comfortable in hot weather.
Whatever material you choose, ensure it is comfortable and withstand repeated wear and tear during your climbing excursions.
3. Determine the features you need.
While some climbing shorts contain pockets, others feature a drawstring at the waist or belt loops. Choose the features that you consider the most useful.
Certain extra features can make a big difference in climbing shorts. Look for a pair that has a lot of stretches. This will allow you to move more freely and comfortably while climbing. Also, consider shorts with a built-in liner. This can help prevent chafing and make your shorts more comfortable to wear.
4. The fit – tight or loose?
You want a snug fit that is not too tight and loose. There are baggy climbing shorts, tight climbing shorts, and everything in between. It depends on your preferences and the type of climbing you engage in.
If you are doing more traditional rock climbing, you might want baggier shorts to move around more easily. However, if you are doing more sport climbing, you might want tighter shorts to have more range of motion. There are also climbing shorts that are in between these two extremes.
Frequently Asked Questions
1. How should you care for your climbing shorts?
Climbing shorts are made from synthetic materials designed to wick away moisture and dry quickly. Most can be machine-washed on a regular cycle, but it is always best to check the care label first.
Wash them after each use and store them in a cool, dry place. Avoid fabric softeners, as they reduce the shorts' ability to wick away moisture. Hang or lay flat to dry. With proper care, your shorts will last for many climbing adventures.
2. What are the best brands of climbing shorts?
Some of the best ones are Patagonia, Black Diamond, and Mammut. These brands all make high-quality shorts that are designed specifically for climbing, and they offer a variety of different styles to suit your needs.
Whether you're looking for something lightweight and breathable for summer climbs or a little more rugged for winter adventures, these brands have you covered.
3. What are the benefits of wearing climbing shorts?
Climbing shorts are a must-have for any climber, whether you're just starting or a seasoned pro. They allow complete freedom of movement, essential when trying to scale a rock face. They're also comfortable and breathable, so you won't get too sweaty when working hard.
But that's not all – climbing shorts have plenty of other benefits. They can help you stay cool in the heat, protect you from the sun, and even give you a bit of extra padding if you fall.