The best rock climbing outfits are really any type of exercise clothing that's comfortable, easy to move freely in, but not too baggy.
You know how important it is to use legit climbing gear—ropes, a helmet, quickdraws, and so on. But did you know what you wear for rock climbing is equally important? You need the proper attire to climb your best, whether it's in the great outdoors or on the high wall.
So, what should your climbing outfit be indoors and outdoors? Let's dive deeper into the ultimate climbing wardrobe.
How to choose the ideal rock climbing outfit?
The ideal rock climbing outfit for any climber – from a beginner to a pro – is stretchy, snug-fit, and lightweight. Wear attire that you can move around in without inhibition or getting stuck in the harness.
There are no appropriate or inappropriate outfits when it comes to climbing as long as you get some fundamentals right. Here's everything you need to take care of:
[Note: Of course, most of this will also apply to bouldering since we aren't talking about equipment but outfits only.]
1. Comfort
Comfortable clothing is the priority. The best outfits for indoor wall climbing, outdoor rock climbing, and bouldering are non-noticeable and free from distraction.
Even the most stylish outfit will only distract you from climbing correctly if you aren't comfortable.
For example, shorts may be good for flexibility and mobility. But is it a good idea to wear shorts when climbing? Possibly, possibly not. Depends on if you're exposed (more on this in a minute). Opt for comfortability, convenience, and high mobility.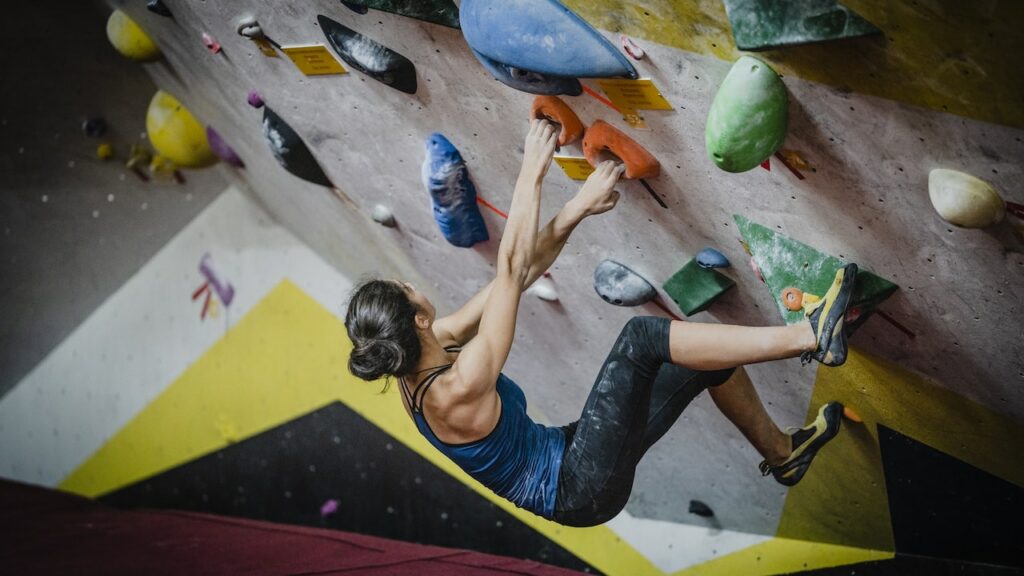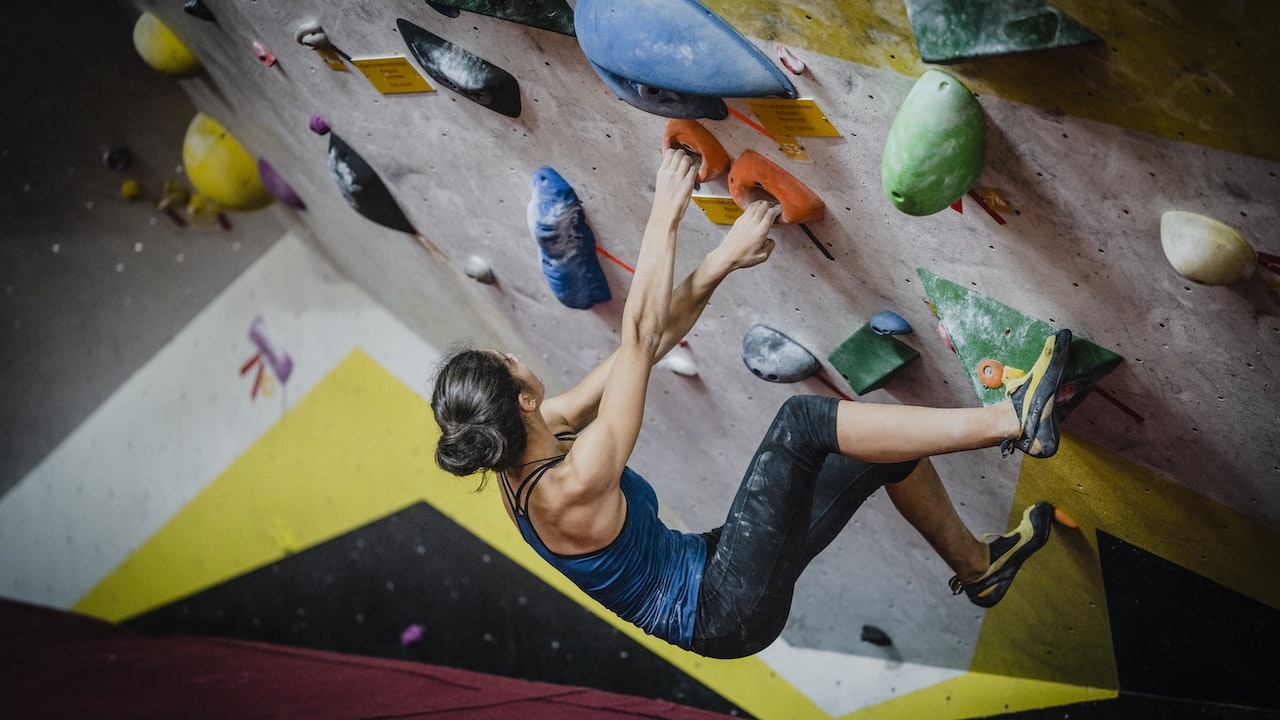 2. Weight
Good climbing clothes are lightweight, allowing you to climb higher against gravity. You'll also be able to move your arms and leg joints around much more easily.
Finding the right balance between less weight and fabric abrasion resistance is also important. You don't scrape off your clothing or your skin when climbing.
3. Fitting & flexibility
Good clothes for climbers offer enough wiggle room to reach holds far and wide. But on the flip side, you definitely want to avoid wearing baggy clothes! Loose shorts and big shirts can get you all caught in the harness, rope, and belay device.
Think yoga-style attire and snug fitness clothes.
Rock climbing apparel shouldn't restrict movement around your shoulders, hips, or extremities. Avoid skin-tight clothes and extremely slim fits.
For example, your t-shirts and tops should be
Stretchy
Long enough to fit the harness over comfortably.
But not too long that the edges interfere with climbing and performance.
Some climbing junkies and high-altitude mountaineers are perfectly comfortable sending routes in just a sports bra. The harness is no big deal for these.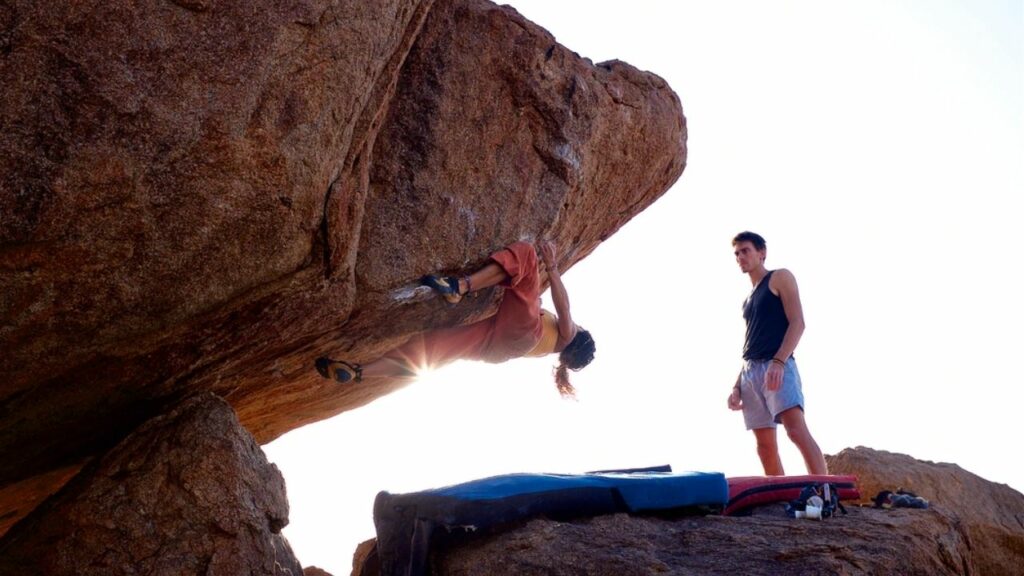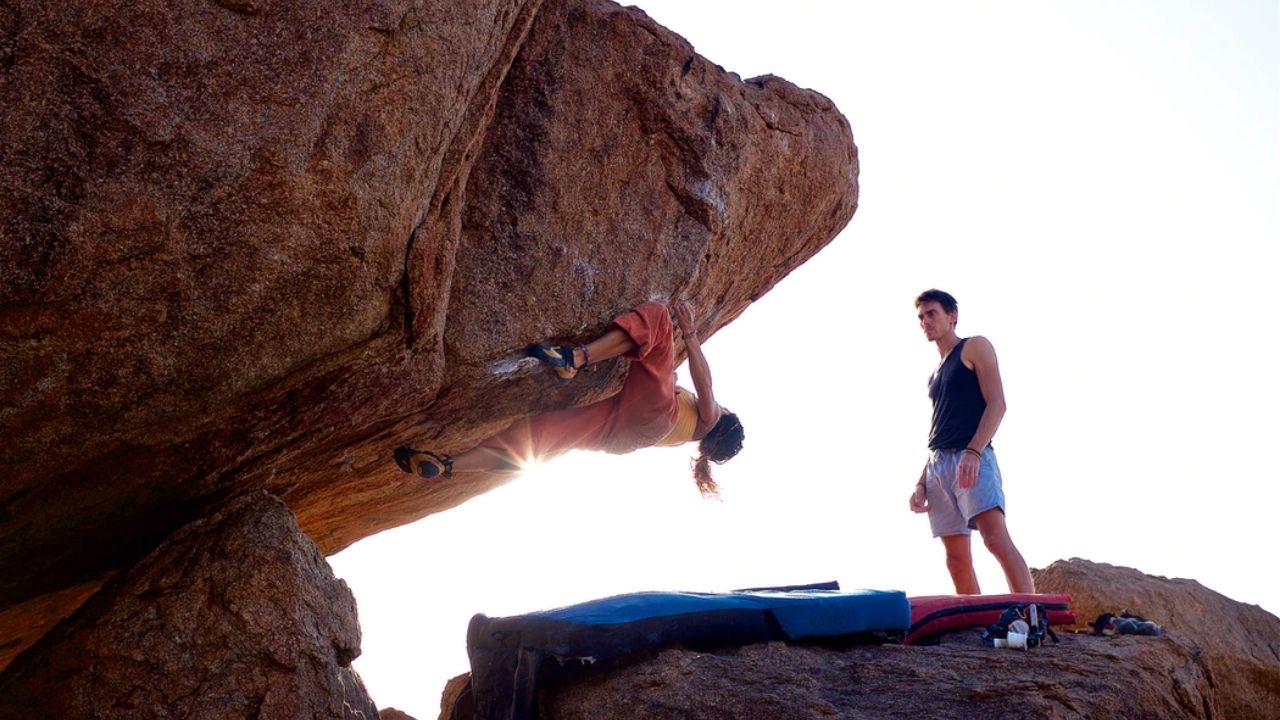 4. Choosing lowers: shorts or pants?
You're free to wear shorts, pants, even jeans for your rock climbing sessions. What's important is that you're comfortable and safe.
Ideally, the length of your bottoms/pants should be in the right range. Pants that are too long and shorts that are too short can cause headaches. Red flag.
Avoid super long, lengthy climbing pants that can disrupt the flow of your footwork and freedom of movement. There's also specialized climbing pants that are a little airier but quickly fold around.
Double-Check Shorts
As for climbing shorts, it's best if they're at least knee-level. Rock climbing shorts should be long enough to 1) comfortably put a harness over, and 2) avoid banging up against an abrasive rock or indoor wall.
Or, just wear a tighter layer underneath if you're unsure. When you're solving a boulder problem or hanging on holds tens of feet above the ground with your strength, you don't want to risk injury or exposing yourself to fellow climbers below.
You need to keep that smooth sailing peace of mind. To avoid distractions, you might consider putting lightweight compression pants, knee protection, stretch leggings, or protective tights underneath your fitness bottoms.
5. Climbing Socks & Shoes
To wear or not to wear? Easy, only if you're renting shoes.
Climbing shoes are meant to be worn without socks – unless you're wearing rentals.
Most climbers don't wear socks because that's not how climbing shoes were designed. Of course, the choice comes down to your preferences and needs. Some (shoe owners, not renters) wear socks so their feet feel more snug or because of sizing mishaps.
Circling back, there's a well-known, unwritten rule that if anyone and everyone that climbs with rental shoes MUST wear socks. Hygiene, decency, and preventing stinky feet from spreading nasty infections are the obvious reasons for this collective understanding.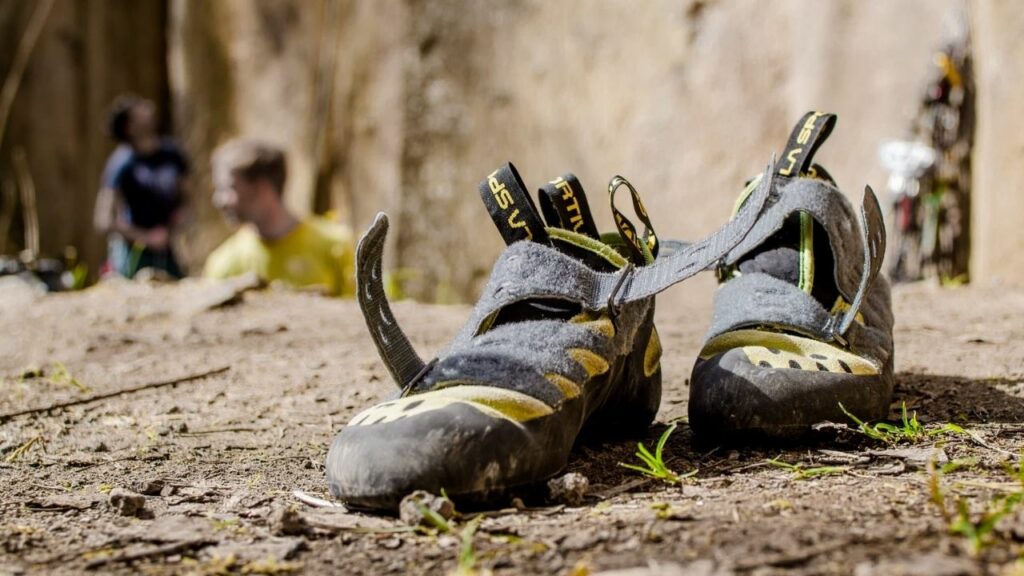 Now, on to shoes. To buy or not to buy?
If you're a first-timer or beginner to the climbing world, I wouldn't recommend buying shoes just yet. Rent them instead, especially at an indoor gym. Having your own pair is tempting, but the price isn't worth it when you're just learning the ropes.
But if you're inclined to buy a new pair of climbing shoes, check out our guide on Rock Climbing Shoes – Material, Sizes, Best Options & More.
6. The Extras
Rock climbing outfits have additional features under the "extra" category. Some are cool, while others are clothes you might need during the climbing trip. Let's look at some of the main ones.
Try and purchase three-quarter length pants which roll up easily. You must be able to see your hands and feet at all times.
Keep a lightweight fleece jacket for when it cools down. You may only wear it when outdoor climbing since the gym can run warm, but better safe than sorry!
Select a bottom apparel with a gusseted crotch and extra zippers for your jackets.
Rock climbing outfits come in many fabrics. Be sure to get a sweat-wicking fabric so there's no issue with sweat management, quick-drying, and windproofing.
SOME people also include a pair of slip-on sports shoes in their "ideal" climbing outfit quick bathroom trips and sudden breaks, but this is definitely NOT
What do you wear for indoor rock climbing at the gym?
1. For men
"Proper" indoor climbing attire depends on the gym. In some places, it's totally fine to go shirtless. Straight send.
Really, any gym top, tank top, or regular T-shirt is fine for indoor rock climbing. If you sweat a lot, best to go with non-cotton fabrics that offer quick drying and more breathability.
If you own gym clothes, you already have your indoor climbing outfit. You genuinely don't need anything else in the beginning.
Fitted clothes are best. You can wear tank tops, sandos, or even sleeved-t-shirts with enough flexibility and room to climb appropriately while protecting yourself from the abrasive wall.
As for bottoms, you can go with just about anything, even yoga pants, as long as you keep in mind what we've covered so far. To avoid the unexpected, consider liner shorts with a gusseted crotch for hotter climates.
2. For women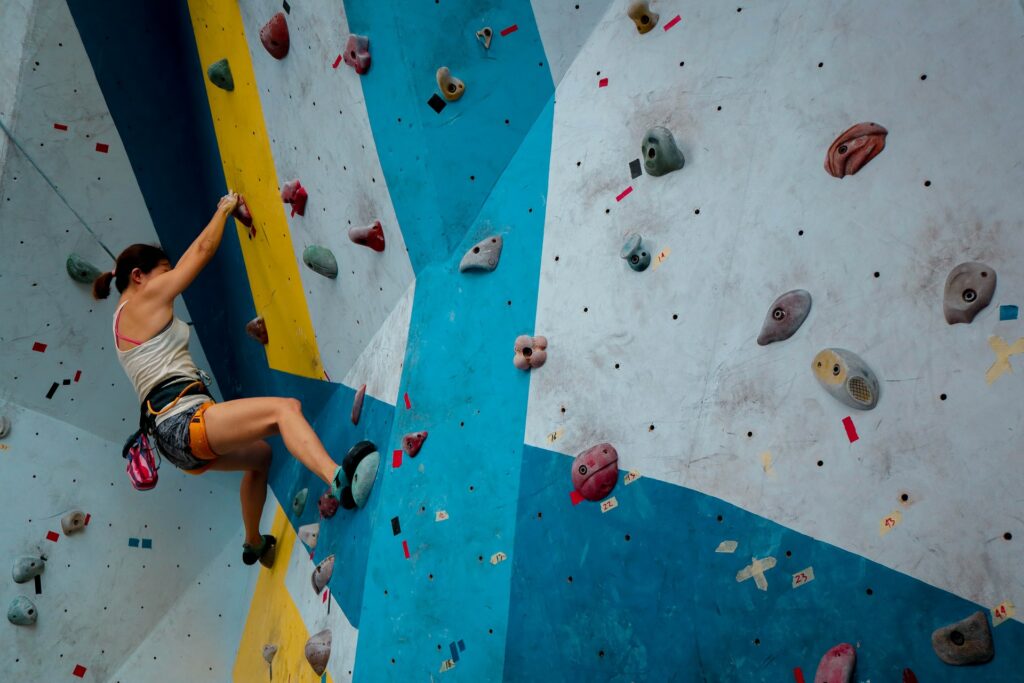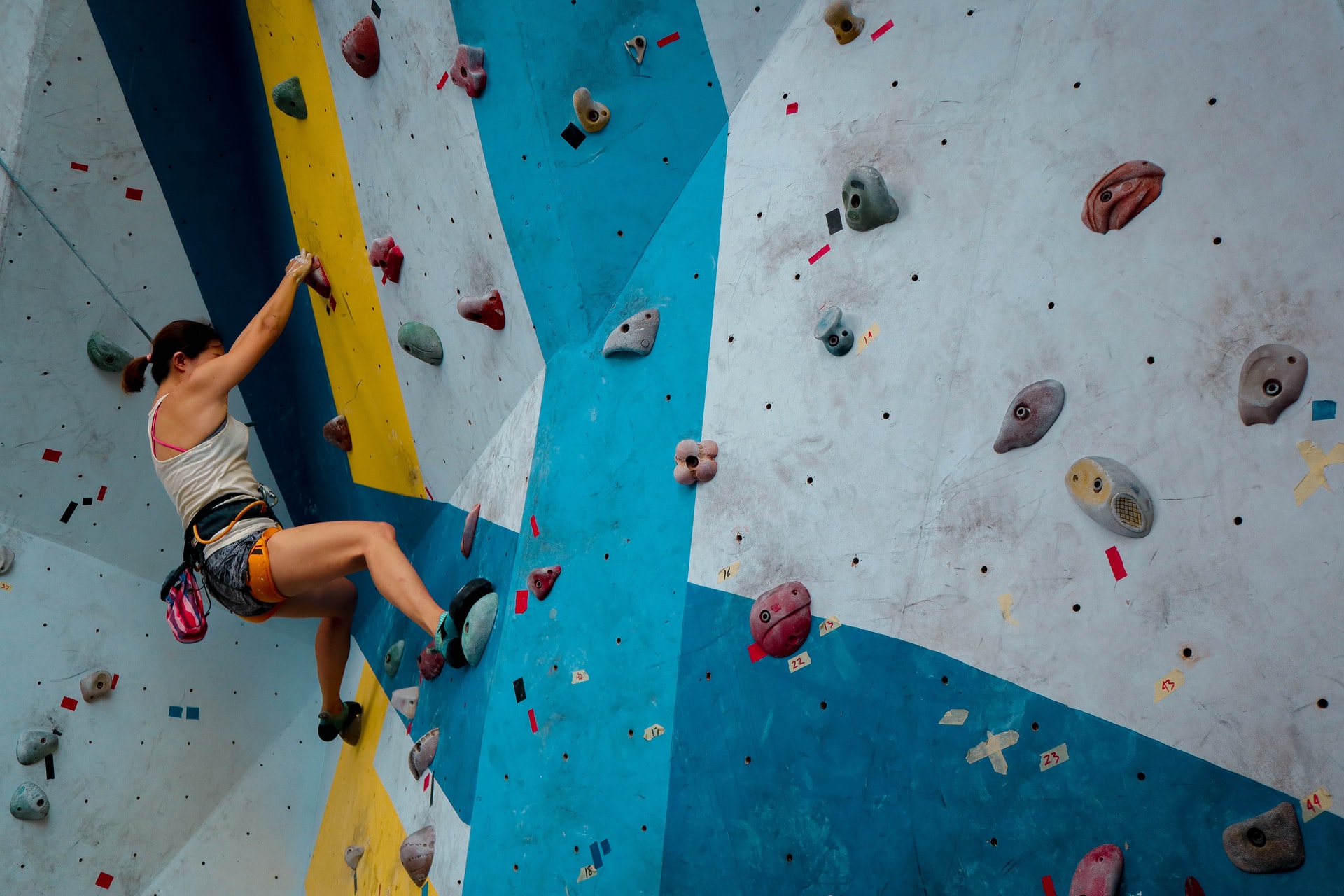 Women have the same choice as men for the bottom outfit. You can go with skinny (or purpose-made) jeans, yoga pants, leggings, snug-fit shorts, or whatever feels comfortable.
If you go with shorts, be careful about the length and fit. They can get curled up under the harness and cause issues.
Choosing a top is even easier – you can wear a fitted t-shirt, tank top, or a sports bra, whichever makes you comfortable without overthinking it.
Some girlies like sleeveless rock climbing outfits because it frees you from all inhibitions and restrictions. Others like slim-fit workout shirts that offer more coverage around the shoulders. Again, preference varies person to person.
Read More: What are the best workouts to build/maintain a climber's body?
What do you wear when rock climbing outdoors?
Putting together a good outfit for outdoor rock climbing takes a bit more thought than the get-ups you see at the gym. There's just so many details and small factors to consider when sending massive rocks out in the wild under the burning rays.
For example, clothing requirements for outdoor rock climbing include things like:
Hard-wearing fabrics to prevent scraping up against the rock.
Waterproof and water-resistant materials to withstand weather.
Base layers with moisture-wicking/sweat-wicking tech to stay warm and dry.
Breathable, lightweight materials to not get bogged down by heat and humidity.
Non-cotton fabrics get really sweaty.
Now, about the actual clothing choices in the outdoor climbing world?
The vibe is pretty similar to indoor climbing attire and yoga style but heavily climate dependent.
When climbing directly under the sun in warmer regions, any unisex/regular t-shirt, athletic shirt, vintage top, tank top, or climbing merch of any kind is fine. You're free to send it in style and rock whatever you want.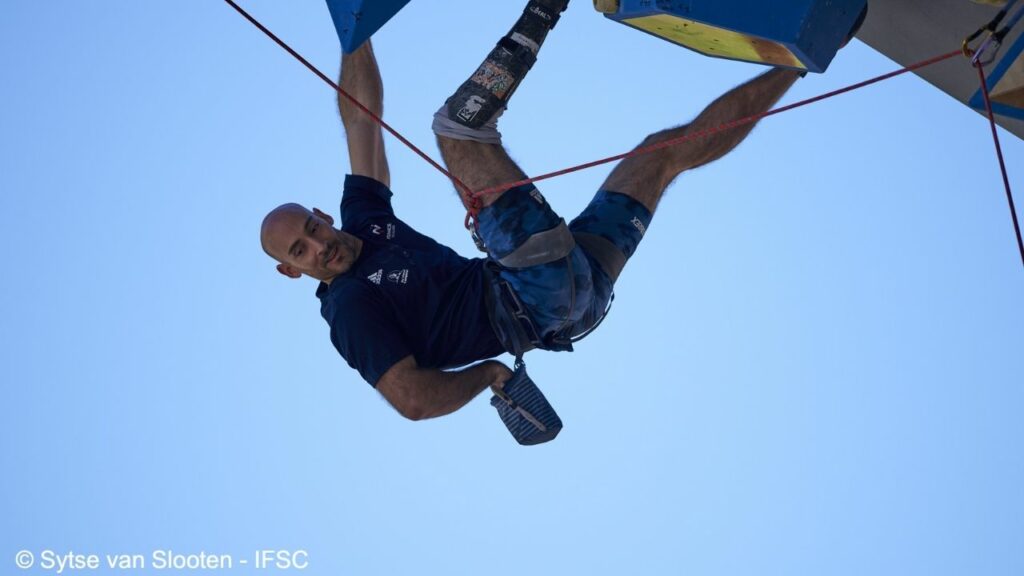 Tanks, sports bras and straight shirtless are all cool as well. If you're comfies, it's all good. No (or stretchable) sleeves, no inhibitions, no problems. Plus, you're golden on quick drying features and breathability.
Now in colder climates, it's best to divide your climbing attire between the bottom, mid and upper layers. This makes it easy to snag and remove layers when needed to keep that perfect temp you're going for.
All climbers should keep softshell or fleece jackets, especially when climbing in a cold-climate geographical area.
Are jeans OK for rock climbing?
This might come off as a surprise to most of you, but jeans are okay to wear while climbing but not the regular ones.
Jeans made of lycra (or spandex) are skinny yet stretchy, making them a good, snug-fitting climbing outfit. You can also purchase purpose-made climbing jeans or stretchy denim made to have extra stretchiness and a gusseted crotch.
Having a gusseted crotch in your climbing jeans is a huge advantage since you have extra room to move around without causing friction. This helps a lot during jumps and splits.
Should I wear gloves while rock climbing?
Climbing gloves are indeed an accessory some people wear, albeit very rarely. Technically, nothing stops you from wearing a climbing glove (either full-finger or half), but there's a reason why pro climbers choose not to wear them.
In most cases, climbing gloves are a terrible idea because they restrict you from gripping the holds properly with your fingertips, especially when sweaty. They even alter the "feel" of touching a hold, affecting your judgment. So, you shouldn't wear gloves while climbing.
To sum up, you can wear whatever you want at a climbing gym or even outdoors. Wear what's comfortable and doesn't hold back your climbing flow. As for the rest, wear socks in rented shoes and pass on the climbing gloves – but that's my two cents.